Search by Hotel Name, Price, Locations
16 4 Star Hotels Found In Kanyakumari
Star Rating
Search By Hotel Location
Hotel Landmark
Hotel Facilities
List of 4 Star

Kanyakumari Hotels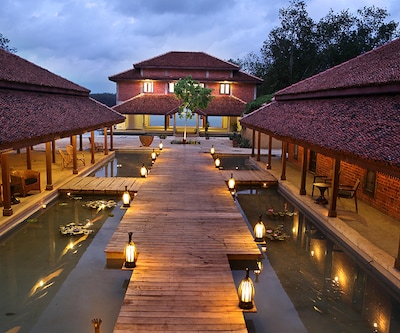 Near Chittar Lake
USE COUPON CODE HD50 AND GET 50% OFF UPTO Rs. 1500
Call & Get 50% off 1800-300-2400-1 (Hotline No.) Guaranteed Unbeatable deal.
Best Deal
8308
6700
4 Star Hotels in Kanyakumari
Kanyakumari, the ancient city of Tamil Nadu has a magnificent history with the many picturesque tourist spot. Considered as the southernmost point of India, Kanyakumari is located at the meeting of three giants water bodies namely Indian Ocean, Arabian Sea and bay of Bengal. Adobe of one of the beautiful geographical phenomenon where one can witness the sunrise and sunset at same beach, Kanyakumari gets its name from a Hindu deity 'Kanya Kumari' who has a temple dedicated to her here.
Legends of Kanyakumari are as interesting as its name. Some says Kanya Devi was reincarnation of Goddess Parvati, who wishes to marry Lord Shiva. There's a demon named Banasur who can only be killed by a virgin girl, and Kanya Devi as a power to do so. This beautiful small town is assortment of different culture and religions; this can be seen by the presence of temples and churches, statues and beaches which entice the sightseers in the beauty of Kanyakumari. Famous Indian poet and philosopher Swami Vivekanand spent a long time here meditating, resulting in the erected large monument named 'Vivekanand Rock Memorial'
For tourist in Kanyakumari there are plenty of accommodation options that are ranging from budget to mid-range hotels. Sparsa Resort is one of the best four star hotels in Kanyakumari. The property offers a wide range of facilities to guests which make their stay a memorable one. The property offer in all 46 rooms and 2 lavish suites in the hotel. Each room in the hotel has its own specialty. The rooms are fitted with ultra-modern amenities, state of art facilities and chic interiors are the major highlights of these rooms. Guests are provided with the in-room services like tea maker, coffee maker, LCD TV, safety deposit locker and mini fridge. There also a decent size window in the rooms which offers an awe-inspiring picturesque view of the surrounding and lush green landscape that delights the patrons. The hotel is an ideal choice for both leisure travellers and business travellers. Travellers are provided with the spacious banquet and conference hall which is suitable for organizing the social as well as business events such as conferences, meetings and etc. The rooms are well-fitted with LCD projectors, microphones, projection screen are to name a few. Guests can rejuvenate by taking a splashing dip into the swimming pool or can recreate at health club which is provided with all the basic amenities. Patrons are served delicious delicacies at on-site restaurant –'Aroma'. Guests can enjoy their evening with a range of cocktails, mocktails and other beverages at 'Land's End' – a well-stocked bar.
If you wish to have sea foods you can visit the Beach Road where the coast is dotted with shacks and restaurants. For vegetarian visitors, you can visit many restaurant at nearby location which pamper you appetite.