Search by Hotel Name, Price, Locations
16 5 Star Hotels Found In Katra
Star Rating
Search By Hotel Location
Hotel Landmark
Hotel Facilities
List of 5 Star

Katra Hotels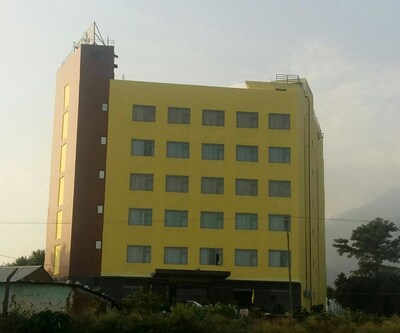 New Railway Station
USE COUPON CODE HD50 AND GET 50% OFF UPTO Rs. 1500
Call & Get 50% off 1800-300-2400-1 (Hotline No.) Guaranteed Unbeatable deal.
Best Deal
4476
3610
5 Star Hotels in Katra
Katra is one of the beautiful city of Jammu and Kashmir. The place is also known as the gateway to Hindu shrine Mata Vaishno Devi. Though this city is a small place but every year it was visited by thousands of travellers. Every pilgrim who wish to visit Vaishno Devi will have to cross from Katra. For their convenience Katra is accommodating a plethora of five star hotels. The place is echoed by the chants of 'Jai Mata Di'. The city is featured as the base camp for all travelers who visit Vaishano Devi Temple.
You can stay at The White Hotel which is among the best 5 hotels in Katra. The hotel is merely 4 km away from Katra Railway Station. The Jammu airport is 50 km away from the property. The hotel features 200 aesthetically designed rooms. Each room is individually crafted and designed. Thoughtfully designed these rooms and spacious suites in the property also offer superior comfort. All these rooms are categorized in following categories such as Executive Room, Deluxe Room, Club Prive Deluxe, Terrace Room, Executive suite, Club Suite and Presidential Duplex. Each room is filled with all contemporary amenities such LCD TV, mini fridge, coffee maker and tea maker, a working desk, direct dial telephone and many more. There's a free Wi-Fi facility offered to guests in lounge area but you have to pay extra charge for using internet. Vaishno Devi Temple is 1.3 km, Nau Devi Temple is 800 m and Bheegarh Fort is 2.6 km away from Hotel White in Katra.
Listed among 5 star Katra hotels, The White Hotel also has a well-equipped gym. The gym is fully equipped and well fitted which helps you to shred those extra kilos from your bodies. At the property there's a stylish banquet hall where corporate events takes place. The hall is also used for organizing the social parties. The guests in the hotel can take several dips in the swimming pool and may rejuvenate after a hectic day. The hotel also has a unsex spa where guests can avail massage therapies and can recreate themselves.
As this is one of the 5 star hotels in Katra, the property has a grand dining ambience. The guests during their stay can enjoy delicious food at –'Moksha' which is a multi-cuisine restaurant that serves mouthwatering vegetarian dishes. You can also enjoy freshly prepared coffee drinks at the valley View which is a coffee shop.