Holi Celebration in Jaipur, The Pink City of Rajasthan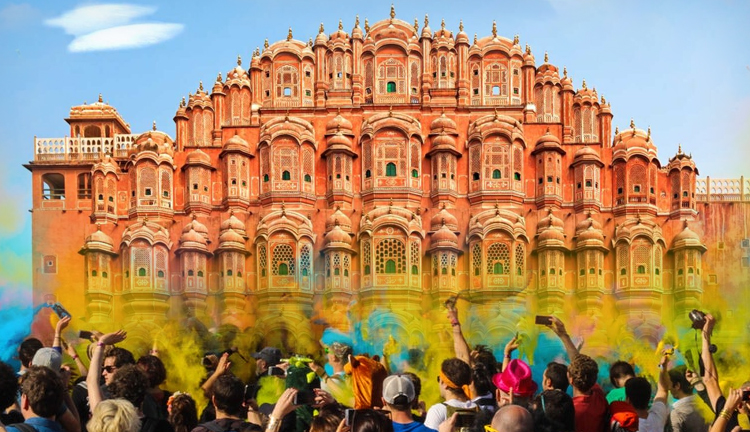 Whenever we talk about the festivals and celebration, the name of India always tops the list. It is the richness of India's culture and traditions that we celebrate so many festivals and fairs. Some are religious while some are local; each and every festival has its own importance at their own respective places.
One of the most favorite and joyous festival of India is Holi, the festival of colors. It is because of this festival that India is known in most of the country around the world. The joys of Holi festival has no foundation, no matter of what religion or caste you are the Holi festival is celebrated by each and every one in the country irrespective of caste, creed and religion.
The festival is celebrated with so much fun and enthusiasm that it's not only Indian but people from around the travel to India during this festival. Each year thousands of tourist visit India specially Jaipur to be a part of this auspicious festival of joy and fun.
Legends of Holi
Though the story behind celebrating this festival is actually quite long, but for your convenience we are going to briefly describe the legend considering the entire major points taking into consideration. During your India Tourism you must have heard many stories and many legends related to different festivals and fairs but you must not have heard the story where a father himself wanted to kill his only own son.
Yes, it's the story of such father, his name was Hiranyakashapu. He was the demon king and the enemy of Lord Vishnu. Unfortunately for him his one and only son Prahlaad become Lord Vishnu's true devotee. About this when Hiranyakashyapur came to know he got fierce and try to perform many failure attempts to kill his son.
Ultimately one day he asks his sister 'Holika' to kill Prahlaad. Holi has boon from Lord Brahmma that she has no fear from fire she will be invincible from fire. Holika took little Prahlaad in her lap and set on pyre. And the rest is history, due to misuse of boon Holika burned into ashes and Prahlaad was rescued by Lord Vishnu.
Ever since from that day till today, to celebrate the win of good over evil, India started celebrating Holi festival. Years and centuries has been passed but still the charm of the festival remains fresh.
Holi in Jaipur
Jaipur, the capital of Rajasthan is also known as the Pink city. It has its own importance when it comes to the celebrations of festivals and fairs. Do you know that the state of Rajasthan due its vivid cultural richness and different festivals, also often called Rangeelo Rajasthan, which means colorful Rajasthan.
People of Jaipur celebrate Holi festival with all zeal and enthusiasm. The houses during the festival decorated with different rangolis, ladies managing households prepare traditional cuisine such as Gunjiya, Papdi, sweet Shakarpara and etc. Your Rajasthan Tourism gets more enchanted when you see the markets during this festival. Whole market is decorated with vibrant colors of Holi. You can literally see the zeal of the festival in the locals while watching them purchasing the Gulaal (dry color), water colors, Pichkaris and sweets for Holi celebrations.
Traditional Holi Celebrations
Holi festival is the time which embarks as the welcoming season of spring. This is the time when winters are about to come to an end and the new season brings the promising bright shiny sunny days with it. Your India tour package gets more exciting with this two days festival. Holi is celebrated as two days festival. The first day of the festival is celebrated as the Holika Dahan. On this day people set a bonfire as a symbol of mythological tale of Prahlaad and his aunt Holika. People on this day, worship the bonfire before and after it was lit which they called 'Thandi Holi' and 'Garam Holi'.  People believe that by worshiping holika bonfire brings prosperity to their houses and they will be save from all impurities just like Prahlaad did.
The second day of Holika Dahan is celebrated as Dhulandi. It is the day when people start their day by throwing colors to each other and Kids around the houses spraying colors with pichkaris and water guns. People on this visit each other houses with a packet of different color Gulaal and greet each other by putting these colors on each other faces. Kids touch feet of their parents and grandparents and take blessings from them.
You can also find youth playing vibrantly playing holi with water colors and DJ party. The soothing 'Thandai' is the main drink that one can enjoy their dreams along with traditional dishes like gunjiya, padre, mathri and many other holi delicacies.
Holi Festival Celebration in Govind devji Temple
India tours is incomplete without visiting the temples which are the major places holding the stories of culture and traditions of the country. In Jaipur the temple of Govind devji is the one which is not only the oldest Jaipur temple, but also is the most worshipped temple of the city. As the festival of holi is associated with Lord Krishna and Goddess Radha, the beauty and divinity in this temple during this festival will reach on its peak.  In Jaipur, the oldest and beautiful temple of Jaipur, Govind Devji Temple is that place where the celebration of Holi is of worth experience. The celebration is started a week before the festival in this beautiful temple. A week-long celebration includes playing holi with different colored flowers, natural colors (Abeer) and sandalwood powder.
You can cherish the different Jhakiyan of Lord Krishna in the temple each unique and different every day. Symbolises as the festival of love and harmony, you can see different dances showing the Raas Leela of Radha Krishna in the temple during this time. On the final day, the priest in the temple sprinkle colors on the idol of Lord Krishna and Goddess Radha.  Along with that cauldrons of color water and pichkaris are also offered to them. After this ritual, devotees plat holi in from of their deity and get sobbed in the divinity of the aura.
Places To Stay in Jaipur
Being one of the most visited tourist destinations, Jaipur is filled with many amazing accommodation places. You will get a plethora of hotels in Jaipur. Be it plush luxury hotels or budget hotels, you will find a great choice from that.