Search by Hotel Name, Price, Locations
17 5 Star Hotels Found In Kollam
Star Rating
Search By Hotel Location
Hotel Landmark
Hotel Facilities
List of 5 Star

Kollam Hotels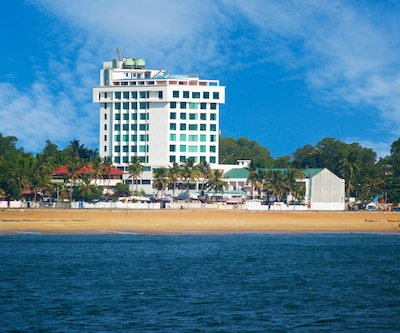 Beach Road
(4 / 5)
1 Reviews
USE COUPON CODE HD50 AND GET 50% OFF UPTO Rs. 1500
Call & Get 50% off 1800-300-2400-1 (Hotline No.) Guaranteed Unbeatable deal.
Best Deal
4340
3500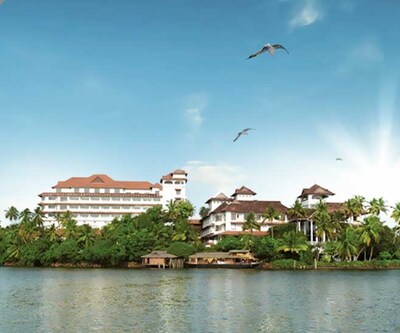 Thevally
USE COUPON CODE HD50 AND GET 50% OFF UPTO Rs. 1500
Call & Get 50% off 1800-300-2400-1 (Hotline No.) Guaranteed Unbeatable deal.
Best Deal
4526
3650
5 Star Hotels in Kollam
Situated on the coast of Arabian Sea, Kollam is one of the beautiful cities of the Indian state Kerala. Kollam is a centre of the country's cashew trading and processing industries. The ports of the Kollam were once famous for the trading of spices with the neighboring countries. The place is surrounded by the Lake Ashtamudi which is the largest lake in Kerala. Being the largest lake, it makes a gateway to the city to the magnificent backwaters of Kerela. Tourists who visit Kerela also love to visit Kollam. For travellers the city has many places to stay ranging from five stars to budget hotels.
The Raviz Resort and Spa is one of the best five star hotels in Kollam. The property is situated at Thevally that rests at the banks of Ashtamudi Lake. The property has 93 luxurious rooms along with 9 suites and cottages. The rooms are categorized into premium room, premium lake view room, luxury suite and heritage suite. All these rooms are fitted with contemporary amenities. The mesmerizing picturesque view of the crystal clear lake and lush green gardens from the rooms, cherish the stay of guests. All these rooms are fitted modish amenities such as tea and coffee maker, electronic safe, television, iron and many more. Some rooms are specially designed to serve guests with Jacuzzi. The property also features four multi-purpose halls namely Senate, Empire, Majlis and Raviz Convention centre which can be used for business and social events. Guests can recreate themselves with fitness centre, swimming pool and Spa with treatment rooms. For guests leisure hotel provides various fun filled indoor and outdoor activities. Guests can enjoy delicious food at in-house multi-cuisine restaurant – 'Riverside pavilion' and for 'Shanghai Club' is famous for Chinese palates. Foe enjoyable evening, guests can visit bar cum lounge –'Zirkon' that serves myriad of wines and spirits.
The Quilon Beach is another property which is one of the five star Kollam hotels. The property is situated at the Beach Road in Kollam. Overseeing the Arabian Sea, The property offers luxurious rooms which can be classified in five categories namely Deluxe Room, Premium Room, Executive Suite, Royal Suite and Honeymoon Suite. Rooms are fitted with amenities such as Wi-Fi, mini bar, tea and coffee maker, satellite TV and electronic safe. For offering their guests a rejuvenating experience to their guests, the property facilitate with all kind of leisure activities. Guests can take a refreshing dip into the swimming pool, or can enjoy the therapy at spa and wellness club. With these, an Ayurvedic wellness centre –'Q Ayurveda' offers 10 treatment rooms. For pampering the taste buds patrons can visit – 'Black Gold' a multi-cuisine restaurant that specializes in Kerala, North Indian and South Indian dishes. Guests can enjoy their evenings with a wide range of exotic wines and spirits at the bar named –'Kuttanadan'. Other facilities like laundry, travel desk, doctor-on call, currency exchange, parking and many more are provided by the hotel which makes the stay of guests, pleasing and cherishing.