Search by Hotel Name, Price, Locations
16 5 Star Hotels Found In Mahabaleshwar
Star Rating
Search By Hotel Location
Hotel Landmark
Hotel Facilities
List of 5 Star

Mahabaleshwar Hotels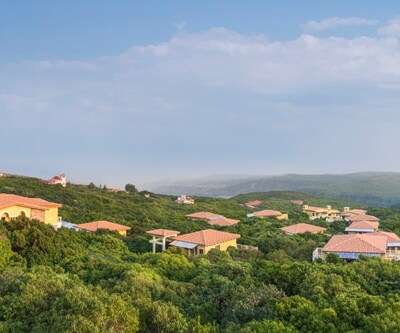 Main Mahad Road
USE COUPON CODE HD50 AND GET 50% OFF UPTO Rs. 1500
Call & Get 50% off 1800-300-2400-1 (Hotline No.) Guaranteed Unbeatable deal.
Best Deal
5 Star Hotels in Mahabaleshwar
Mahabaleshwar is one of the best hill stations in country which is well-known for its grandeur. This largest hill station in Sahyadri Range of Maharashtra state is located in high altitude that makes this place provides cool climate and offers many pleasant walks. Surrounded by the picturesque view and plush green hills and valleys have several lookout points that make this place an ideal tourist destination. The ancient temple of Lord Shiva has its very own significance and this Shivling (idol of Shiv) is considered among 11 Jyotirling of Lord Shiva. The temple is located in forest which is the source of five rivers, including the Krishna Rivers that is known as the second largest river of Peninsular India. The lush green grounds, the foggy environ and running crystal rivers make this place a perfect place spend the locations.
The hill station attracts large number of tourist toward it. Hotel Brightland resort and spa is one of the best five star hotels in Mahabaleshwar. The property is situated at Kates Point Road. The property is enclosed with acres of lush green rain forests, offers a peaceful accommodation options. The guests can choose the rooms which are widely categorized as Lotus Suite, Oak Suite (Honeymoon Suite), Tulip Duplex Grand, Lavender grand, Orchid Grand, Tulip Duplex Superior, Lavender Superior, Cottage Duplex Deluxe, Cottage Apartment Deluxe, Lavender Deluxe, Cottage Duplex regular and Lavender regular. This hotel has 74 rooms that are built across 8 wings Standard in-room facilities include LCD TV, mini bar AC, heater, tea maker and coffee maker and many more. The guests in the hotel can rejuvenate by taking a dip into the outdoor swimming pool. The property has spacious lush green space out-side and sophisticated space inside which is suitable for both business events and social gatherings. Other recreational activities provided by the hotel include Jacuzzi, stem room (wet area), fitness centre, Prana Spa, kids' zone, and disco with lounge. Those who wish to enjoy outside the hotel can opt for activities like hiking, bird watching, horse riding and etc. In-house dining options include –'Olive Garden' that serves lip smacking Italian dishes, then there's 'Pavilion' that is multi-cuisine restaurant, 'Angaare' is s paradise for barbeque lovers and lastly 'Prasadam' has its speciality in vegetarian dishes. 'Over the Edge Bar' offers exotic drink with delighted soothing music and stunning views of the beautiful surroundings.
There's another luxurious five star hotel in Mahabaleshwar named Le Meridien Mahabaleshwar Resort and Spa. The lavish property is situated at Mahabaleshwar Medha Road. Peaking into the natural beauty of environ the place offers 122 lavish rooms which are elegantly decorated and are classified into Tranquiliy Suite, Classic Valley Room and Classic Forest Room. All the lavish rooms are surrounded by picturesque beauty along with modern amenities like in-room safe, mini-bar, coffee maker and tea maker, internet, turndown service, newspaper, hair dryer, LED TV and many more. The bathrooms are attached with every room and are fitted with essential toiletries. Guests can rejuvenate at outdoor pool by taking a refreshing dip into it. There's a special area for kids where kids with their parents enjoy the quality time. People can pump up their muscles and shred their bodies at well-equipped gym which is fitted with all modern equipment. Facilities like concierge, fitness centre, babysitting, airport transportation and dry cleaning/laundry are offered to the patrons that ease their stay at the hotel. For pampering the taste buds of guests the property offers a wide range of delicious delicacies at its in-house restaurant. For a complete relaxation, patrons can step into Spa that provides an array of soothing therapies. Guests can also choose to spend some quality time in the plush green lawn. Those who wish to spend some time with outdoor activities can enjoy different activities such as table tennis, carom in the lawn, chess and many more. The property is also having a library for voracious readers.