27 Stunning Hill Stations in South India to Add to Your Bucket List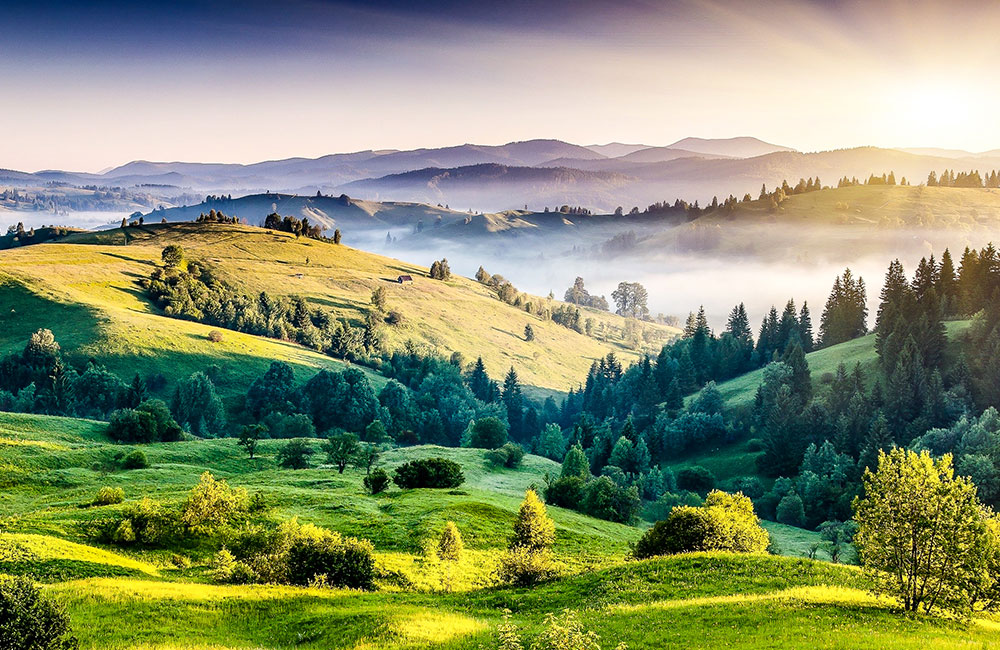 India has an amazing diverse land that offers pleasure to tourists and wanderers alike. The stretch land of lush green is blessed with aromatic air, streams, and glittering lakes, there are a plethora of beautiful hill stations in south India to look for. With temperatures hitting the high bar and the sun shining with full intensity, this is the time to escape this heat and chill in hill stations in South India. This voyage will ensure you are rejuvenated and revitalized. 
The environmental, geographical diversities, and culture of South India made it a traveler's favorite holiday destination. Apart from this, South India has much more natural beauty to explore and appreciate. South India hill stations are visitor's heaven gifted with deep gorges, green valleys, cascading waterfalls, and enchanting lakes. These flourishing hills are split by rolling slopes covered in tea and spice plantations. The exotic view of the small village and the picturesque rawness of the rugged ground looks so lively from the hills, that no scenery could have ever looked so better. The magical charm and the serene environment of south India beckon you to explore the same.
The charm of South India never gets dull, it is infinitely assorted in color and form. You will get bliss in every step you take at this wonderland. These exotic hill stations in South India are bound with everlasting delight and never-ending romance. You can't do justice to the enthralling beauty of South India within the content of this post but will surely make you excited about heading South. Without taking a stroll in the lands of South India one can't understand its beauty and soul. If you are planning a wonderful excursion to South India's hill stations then here is the list of 30 stunning hill stations in South India that you shouldn't miss. 
Ooty, Tamil Nadu – Queen of Hill Stations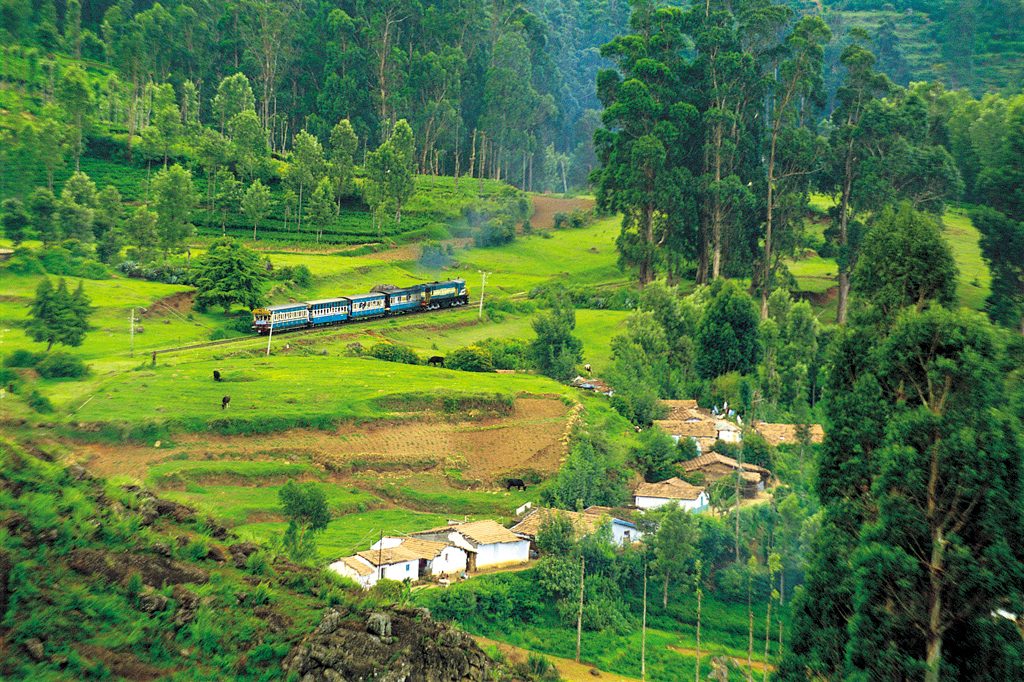 Ooty situated in Tamil Nadu is one of the top hill stations in South India for family vacations, honeymoons, and solo trips. Owing to the beauty and charm of the Nilgiri Hills it is quite famous as Queen of Hill Stations. Soaring hills, dense forests, vast green lands, and a plethora of fresh tea gardens welcome every traveler. The alluring beauty of Ooty fascinated travelers for a long time and is a paradise for nature lovers. Don't miss the ride of the famous Nilgiri toy train that takes you to nearby hills, Visit through the tea and coffee estates and taste some fresh tea and coffee. Ooty is one of the top summer places to visit in South India. 

Things to do in Ooty
Experience boating in the blissful Ooty lake

Have fun fishing at Avalanche Lake

Enjoy trekking trails at Doddabetta Peak in Nilgiris

Check out the mesmerizing Ooty Botanical Garden

Visit the Tea Museum nestled beautifully on the slopes of Ooty
Also Read: Places to Visit in Ooty
Coorg, Karnataka – Scotland of India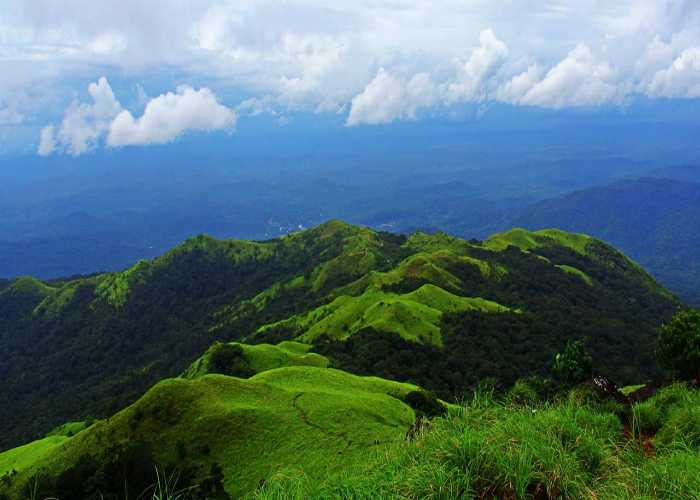 Coorg is one of the exotic hill stations in South India popular as Scotland of India should be on your bucket list. Setting beautifully in the picturesque Western Ghats this is the perfect weekend getaway place in South India. This place is a perfect blend of lush greenery with grey and white. Numerous creeks peep through the cliffs and coffee-blanketed valleys beckoning trekkers, rock climbers, and travelers alike. Coorg is the only place in South India with Tibetan Settlement and it is the largest producer of Coffee in India. This beautiful hill station is ornate with magical hills, stunning landscapes, amazing cascades, glimmering lake, and lavish resorts is the perfect destination to spend your summers with loved ones. 

Things to do in Coorg
Experience rappelling at Chelavar waterfalls

Heritage tour to Madikeri Fort

Enjoy the adventure activities like quad biking, trekking, and rock climbing in Coorg

Watch the blissful Elephants at Dubare Elephant Camp

Take a stroll in the coffee plantations and taste freshly brewed coffee.

Have fishing in the Kaveri River
Also Read: Places to Visit in Coorg
Munnar, Kerala – Heaven in God's own country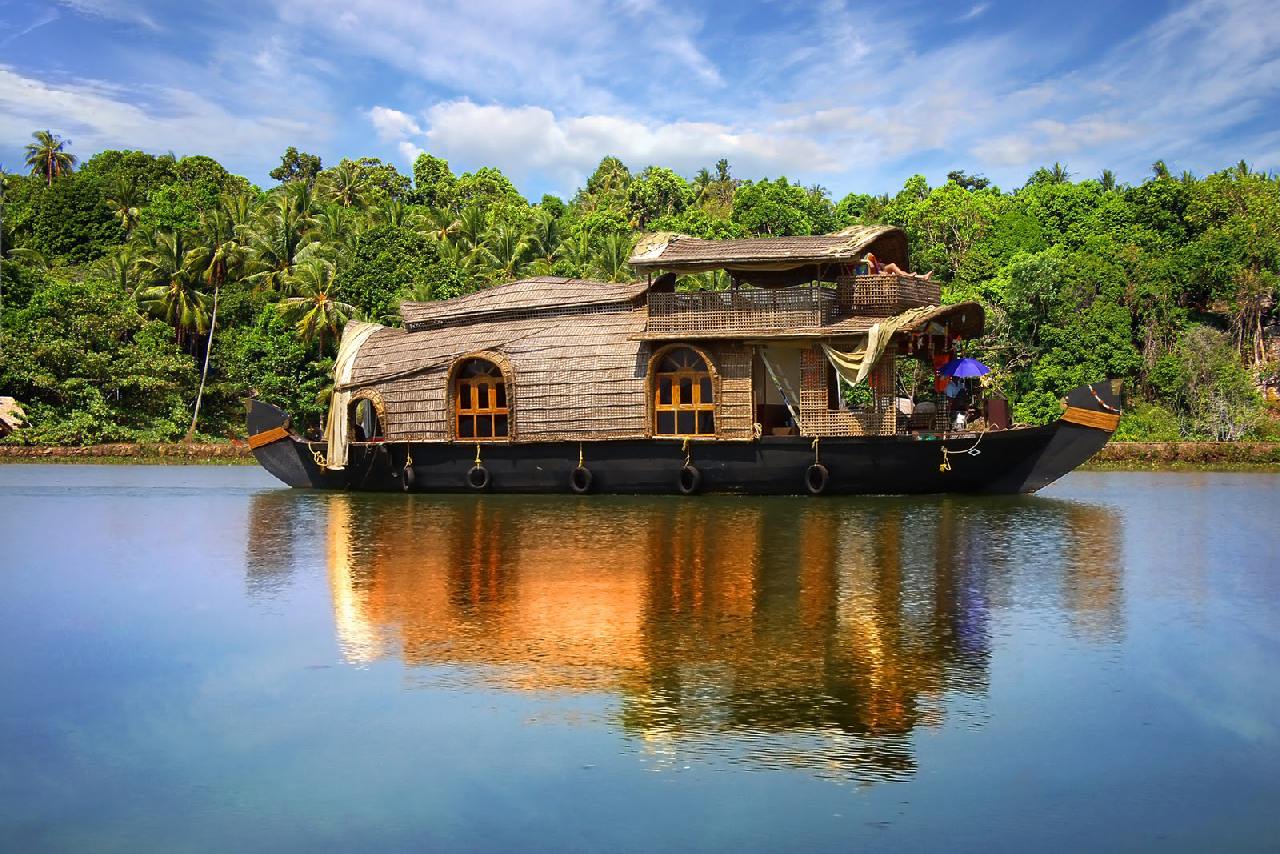 Munnar is an ideal hill station in South India is situated in the 'God's Own Country Kerala. Munnar is one of the most scenic and stunning hill stations in South India. This hill station is far away from the chaotic city life and is an abode of nature that gives the most memorable time to adventure seekers, nature lovers, and couples. It is famous for its tea estates, cascades, serene lakes, and mystical hills making it fascinating for every traveler. Munnar will surely become one of the health resorts as the calm breeze and soothing views will leave you awestruck. Munnar topped the list of the top 10 best places to visit in summer in South India.  

Things to do in Munnar
Take a plantation walk in the fresh tea fields

Enjoy the mountain biking, camping, and trekking at the blissful trails in Munnar

Visit the top station view point and wildlife in Munnar

Enjoy the angling in the lakes of Munnar
Kodaikanal, Tamil Nadu – Perfect place for a Romantic Getaway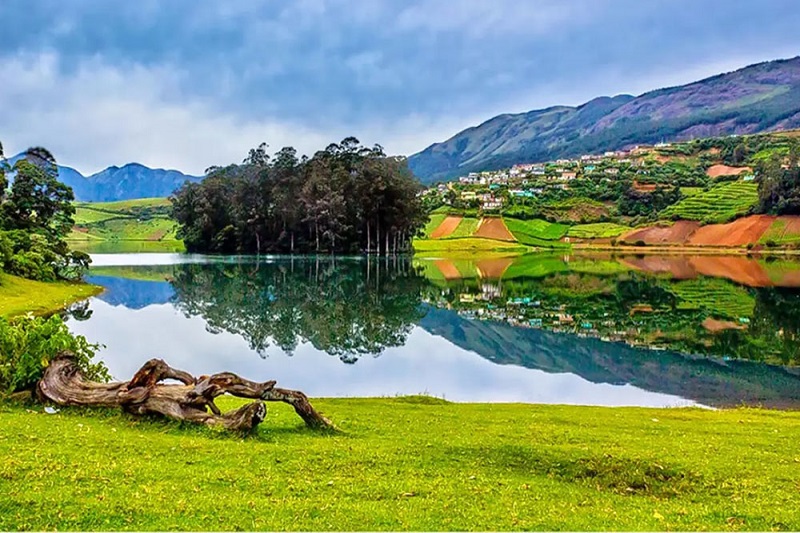 Kodaikanal is a beautiful retreat located in the Dindigul district of Tamil Nadu and is considered one of the most famous hill stations in South India. This amazing hill station is known for its beautiful backdrops that will surely leave every traveler captivated. Kodaikanal is also known as the 'Princess of Hills' surrounded by enchanting viewpoints and serene lakes filled with Water Lillies giving you a perfect Bollywood romantic feel. Exquisite thick forests, splendid beauty of vegetation, glimmering rivers, and panoramic terrains release colors on the crystal clear waters of the lakes making it a mesmerizing scenery to behold. 

Things to do in Kodaikanal
Enjoy the boating in the blissful Kodaikanal lake

Experience the picturesque landscapes in the dolphin's nose

Night safari in the wilderness of Kodaikanal forests will be a different adrenaline rush activity

Trekking and Hiking in Kodaikanal is a must-do activity

Enjoy the past of Kukkal Caves
Wayanad, Kerala – Nature's Abode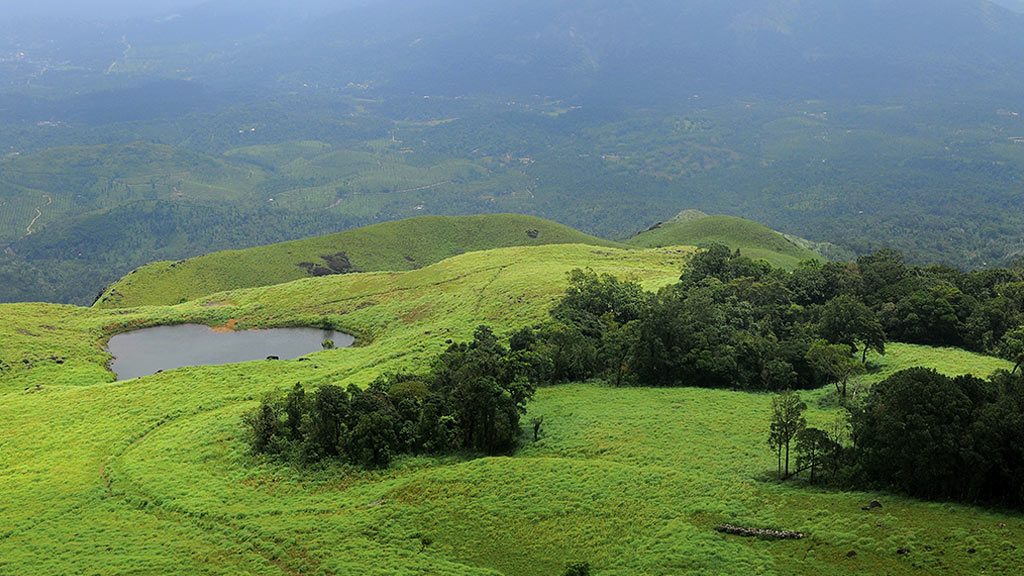 Wayanad is situated in Kerala is a nature abode famous for its wildlife and spice plantation. Taking a stroll through the spice farms, trekking to the historic caves, and refreshing yourself at a resort holiday is one of the many things you can experience at this famous hill station in South India. Wayanad wildlife sanctuary is home to a superb variety of flora and fauna and is best known for its wildlife reserve. Wayanad wildlife reserve is beautifully situated among the panoramic hills of the Western Ghats and is an integral part of the Nilgiri biosphere reserve. Wayanad is the perfect weekend getaway from the cities of the South providing a perfect vacation for tourists. 

Things to do in Wayanad
Visit the Banasura Sagar Dam the largest dam in South India

Witness the different varieties of wildlife in the Wayanad wildlife sanctuary

Go for cycling and trekking at Chembra Peak

Enjoy boating in Pookode Lake

Experience the beautiful Meenmutty cascade and Edakkal Caves
Chikmagalur, Karnataka – Coffee Hub of Karnataka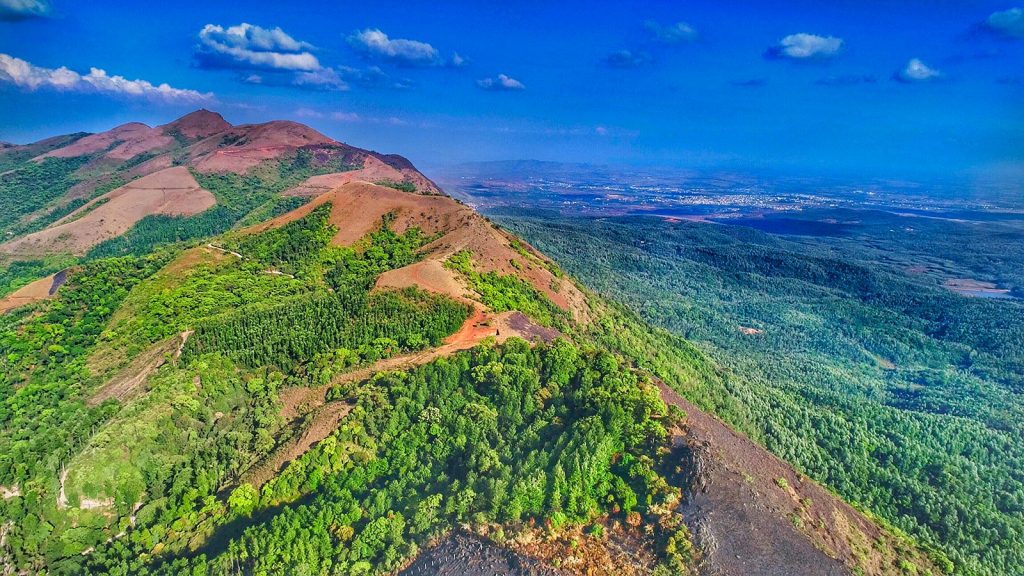 Chikamagalur is one of the best hill stations in South India situated in the foothills of Mullayangiri hills and is also known as the Coffee land of Karnataka. With plenty of coffee plantations, Chikmagalur has an enduring aroma of coffee lounging in the air. Popular for its tall cliffs, dense forests, and serene ambiance make Chikmagalur a very popular tourist destination in South India for a quick retreat for the people. If you're a die-hard coffee lover then Chikmagalur is no less than a paradise for you as it is all about the coffee plantation. Taking a stroll and tasting freshly brewed coffee is a must-do activity here. 

Things to do in Chikmagalur
Discover an exotic wonder at Hebbe Falls

Enjoy a picnic near Jhari Falls

Visit the divine Horanadu temple

Experience the amazing trekking trail at Kudremukh trek
Coonoor, Tamil Nadu – Picturesque Hill Station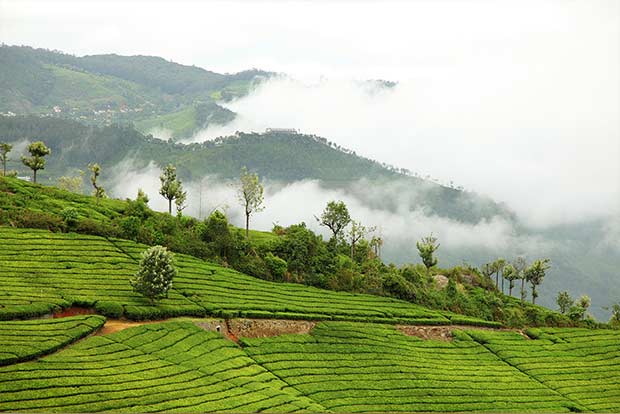 Coonoor is one of the three Nilgiri hill stations situated in Tamil Nadu and is the second largest hill station in the Western Ghats. With terrains of tea farms, ornate with many attractions, and endowed with cool weather throughout the year, Coonoor is one of the offbeat hill stations in South India perfect for summers. Coonoor is an amusing location to have a scenic view of the Nilgiri hills and Catherine falls. Its Colonial architecture, lush greenery, impressive panoramas, and misty hills make it a dreamy destination for every traveler. Adventure activities like trekking and hiking are popular here. 

Things to do in Coonoor
Unwind the glorious past at Droog Fort

Enjoy trekking at Katary Waterfalls

Visit Sim's Park for a family picnic

Learn here how to make cheese
Yercaud, Tamil Nadu – Land of Seven Forests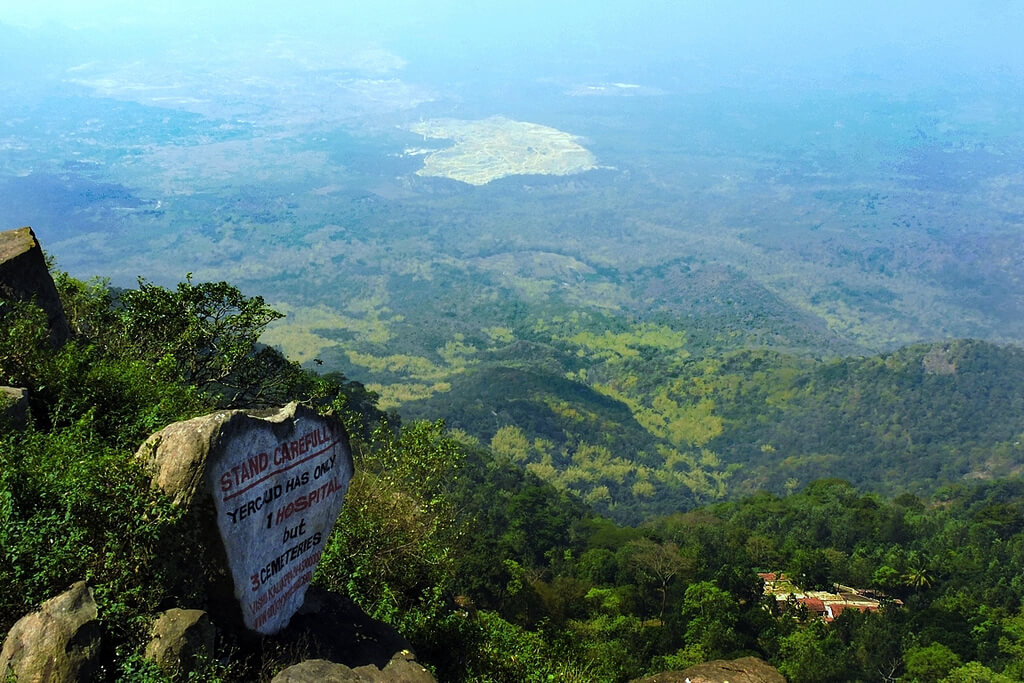 Yercaud is lodged in the Shivaroy Hills of Tamil Nadu and is one of the most popular hill stations in South India. Yercaud is famous for its exquisite topography that will leave you awestruck. This hill station is dotted with a plethora of places like parks, cascades, lakes, hills, and colonial edifices. The temperature of this hill destination remains moderate and never goes above 30 degrees throughout the year. This is a perfect honeymoon destination for newlyweds as they can experience occasional drizzling and panoramic vistas also. Yercaud has a history dating back to the time of the British and has vast expanses of coffee estates with great weather conditions. 

Things to do in Yercaud
Visit the beautiful Rose garden

Take a nature walk in Kottachedu Teak Forest

Witness the variety of animals and birds at Kurumbapatti Zoological Park

Pay a visit to the Annamalaiyar Temple
Devikulam, Kerala – Panoramic Aura and Blissful Nature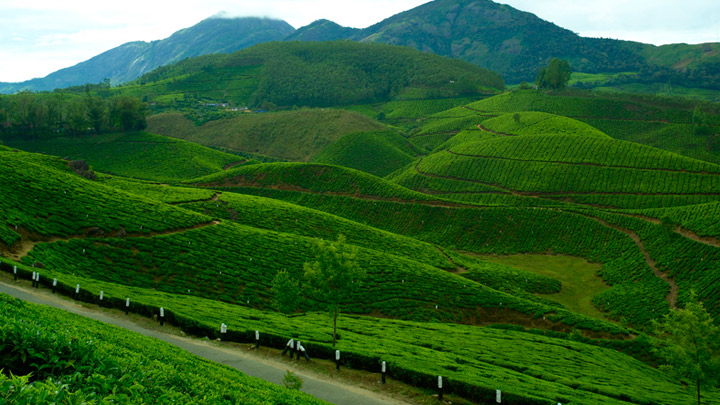 Devikulam is one of the offbeat hill stations in South India situated in god's own country, Kerala. The stunning cascades and aromatic tea plantations add charm to this exotic scenic beauty. Devikulam is a popular tourist place among couples and families and undoubtedly one of the attractive places in south India that fetch hundreds of travelers from around the world. According to legends, the wife of Lord Rama, Devi Sita took bath in the Devikulam lake making it one of the sacred lakes in India. Devikulam is close to many other popular hill stations such as Munnar and this hill station is biodiversity-rich.

Things to do in Devikulam 
Take a dip in the sacred Devi lake

Rejuvenate at magical Thoovanam Falls

Take a visit to Mattupetty Dam

Take a walk to the tea and spice plantation
 Vythiri, Kerala – Nature Lover's Paradise
Vythiri – a nature lover's treat, regularly visited by couples is situated in the Sylvan Northern High scopes of Kerala, spread over more than 150 acres of land with eco-friendly reaches. Stunning, relaxing, rejuvenating, pollution-free, and unwinding, Vythiri is among the main 10 hill stations in South India that inhales history and legend.

Things to do in Vythiri
Visit the lush greenery pastures

Witness the panoramic vistas and sunset
Kemmangundi, Karnataka – Beautiful Panaromic Vistas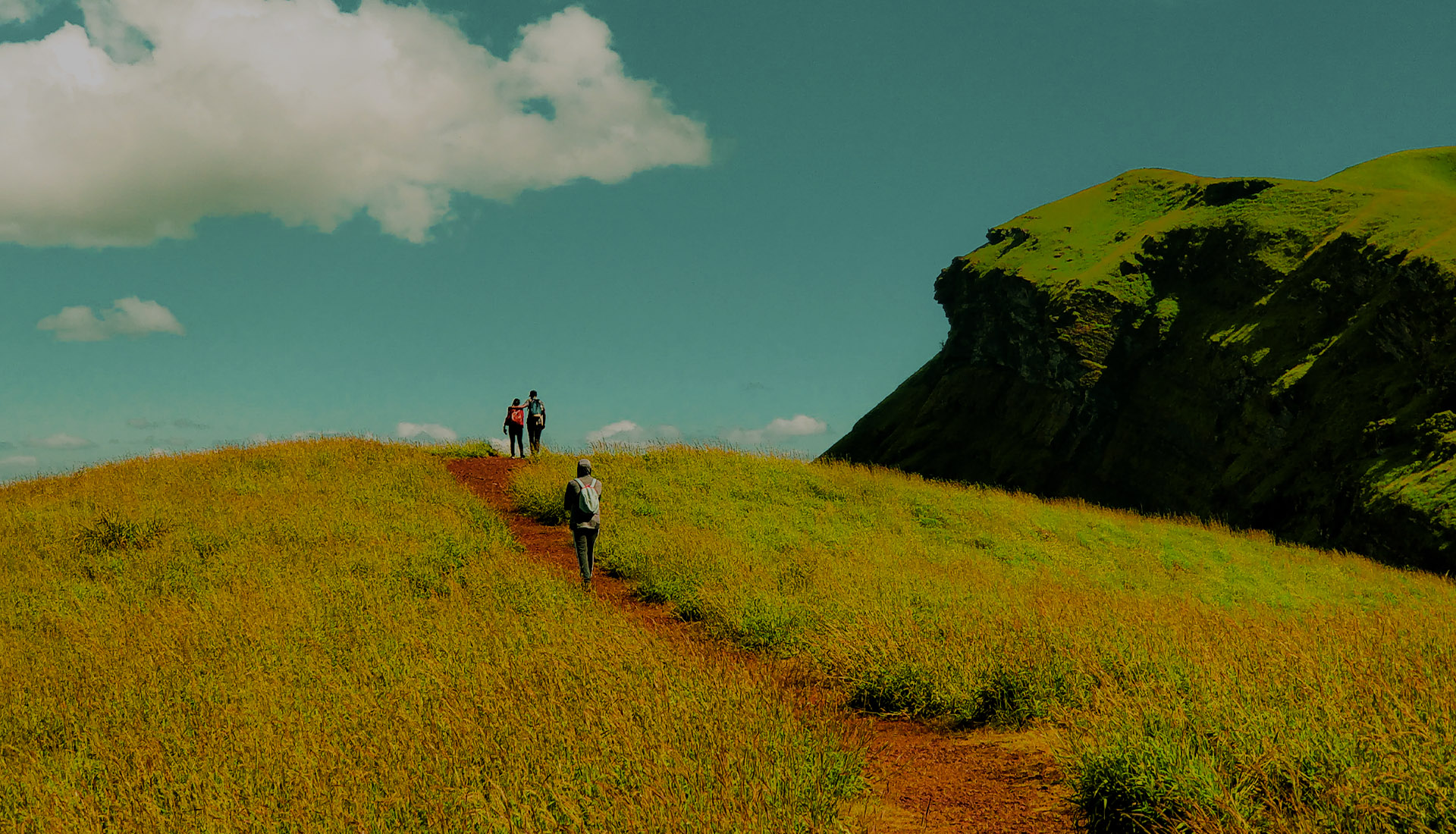 You can't miss out on the breathtaking views of Kemmangundi situated in Tamil Nadu while talking about the South India hill stations. Kemmangundi is also known as KR Hills, a hill station of widespread vistas and fragrances of amazing gardens. Kemmangundi also has nature walks, trekking, and picnics. This place has some beautiful gardens as the Royal Horticulture Society of Karnataka is situated here. The word Kemmangundi stands for the Red soil which is why this area is popular. This place was a summer retreat for the Mysore King Krishnaraj Wodeyar IV. The king later donated his place to the government of Karnataka after mesmerizing by the stunning views of the Kemmangundi. 

Things to do in Kemmnagundi
Take a walk in the Rock Garden

Visit the mesmerizing Hebbe Falls and Kalahasti falls

Pay respect at the Shiva temple
Vagamon, Kerala – Explore the scenic sights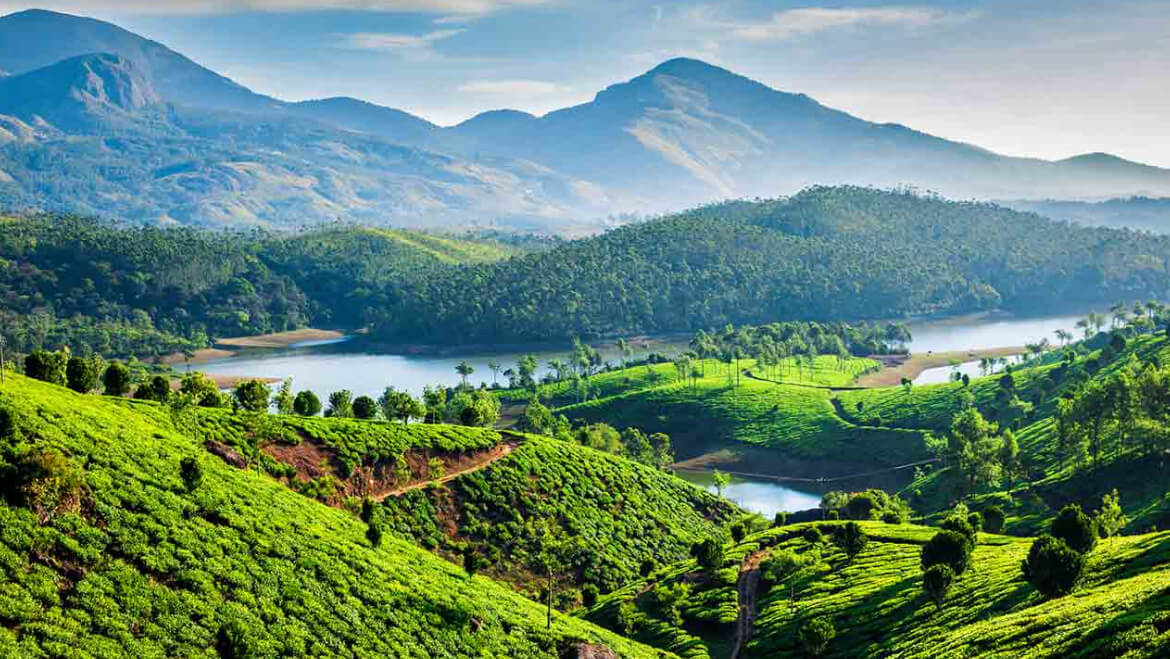 Vagamon or Wagamon is situated near the Kottayam-Idukki border and is one of the offbeat hill stations in South India. If you are an adventure enthusiast then this place is surely a perfect match to experience adventure activities like trekking, mountaineering, camping, and rock climbing. This stunning tourist destination has meandering streams and verdant green hills surrounding pleasing weather throughout the year. With activities like mountaineering, rock climbing, camping, trekking, and paragliding are offered to tourists, this offbeat hill station in Kerala gaining attention as India's topmost tourist destination for adventure. The pine woodlands, cascades, fascinating landscapes, and tea estates make Vagamon a perfect weekend getaway. 

Things to do in Vagamon
Enjoy adventure activities like paragliding and trekking at Murugan Mala

Take a boat ride in Vagamon Lake

Experience the offroading in the beautiful landscapes of Vagamon
Araku Valley, Vizag – Explore the meadows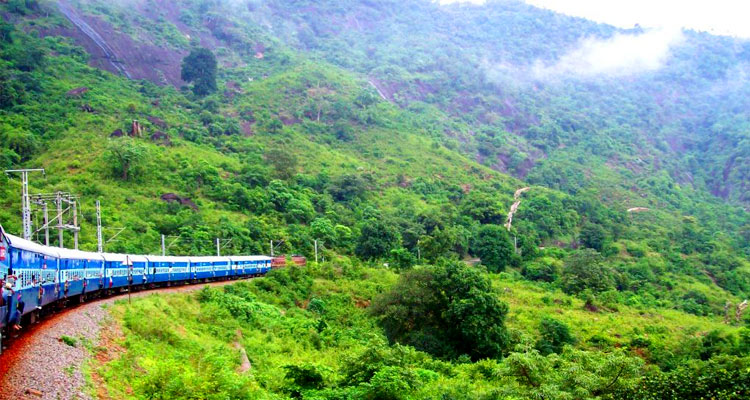 Araku valley is one of the beautiful hill stations in South India located in Visakhapatnam in Andhra Pradesh. If you're a traveler and looking for tranquility and exclusivity then this hill station surrounded by eastern ghats is a perfect place for your getaway. The fascinating landscapes and ravines of this beautiful place at this hill station draw people to plan a visit here. This mesmerizing tranquil valley comprises pompous orchards, cliffs, and green fields that add to the pleasing climate that persists all year round. Araku Valley is filled with the aromatic air of coffee as it has many coffee plantations. 

Things to do in Araku Valley
Explore the architectural marvel at Borra Caves

Unwind yourself in the scenic landscapes at Dumbriguda waterfalls 

See the rare flowers and trees at Padampuram botanical garden

Experience the culture and traditions at Tribal Museum Araku
Yelagiri, Tamil Nadu – Hills calling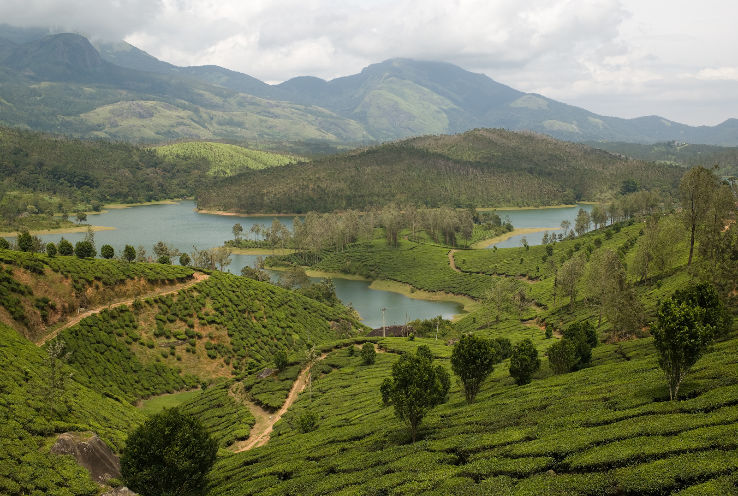 Yelagiri is located near Vellore in Tamil Nadu is a quaint hill station that provides a quick weekend getaway for the locals. Yelagiri is one of the top hill stations in South India and a perfect destination for nature lovers. Yelagiri is a completely off-the-beaten tourist destination filled with a quieter and peaceful vibe as compared to other hill stations. This hill station become famous when the Britishers use it as a summer getaway. This hidden gem of South India is decorated with eye-pleasing rose gardens, beautiful hills, misty peaks, lush green fields, and orchards. This place is less crowded as it is less known till now and offers the best sunsets and serene lakes. 

Things to do in Yelagiri
Witness the blissful Jalagamparai Falls

Take spiritual blessings in Velavan Murugan Temple

Visit Ayurvedic herbs at Government Herbal Farm

Enjoy boating in Punganur Lake

Take part in adventure activities like trekking, rock climbing, and many more at Yelagiri Association of Adventure Sports
Ponmudi, Kerala – Known as the Golden Peak of Trivandrum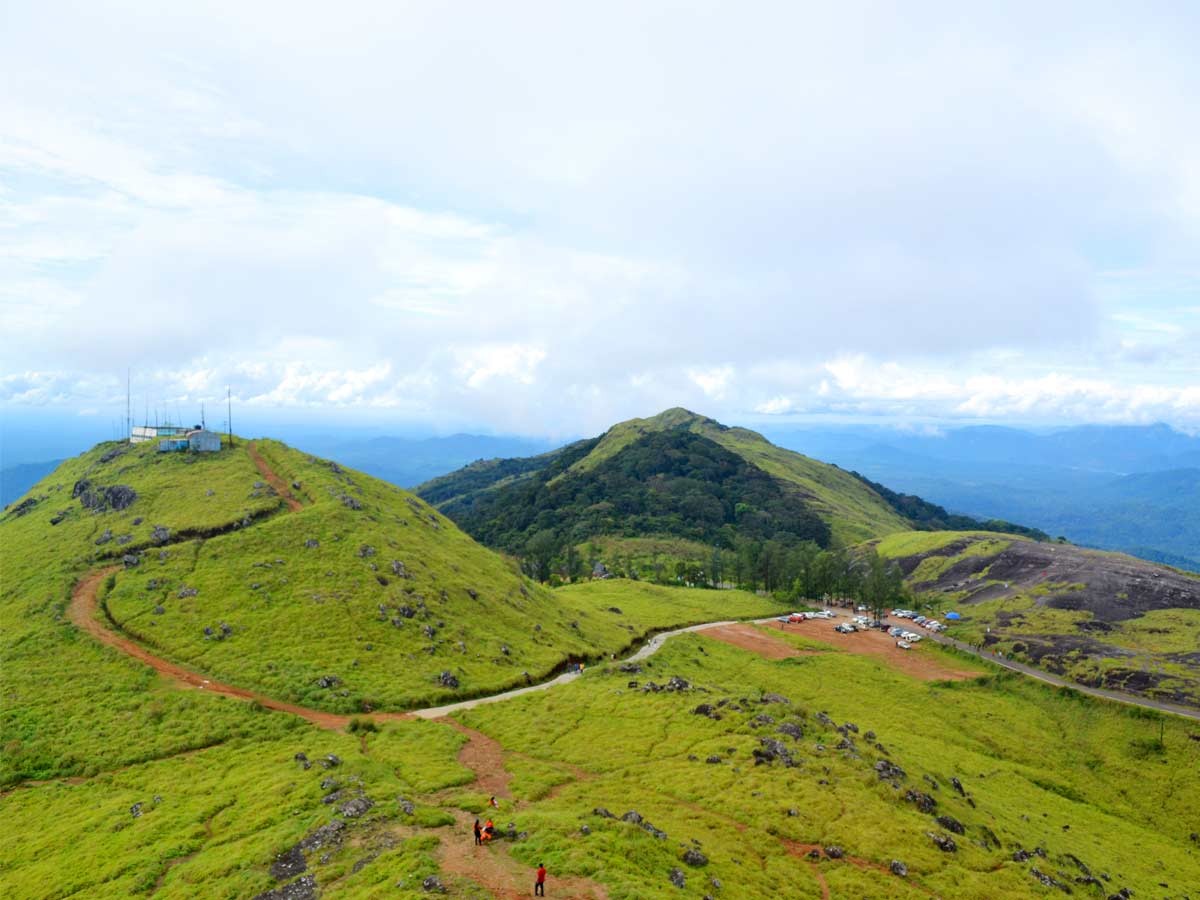 Ponmudi is the best destination for a honeymoon among newlyweds. Nestled beautifully in the laps of the Western Ghats, this exotic hill station in South India fascinates every traveler with its winding trails, an array of mountains, lavish tea gardens, and a variety of butterflies making it one of the places to enjoy in South India. The place is ornated with intimidated dense forests, cascades, and different trekking trails. Fascinate your loved ones with the glittering green waters of meandering dreams and mist-clad canyons this summer. 

Things to do in Ponmudi 
Discover the flora and fauna at Peppara Wildlife Sanctuary

Enjoy the scenic views from the Golden Valley

Try your hands in trekking at Chinnappulle, Varayadumotta, and Braemoor trekking trails

Witness the amazing Barasinghas at Mini Zoo
Bellikkal, Tamil Nadu – Misty Cliffs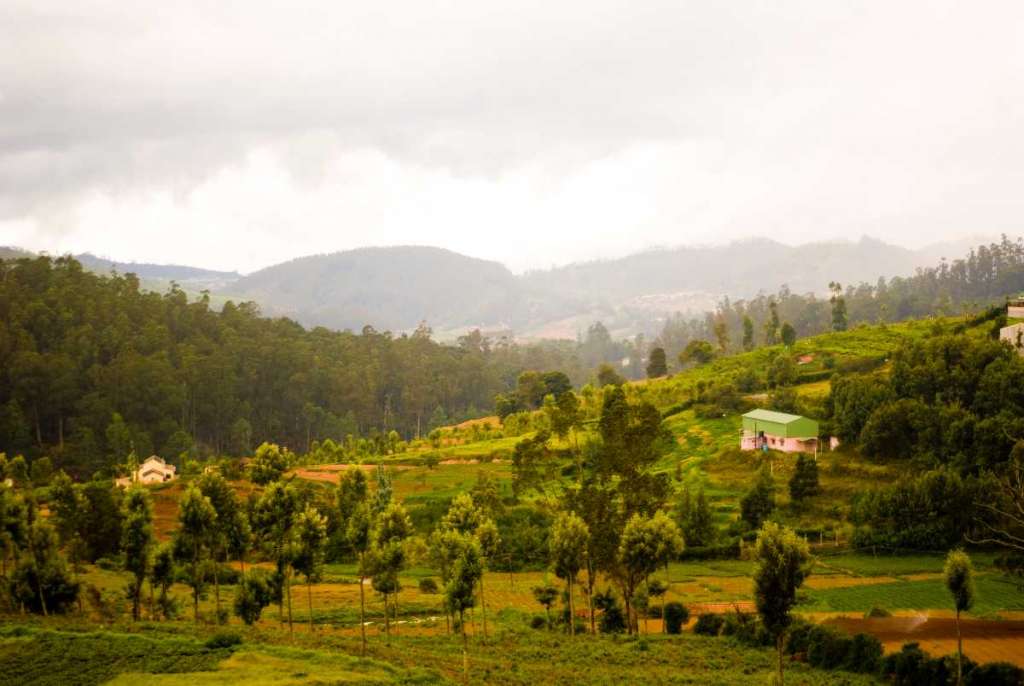 Bellikkal is a small village in the south of Tamil Nadu where you can completely get lost in the hills without worrying about your 'to-do' list. This is one of the offbeat hill stations in South India where the hills can steal your breath away and make your vacations a memorable one. This place left you mesmerized through its calmness, beauty, and tranquility. This little hill station is beautiful as the other hill stations and the cool breeze from the mountains adds to its charm. 

Things to do in Bellikkal 
Relax in the laps of the lush green mountains

Enjoy the beautiful sunset and panoramic views in the hills
Kotagiri, Karnataka – Nature's Abode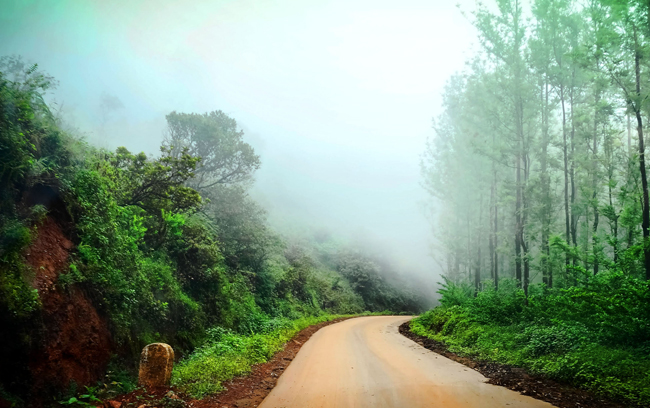 Katagiri is the home of the Kota tribe which is also popular as the 'mountains of the Kotas'. Kotagiri is one of the beautiful hill stations in South India snuggled in the beautiful hills of Nilgiri District filled with tourists from every corner of the world. Kotagiri offers a plethora of hiking and trekking opportunities for adventure junkies, steeped in extensive expanses of greenery and coffee plantations this place is no less than a dream. This little hill station is an ideal destination for rock climbing with a rugged landscape endowed with a serene backdrop. The weather of this hill station is salubrious and incomparable. 

Things to do in Kotagiri
Trek at the Catherine Falls, Kodanad, and Longwood Shola

Enjoy solace in the tranquility of Kodanad Viewpoint

Pay respect to the John Sullivan Memorial, the father of tea plantations in the Nilgiri hills
Nelliyampathy, Kerala – unexplored treasures
Nelliyampathy is another hill station in the list of offbeat hill stations in South India situated near the Kerala and Tamil Nadu border. This quintessential hill station with enough unexplored treasures offers a bounty of cardamom, coffee, and tea estates with lush green surroundings. With a variety of flora, fauna, and serene tourist spots, this town is beautifully decorated. Nenmara Vellanghy Vela a local festival takes place in April. With great zeal and energy, this colorful festival of Kerala is celebrated on the shores of Kerala. Nelliyampathy is a perfect getaway for all types of tourists with the best of all elements. 

Things to do in Nelliyampathy
Enjoy trekking and camping in Nelliyampathy hill

Celebrate the Nenmara Vellanghy Vela festival with the local

Visit the Parambikulam Wildlife Sanctuary
Peermede, Kerala – Blissful Retreat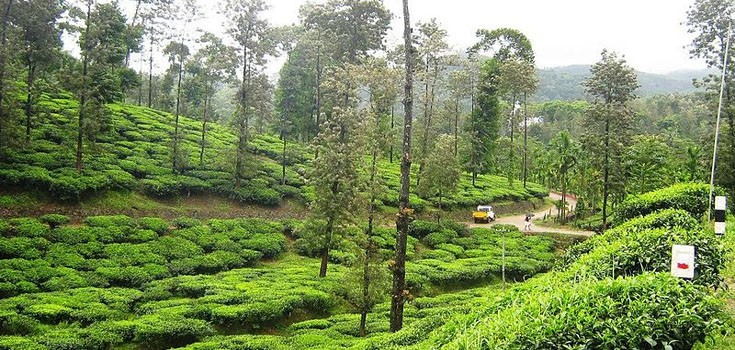 Peermede is one of the most popular hill stations in South India situated in the Idukki district in Kerala. Peermede is a beautiful plantation town and has been a pleasant sight for tourists dotted with serene lakes, eye-catching vistas, amazing trekking trails, and cool weather. This place will give you solace away from the chaotic lifestyle of the city. The name Peermede is derived from a Sufi Saint named Peer Mohammad who is linked with the Travancore royal family, is believed that he was the first spice trader of this region. The blissful charm of Peermede is enough to make you fall in love with this beautiful South hill destination. 

Things to do in Peermede
Trek at the Kuttikanam the most amazing trekking trails

Visit the royal summer palace of the Travancore family

Experience the Good Friday gathering at Amritha Medu

Have fun at the Madammakkulam Waterfall and Panchalikulam Pond
Ananthagiri, Andhra Pradesh – A Paradise in Telangana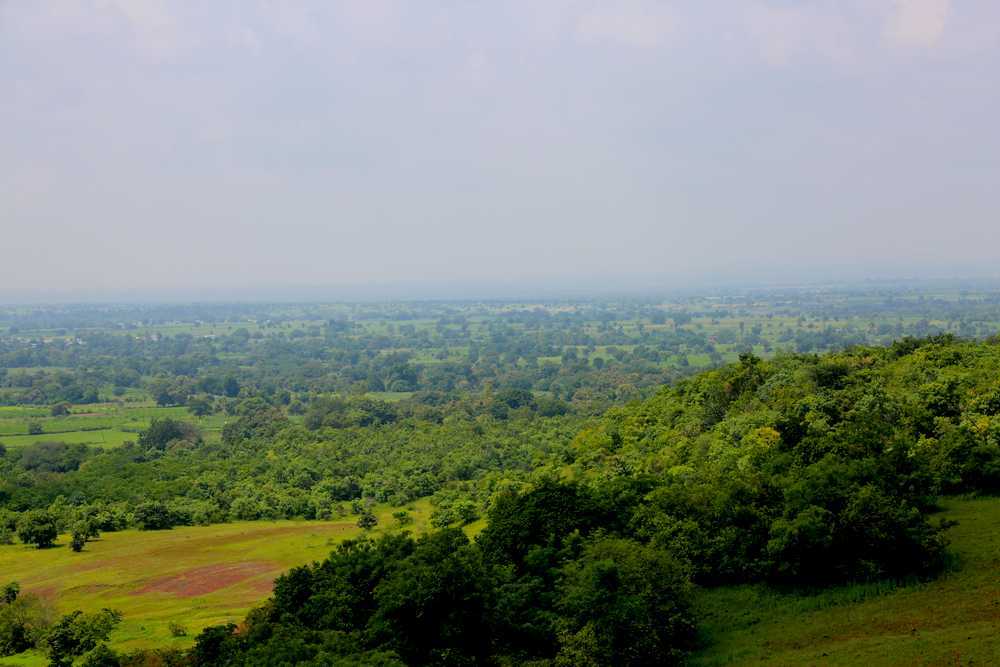 Set amid the Eastern Ghats, Ananthagiri Hills is an excellent retreat 90km away from Hyderabad city. One of the earliest human living space regions, Ananthagiri is a hill

Station of old-fashioned caves, temples, and ancient royal residences that grandstands the historical backdrop of the area. It is one of the most amazing hill stations in South India and one of the pollution-free hill stations in India. Rich in minerals and salubrious climate, it vouches for an enthralling scene that simply stops everything and captivates a song of rapture in the travelers. Melody-filled mornings, light and dim green shades of coffee estates, soul calming trilling of birds, and beautiful sights of Musi River are probably the best things to experience in and around Ananthagiri Hills. 
Things to do in Ananthagiri Hills
Seek spiritual blessings in the divine Ananthagiri Temple

Watch the birds and animals in the Tyda Park

Enjoy Kayaking, Boating, and Camping at Kotipally Reservoir

Take a nature walk in the Coffee estates

Take a dip into the Bhavanasi Lake
Idukki, Kerala – Idyllic Retreat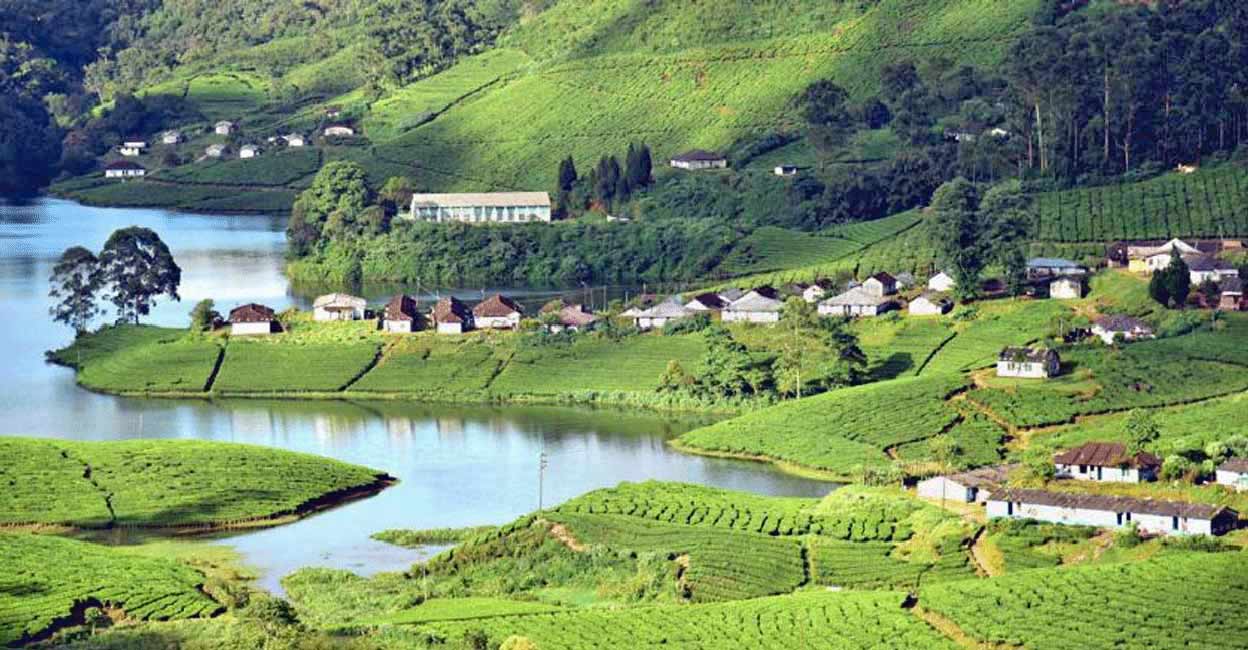 Idukki is one of the beautiful hill stations in South India set ideally in Kerala. Filled with many national parks, tea estates, and sanctuaries provide the perfect ingredient to light up your day. This hill station provides a very unique essence to life with its spice plantations and many tribes. Ideal for a quiet hideout from the city clamor, Idukki ought to be an absolute necessity on your list of must-visit cities. It is known for its all-encompassing perspectives and the Idukki dam, which is the world's second and Asia's first curve dam. Idukki is decked with a wealth of timberlands, therapeutic plants, and spices which makes it an ideal destination for relishing Ayurvedic health resorts. The vista offered by the site is exquisite. The best experience is the elephant safari that takes the guests through the tea estates which lifts your experience to another level.

Things to do in Idukki
Experience the adrenaline rush of wildlife trekking

Enjoy the camping in the heavenly forests of Idukki

Embrace the Bamboo rafting in the Idukki rivers

Paragliding, Canoeing, Hiking, and biking give you a lifetime of memories
Kudremukh, Karnataka – Home of Peace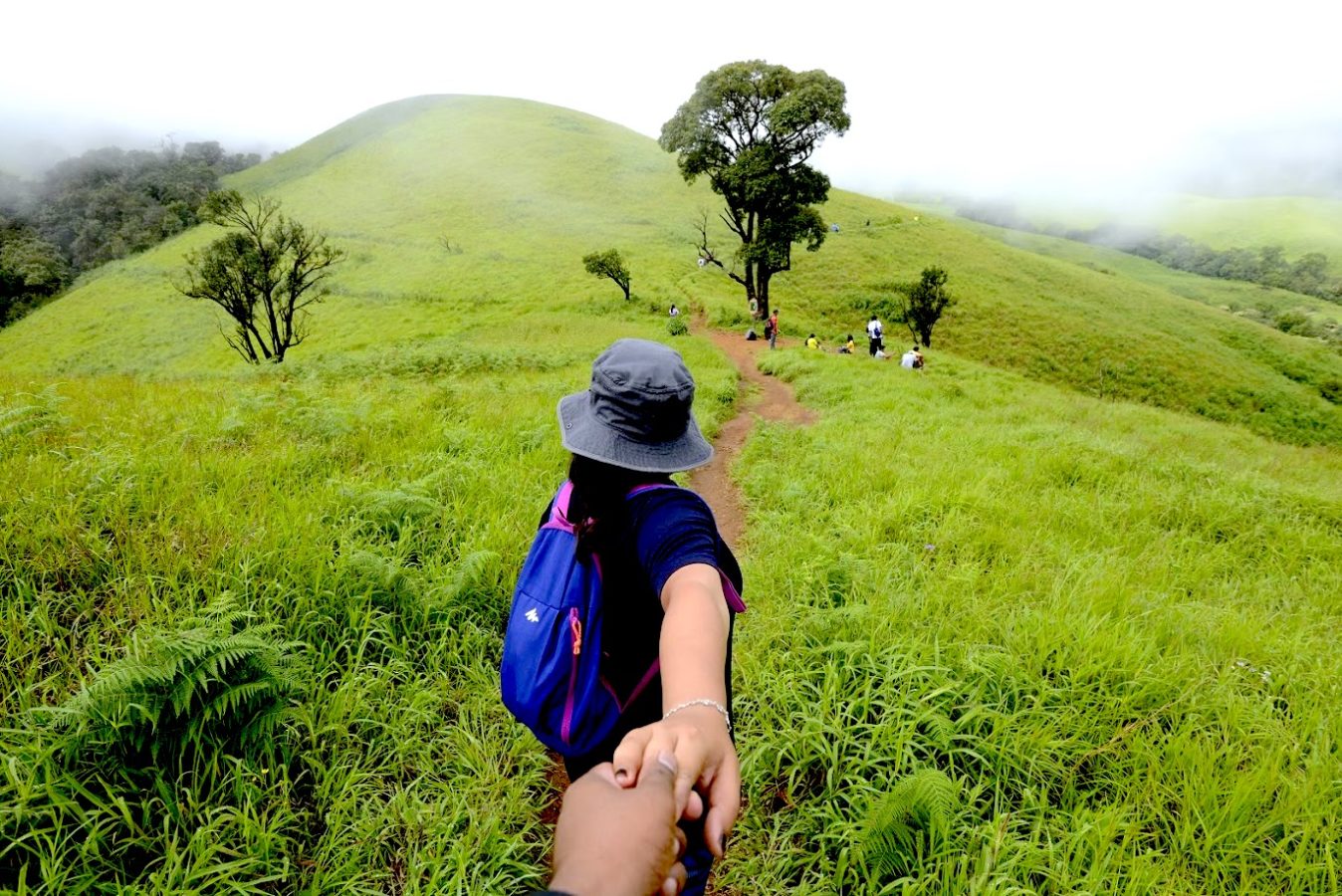 Well known and named after a mountainside that looks like a horse's face, Kudremukh is popular for its biodiversity and grand magnificence. A famous hill station in South India among the Bangalore swarm, Kudremukh is a slope range in the Chikmagalur locale of Karnataka. Kudremukh Peak is a heaven for adventurers and naturists the same, with its ragged ways and botanical and faunal variety. The moving mountains, unblemished waterways, and lakes charm the tourists. It is loaded down with metals and rich biodiversity, which is difficult to come by. Kudremukh is a charming spot to visit, actually holding quite a bit of its regular magnificence notwithstanding persevering dangers from different sources to its biology.

Things to do in Kudremukh
Take experience from the Kudremukh National Park

For trekkers, Kudremukh Peak is no less than a jewel

Witness the beauty of Lakya Dam

Embrace the Tipu Sultan's masterpiece at Jamalabad Fort
Horsley Hills, Andhra Pradesh – Alluring Place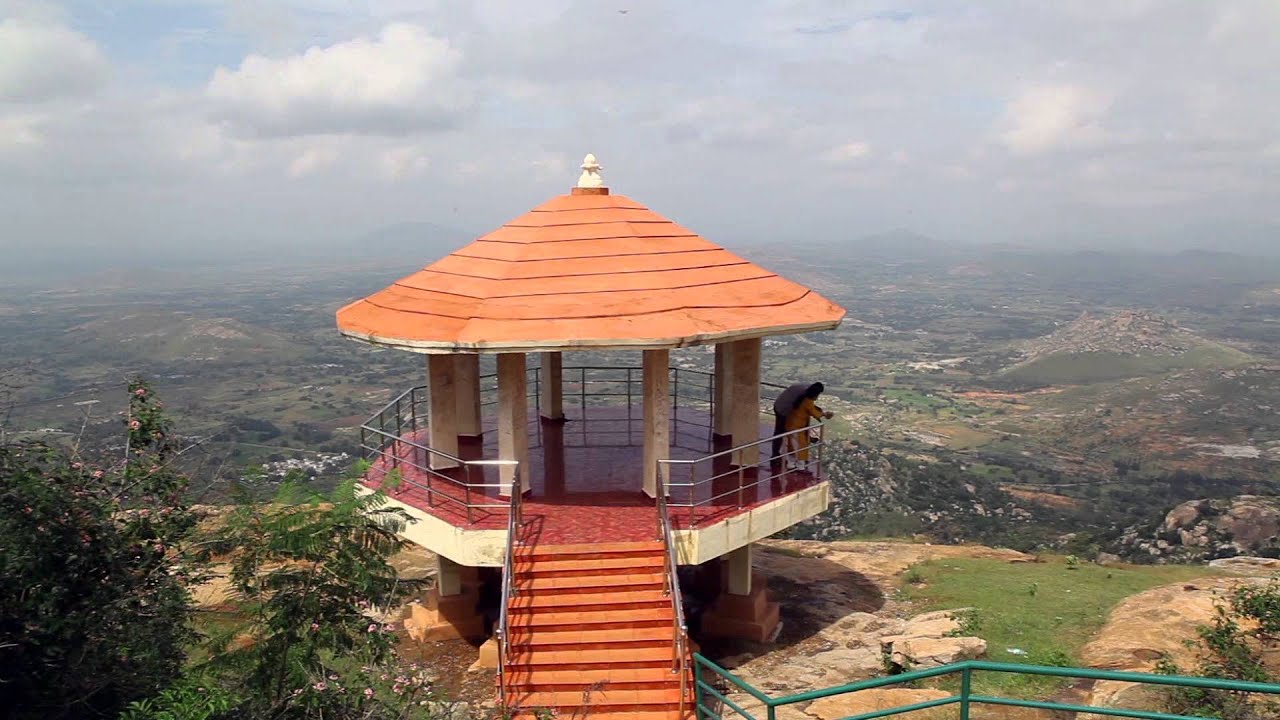 Horsley hills are one of the serene places perfect for trekking and hiking for adventure enthusiasts. Horsley Hills is one of the offbeat hill stations in South India ideally situated in Andhra Pradesh gives you a feeling of eternal peace. In South India, Horsley is an ideal spot for wildlife and nature lovers. Peace and Tranquility are some of the most important elements of this fascinating hill station. The path to Horsley hills is decorated with beautiful trees like Silver Oak, Red Sanders, Eucalyptus, Coffee, Sandalwood, Mahogany, and Gulmohar. Seeing wildlife such as Sambars, Jungle Fowls, Panther, Porcupines, Boars, and Antelopes are treat to watch. 

Things to do in Horsley Hills
Watch the wildlife at Horsley Hill Zoo

Witness the exquisite architecture and blissful spirituality at Chennakesava Temple

Go for eternal sunset and sunrise at Galibanda

Enjoy the tranquility at Gangotri Lake
Nandi Hills, Karnataka – Hills of Joy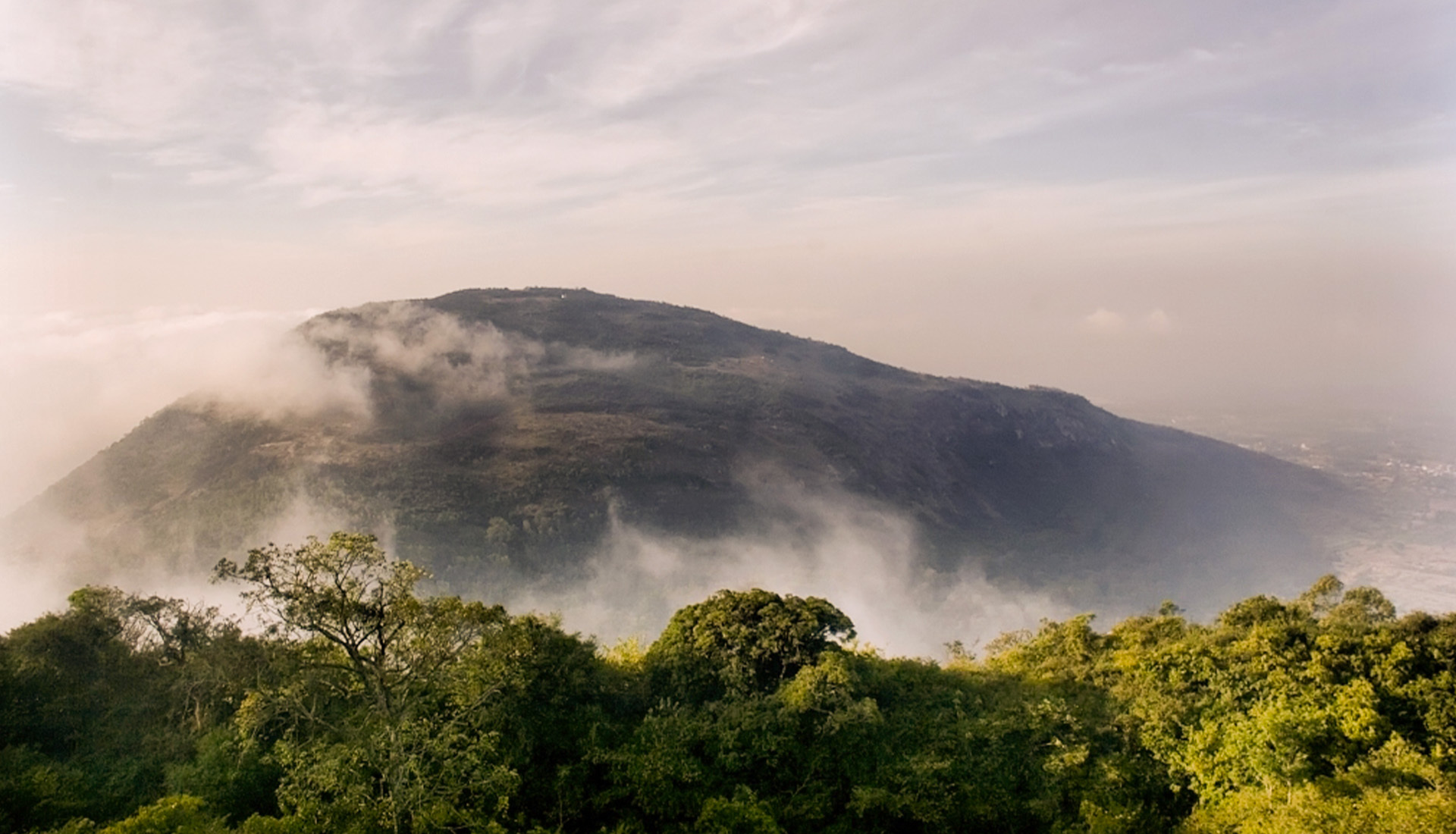 Nandi hills also called 'Hills of Happiness' settled in Karnataka. It is overflowed with part of tourists by and large round the year. Nandi has numerous stories and legends connected with its name. One destination close to Bangalore gives a definitive quietness one necessities to light the flash in their new life. It is perhaps the best destination to explore in South India.

Loaded up with many views points, forts, and citadels that hold significant worth, This beautiful hill station in South India is doubtlessly a pleasure to the eyes. Seeing the amazing dawn from over the mists toward the beginning of the day is probably the best thing to do in Nandi Hills.
Things to in Nandi Hills
Take blessings at Bhoga Nandeeshwara Temple

Rejuvenate your soul, mind, and body at Brahmashram

Visit the lake of Nectar Amrita Sarovar

Take part in adventure activities like Paragliding, Cycling, and Hiking at Nandi Hills
Gavi, Kerala – Exotic hill Station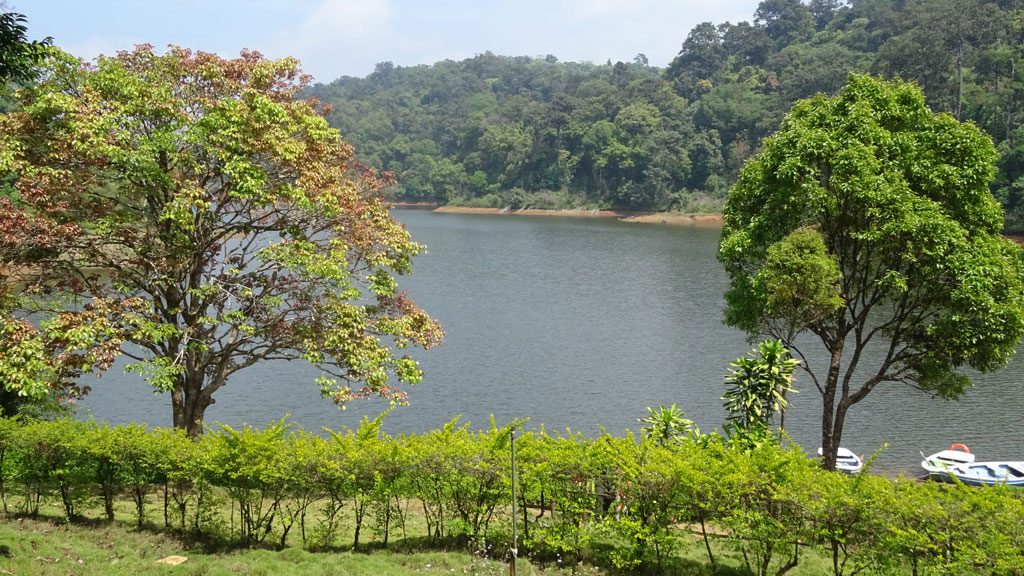 Situated deep inside the Pathanamthitta province in Kerala, Gavi is one of the most unique hill stations in South India. Set inside the premises of the Ranni reserve forest, Gavi forms a basic piece of the Periyar National Park. You can go evening setting up camp in the backwoods, trip to Pullumedu Peak, climb to Meenar, explore the zest gardens Enroute Gavi, and then some.

Things to do in Gavi
Witness the flora and fauna at Periyar National Park

Take part in rock climbing at Meenar

Hiking at the Pullumedu Peak
Agumbe, Karnataka – Paradise for Adventure Freaks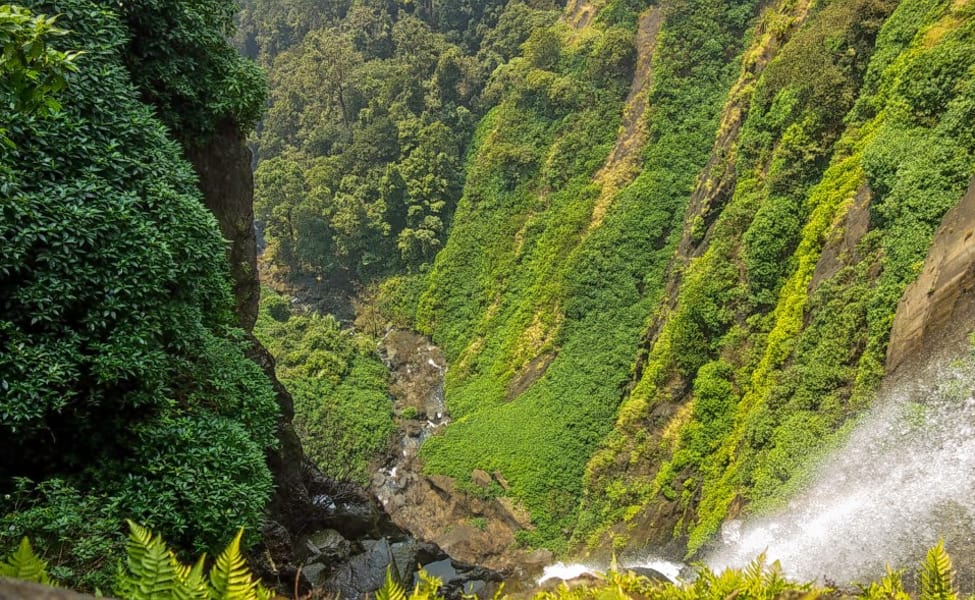 Agumbe is a beautiful village situated in the thick rain forests of the Western Ghats of Karnataka and is also known as the Cherapunji of South India. It is one of the top hill stations in South India and a must-visit place in Karnataka. For nature lovers, Agumbe is an excellent backdrop away from chaotic city life. Glittering creeks, lush rainforests, exotic viewpoints, dazzling waterfalls, humming insects, and blissful sunsets at the Arabian Sea can heal any weary soul. Post-monsoon is the best time to visit the beautiful rainforests of Agumbe and it is also popular as the cobra capital of India. Adventure sports like rafting, camping, trekking, hiking, and bike riding can also be enjoyed at Agumbe. 

Things to do in Agumbe
Trekk to the trekking trails at Barkhana Falls

Visit the 14th-century temple at Gopalkrishna Temple

Witness the blissful waterfall at Jogi Gundi falls

Enjoy the wildlife safari at Someshwara Wildlife Sanctuary
Sakleshpur, Karnataka – Tranquil Vibes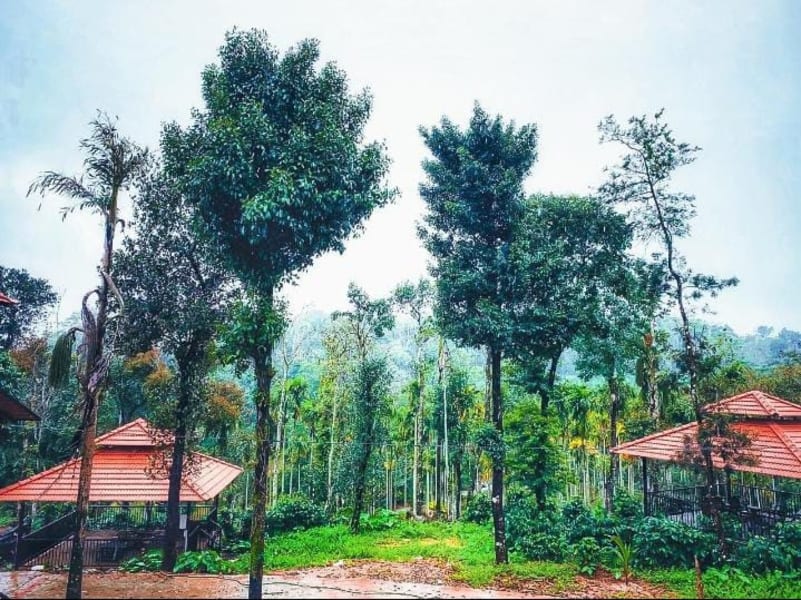 Sakleshpur situated in Karnataka is a land of rugged cliffs, green emerald fields of cardamom, pepper, coffee, soothing weather, blissful mornings, stunning cascades, rainforests, and scenic terrains. It is one of the exotic hill stations in south India. Sakleshpur is derived from a broken shiv lingam that is found in the village during the rule of Hoysalas. For nature lovers and trekkers, it is one of the best places on the South India trip. Ssakleshpur should be on your bucket list for the South India tour.

Things to do in Sakleshpur
Visit the divine Sri Sakleshwar Swamy Temple

Witness the enchanting Manjehalli Waterfalls

Embrace the ancient architecture of Belur and Halebid temples

Trekk and camp at the Jenukal Gudda Peak
The stunning hill stations of South India are the ideal holiday spots throughout the year because of their astonishing environment, coffee estates, and regular variety. Allow the above list to direct you to a brilliant experience.