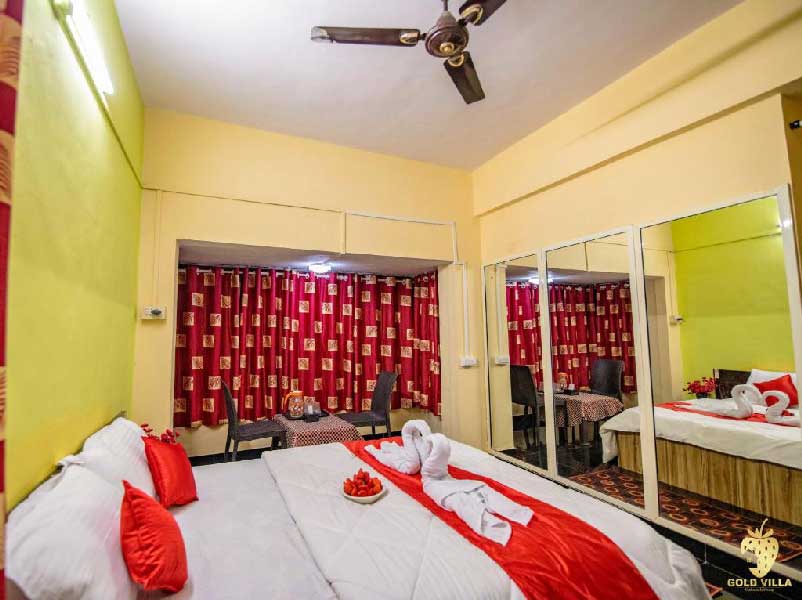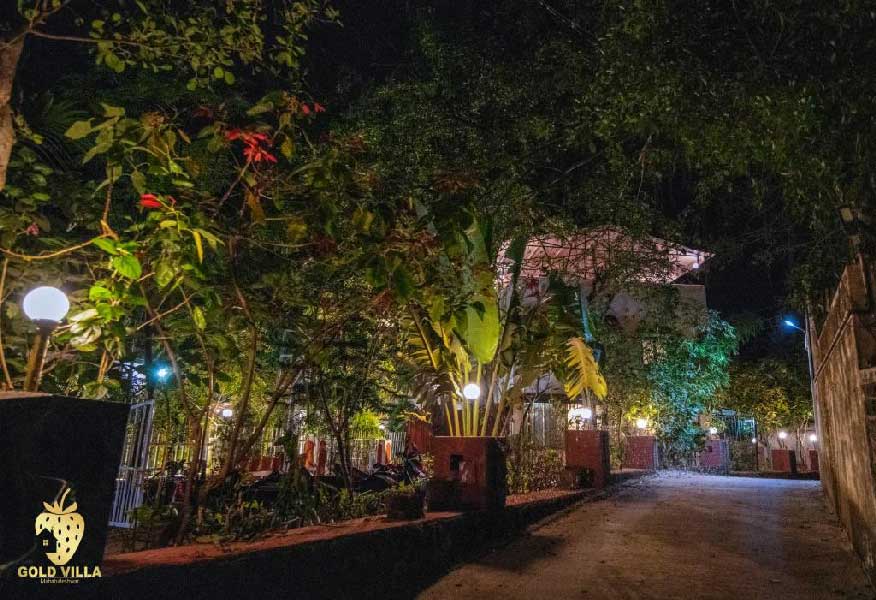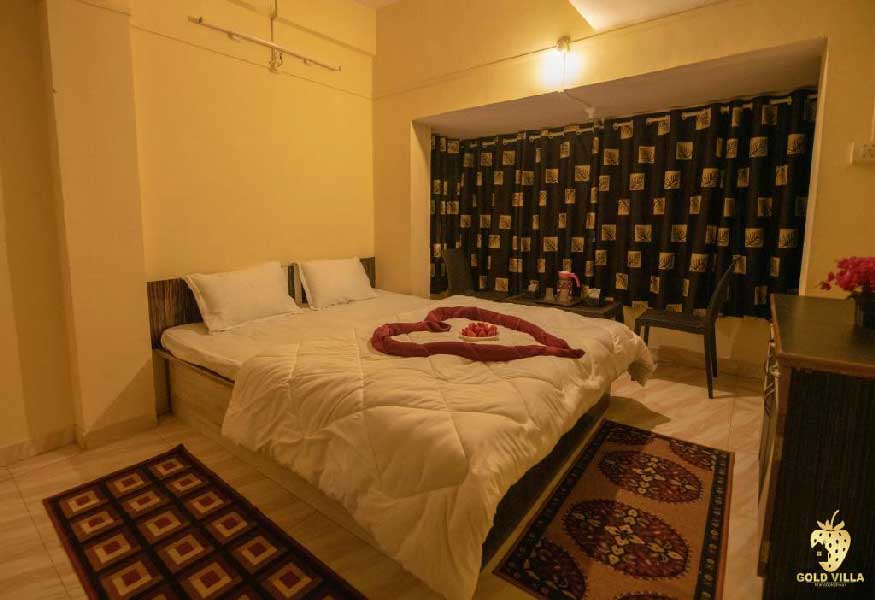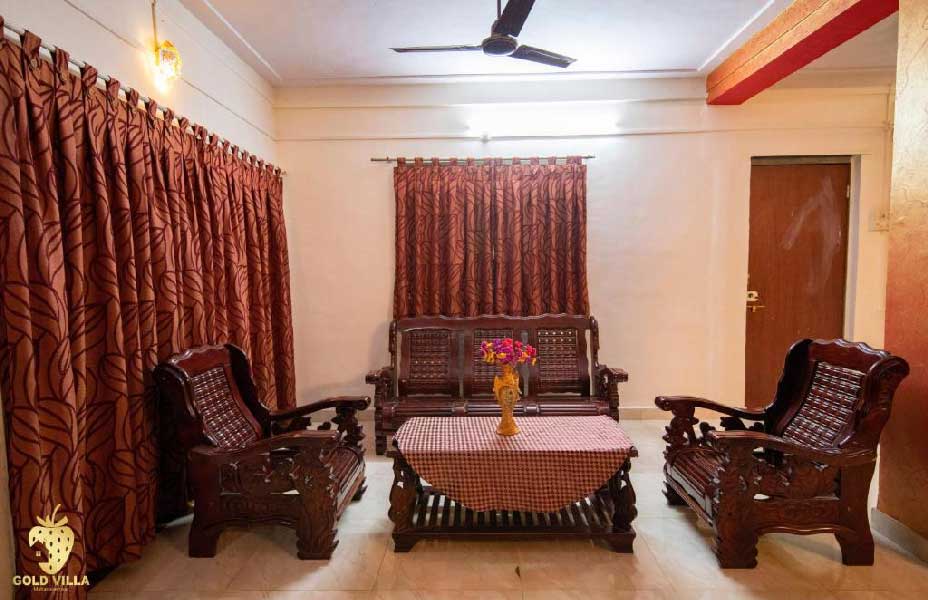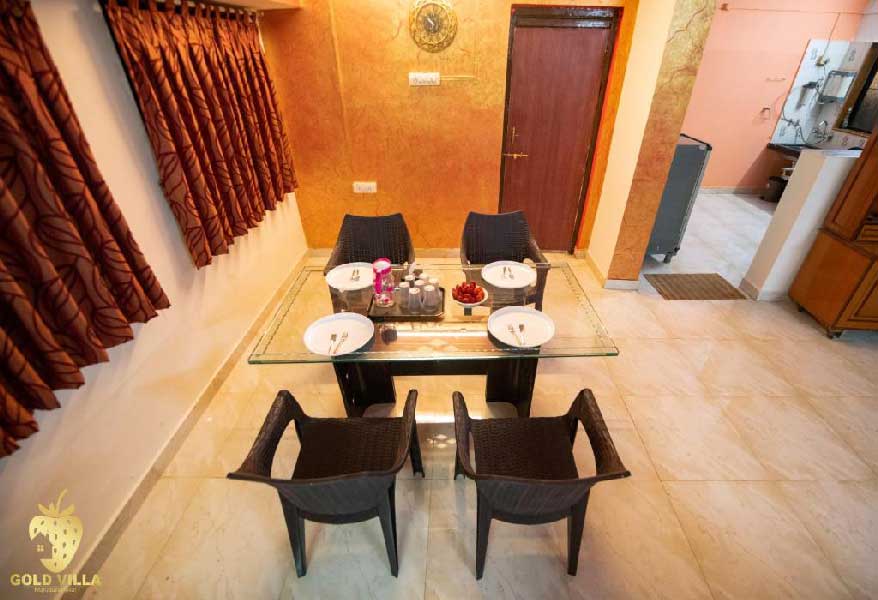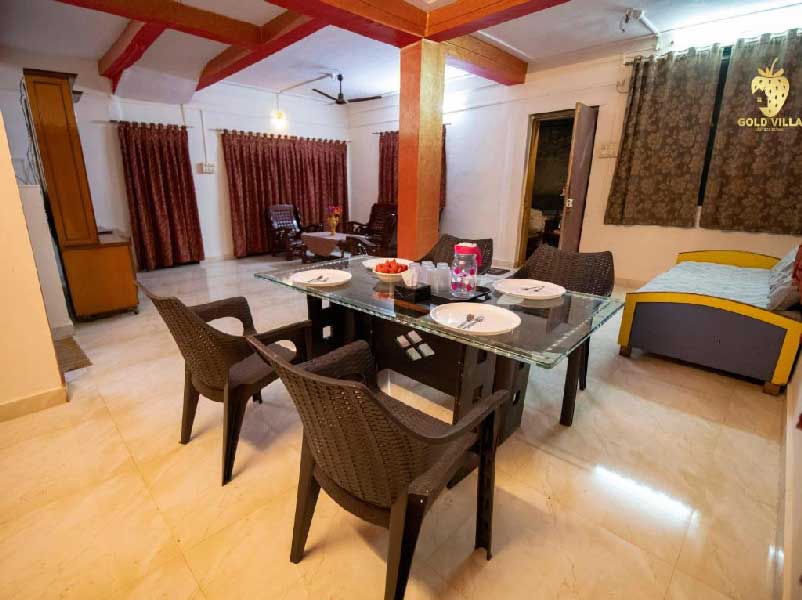 Free BreakFast Available
Login & Get
The Best Deals & Prices
Price Starts At :
6560
+ 787.2 taxes & fees
per room / night
About GOLD VILLA Mahabaleshwar
Overview
Gold Villa Mahabaleshwar is among the top resorts on the list of the best resorts in Mahabaleshwar. This well-known establishment is a one-stop destination serving its customers with great amenities, services, ambiance, and architectural designs. The concept of the hotel is meant with a sustainable approach in architecture, interior, marking, character, and correspondences to make one of the 5 star resorts in Mahabaleshwar providing its guests with extraordinary services at a genuine price range.
Highlights of the Hotel
Gold Villa is a tranquil oasis spring amidst the Mahabaleshwar city region clamoring with life and history.
Gold Villa Mahabaleshwar possesses incredible amenities, due to which it is considered a paradigm for business travelers, leisure travelers, weddings ceremonies, and high-end parties.
The hotel provides well-equipped luxury rooms to its guests with an area of 196 sq. ft. each.
Gold Villa hotel serves multi-cuisine pure vegetarian food to its guests.
The hotel facilitates parking, conference, board room, and banquet facility with complimentary high-speed Wi-Fi internet facility, etc.
Gold Villa Mahabaleshwar Maharashtra is renowned for its notable location among all the luxury resorts in Mahabaleshwar. Gold Villa, a budget hotel, not your hotel next door, their rooms are not just designed to guarantee you a restful night, as they come with something extra, i.e. good experience.
Gold Villa carries you to one of the absolute best neighboring surroundings in Mahabaleshwar, which is the best to any planned classification in the area. Enjoy delicacies at the hotel kitchen serving its guests with unadulterated pure vegetarian food. Their multi-cuisine vegan menu is prepared by talented and most experienced chefs intricately selected to tantalize your taste buds.
POPULAR PLACES NEAR GOLD VILLA MAHABALESHWAR, MAHABALESHWAR
Gold Villa hotel makes its adoring guests enjoy their stay by providing them the best homely services. The hotel is 100% Hygenic and 100% safe, making it one of the best 5 star resorts in Mahabaleshwar. Gold Villa Mahabaleshwar Maharashtra is located at a prime location in Mahabaleshwar city, making it easily accessible to domestic and international tourists, these places include:
Krishnabai Temple
Located 2 KM away from Gold Villa, Krishnabai Temple is an old temple situated few meters far away from Panch Ganga Temple in Old Mahabaleshwar. The place is among the famous Mahabaleshwar tourist places.
Kate's Point
Kate's Point and Elephant's Head Point are located 7 km away from Mahabaleshwar Bus Stand. The places are the foremost picturesque viewpoints of Mahabaleshwar residing in the Satara district of Maharashtra. It's among the simplest tourist places in Mahabaleshwar.
Pratapgarh Fort
Pratapgarh is located in the Satara district of the western parts of the Indian state of Maharashtra. The place is located about 98 miles southeast of Mumbai. Two routes are leading up to the fort, from which one is Mahad-Poladpur, and the other is Wai-Mahabaleshwar. The fort stays open from 10 a.m. to 6 p.m. on weekdays (weekend timings might differ).
Panch Ganga Temple
Located 6 km away from Mahabaleshwar Bus Stand, Panch Ganga Temple is a holy site situated near Mahabaleshwar Temple of Old Mahabaleshwar in Satara district, Maharashtra.
The Panch Ganga Temple contains the confluence of 5 holy Indian rivers, including Krishna, Venna, Savitri, Koyna, and Gayatri. All the rivers are believed to be originated from the mouth of a statue of a cow residing at the temple and thus the place is called Panchganga Mandir.
BEST RESTAURANT NEARBY
Gold Villa Mahabaleshwar Maharashtra is not only famous for its homely, extravagance, convenient and regal facilities, it is also one of the best luxury resorts in Mahabaleshwar. The establishment also enjoys popularity because of its infelicitous delicacies. Gold Villa Mahabaleshwar has on-site restaurants serving multi-cuisine food to its guests. The resort is also close to many popular restaurants including:
Chingari
Chingari, Mahabaleshwar restaurant is found within the Law Garden area. The restaurant stays lively during the day and festive in the evenings. The decor of the restaurant is contemporary, carrying minimal bling, and is furnished with wooden benches and brushed chrome steel tabletops arranged in cafeteria-style. The one-of-a-kind steel space outline structure characterizes the contemporary nature and the unique style of the restaurant.
Evershine Cafe
Evershine Cafe, Mahabaleshwar is a contemporary-style café delivering singular and opulent hospitality along with memorable experiences to its guests. The establishment is popular among tourists from everywhere in the country. A visit to the present café is the perfect and most optimum way to de-stress, rejuvenate and revitalize.
MAD SMOKEHOUSE
Mad Smokehouse is an iconic outdoor restaurant that focuses on live seafood, barbecue, grills, and sizzlers served hot with a great presentation. The establishment is also popular for slow-fire cooking and serving Mediterranean cuisine.