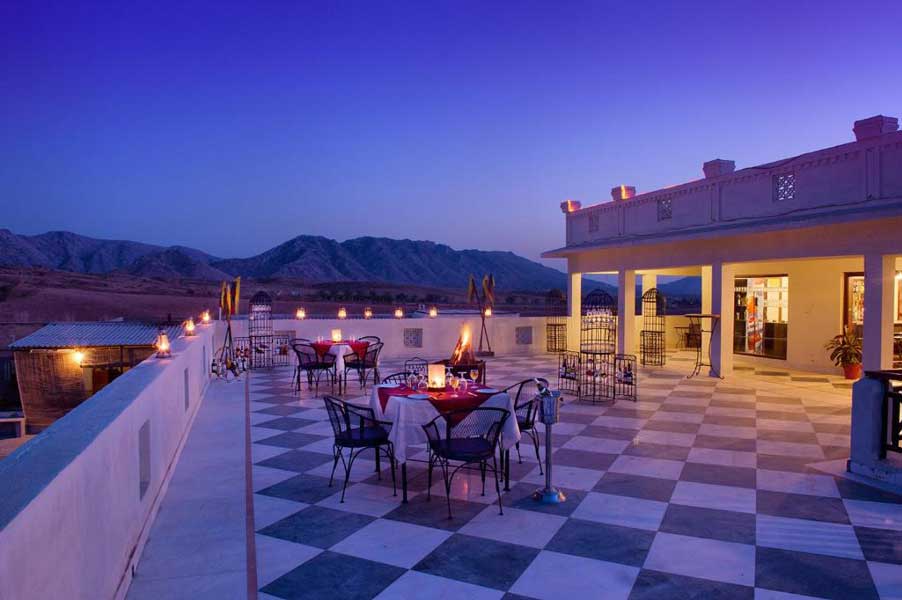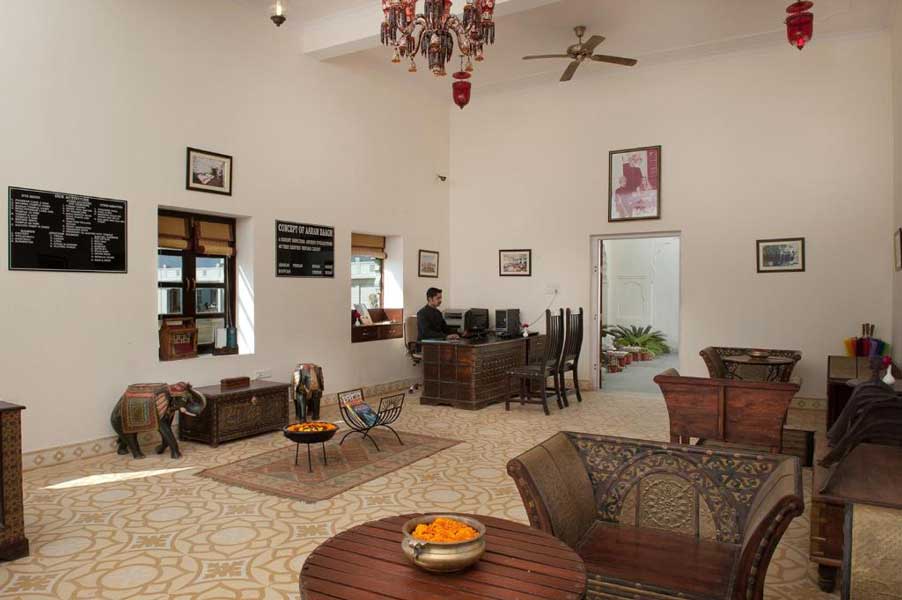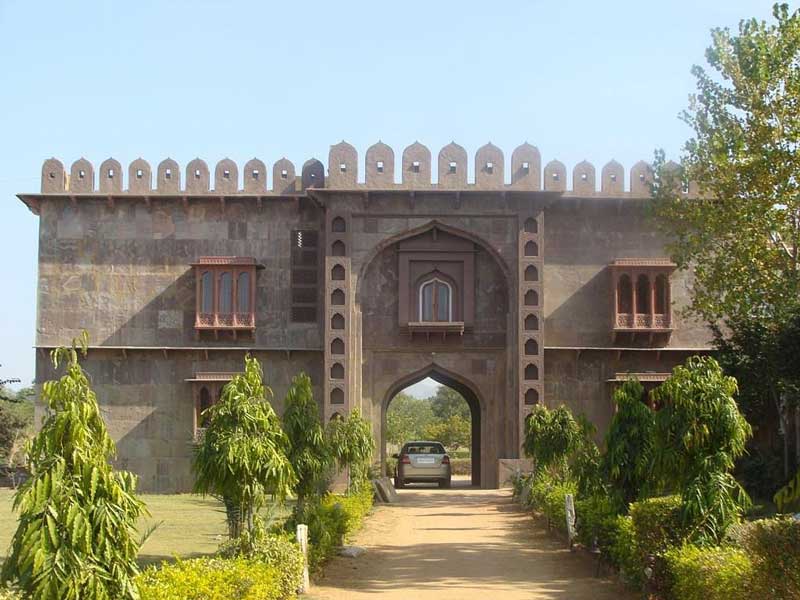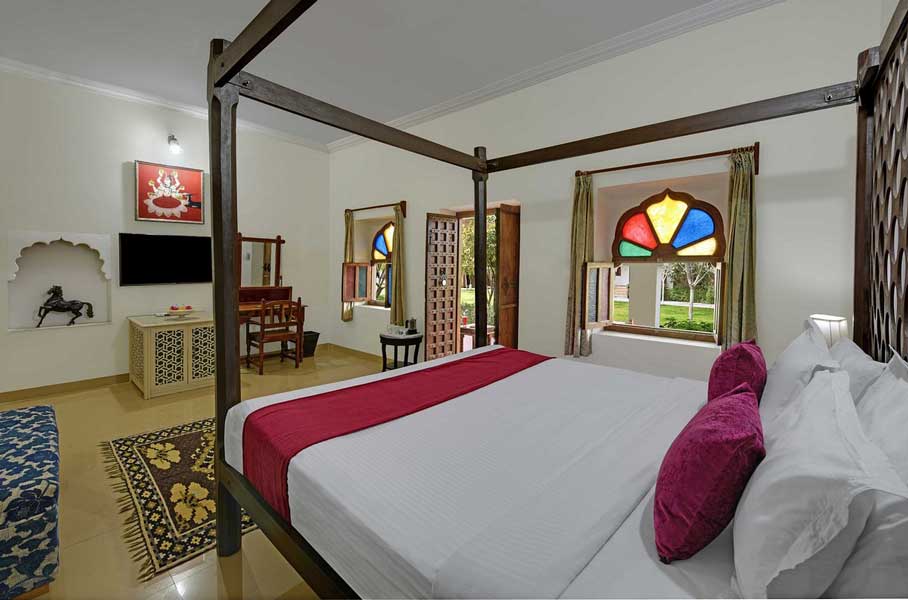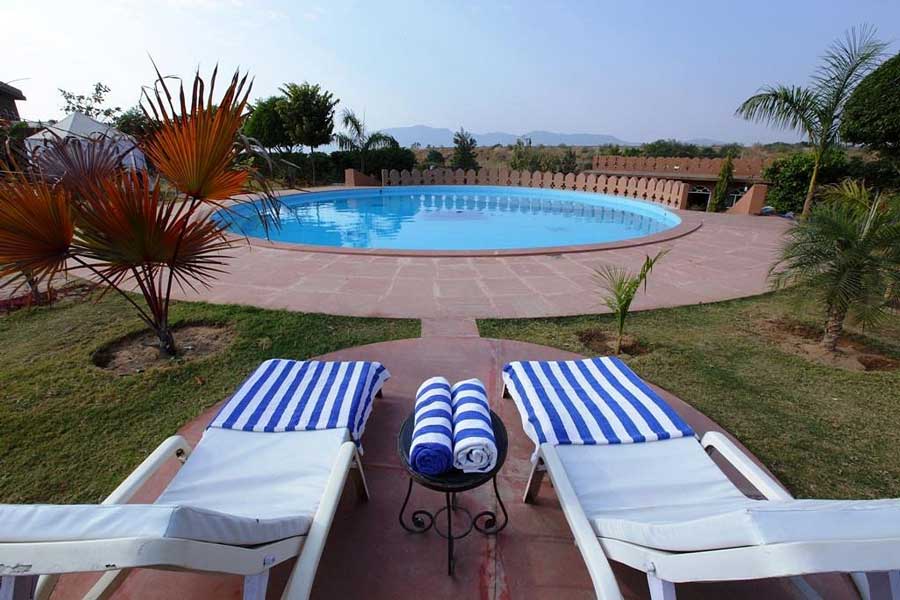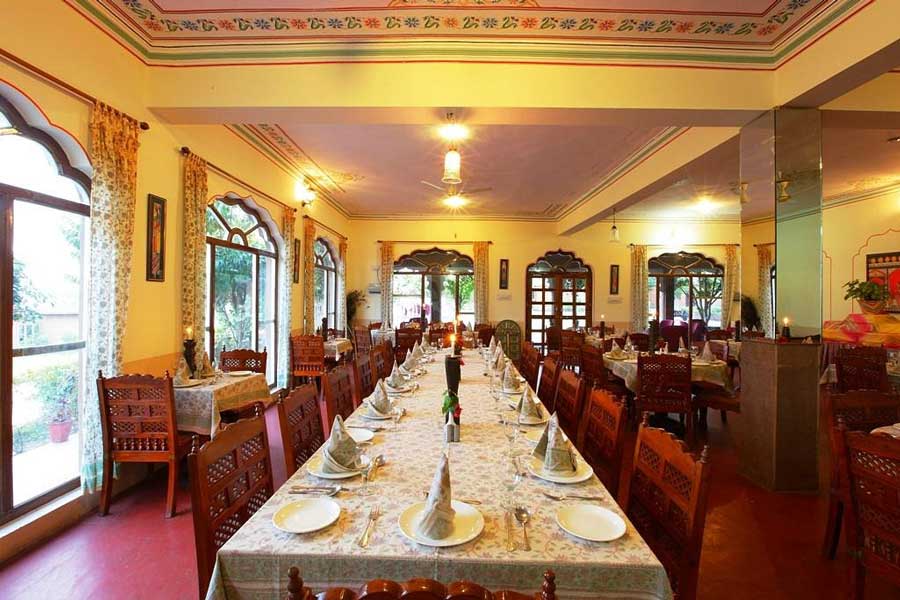 Free BreakFast Available
Login & Get
The Best Deals & Prices
Price Starts At :
3720
+ 446.4 taxes & fees
per room / night
About Regenta Resort Pushkar Fort
Overview
The 4 star resort in Pushkar,the Regenta Resort "Pushkar Fort", situated in Pushkar, the pinnacle of spirituality, a sacred city bundled amidst the hills of Aravallis and the hot sands of Thar, is famous for its multi-cuisine restaurant, Rajwada. Pushkar Fort has been the "Hospitality Award" winner for 2013-2014 by RCI to recognise the superior resort facilities.
Deliberately located within a range of 5 km to many religious and tourist sites like Savitri Temple, Brahmaji Temple, and Pushkar Lake, and many exquisite restaurants are the beautiful Pushkar Fort.
Highlights of the Hotel
Located beautifully within a close range to the Ajmer & Pushkar railway stations and a few hours from the airport.
The hotel's got a very beautiful pool inside for the guests to take a refreshing dip in and a fitness centre for the fitness freaks.
Kids love Pushkar Fort as it offers a family park, a playground, a kids club, and a swimming pool especially crafted for kids!
From Pushkar Fort, guests tend to make the most of everything that this lovely city offers.
With its Amazingly convenient and clever location, Pushkar Fort offers easy access to the Pushkar's beautiful religious and major tourist destinations.
This 4-star Resort in Pushkar is famous for its excellent infrastructure and interior. People looking for a great vacation and want to experience luxury like Royales, Pushkar Fort is a go-go!
When in Pushkar, one needs to take in the ancient religious sites and sounds, taste the local dishes, listen to local folklore and learn a few slangs in the local language! Conveniently located, this Luxury resort in Pushkar offers a cherry-pie location to the guests to go out and explore Pushkar's must-see attractions.
Come on, and you're in Pushkar, Rajasthan. You don't need to worry about your safety here, duh! Free wi-fi in all rooms, grab that tub of chocolate ice cream and have a good movie night with your boo!
Popular Places near Regenta Resort Pushkar Fort
Pushkar fort tends to be candy for the eye. Still, apart from the beautiful parks and pools, this luxury hotel has to offer, the city of Pushkar stays in its place and waits for you with its religious, ancient, architecturally amazing builds.
A huge list of religious sites on the one hand, and a BIG back-to-home shopping list on the other hand, what are you waiting for? Explore Pushkar!
There are many options to choose from, luxury deals, adventurous sports, religious sites, scenic places, the gorgeous Pushkar Lake, and oh-so-pretty Sunsets!
Pushkar Lake
The beautiful Pushkar Lake, situated within 3 km from Regenta Resort Pushkar Fort Pushkar Rajasthan , is a sacred and vastly known Lake where the Pushkar Fair is held. Thousands of pilgrims visit here to take a holy dip during the fair, which is said to cleanse you of your sins. The surrounding regions are home to exotic flora & fauna and breezy forests.
Brahma's Temple
Brahma's Temple, aka the Jagatpita Brahma Mandir, lies at a mere distance of 3.1 km from the 4 star resort in Pushkar and is world-famous for being the only Brahma Temple globally!
Rose Garden
Pushkar itself is often referred to as the Rose Garden of Rajasthan because of the rose cultivation. At just a distance of 4.4 km from Regenta Resort Pushkar Fort Pushkar Rajasthan lies this beautiful and naturally scented garden of Roses. One must go to this pretty Rose farm and watch varieties of rose plants filling up acres of farmland and spreading their fragrance in bloom.
Gurudwara Singh Sabha, Pushkar
Gurudwara Singh Sabha, located just 4.5 km away from the Resort, is a magnificent place of god if you wish to pay your respects and spend a peaceful time in the shrine! Guru Nanak Sahib Ji and Guru Gobind Singh Ji visited this holy & sacred city of Pushkar in 1509 and 1706.
The Rangji Temple
Dating back to 1823, Exhibiting and celebrating the unique South Indian Architecture, the Rangji temple tends to be the most architectural place in Pushkar. Located 9 minutes away from Regenta Resort Pushkar Fort Pushkar Rajasthan , Rangji temple's grandeur is distinct!
Best Restaurants nearby
The laughing Buddha Cafe
The Laughing Buddha Vegan Cafe's menu is full of dishes that will leave the customer craving more. One will find home-cooked Indian dishes and curries, as well as refreshingly different Indian/European Fusion dishes. The cafe is very close to the Luxury resort in Pushkar.
Mystic Lotus
#1 ranked restaurant in Pushkar, known for its authentic and exotic flavours, services best Indian, Italian and continental food, with Pizza's being the top tier here! Just 1.6 km away from Regenta Resort Pushkar Fort Pushkar Rajasthan , Mystic Lotus will quench the thirst for ambience and taste.
Tiko's
A 2.3 km distance from the Resort, Tiko's is the place one comes to, to have the best, THE BEST waffle in the city! Tiko's serves the best Israeli food in the city. Alongside Indian and Italian, this cafe would satisfy the aesthetics one craves for.
IL Padrino Pizza Garden
Along with serving Italian, the restaurant serves Indian, Chinese, and the best European cuisines in the city! Ranked number 8 among other 131 restaurants in Pushkar, serves Mamma-mia pizzas * chef's kiss*.
Hard Rock Cafe
This marvellous dining cafe and bar is an ideal place for collective dine and drink. 2.5 km from Regenta Resort Pushkar Fort Pushkar Rajasthan , Hard Rock is the best place in town for exquisite culinary and splendid dining experiences.