Khem Villas – A Jungle Camp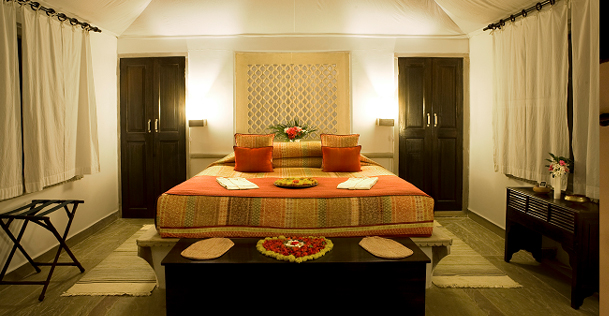 Rich in great natural diversities, India is serving as one of the best tourist destinations for all nature lovers. Rajasthan is such place in India which is boon with the bounty of natural wonders. Ranthambore in Rajasthan is a place which is famous among Wildlife Tour Packages in India. To make your tour much easy, the place houses with some of the best accommodation options which is filled with all sorts of amenities that will make your tour memorable. One such property is Khem Villas.
Khem Villas is one of the Luxury Jungle Camp at Ranthambore. It is located along the edges of Ranthambore National Park. The camp is surrounded by 12 acres having water bodies, grasslands and thick forests. You can also do nature walks for the visitors of nearly 3 kms. While walking you will see various birds, jackals, desert foxes and hares.
Experience at Khem Villas Resort
Accommodation and Amenities
Tiger Safaris at Ranthambore National Park
How to Reach Khem Villas?
1. Experience at Khem Villas Resort
Listed among the Best Wildlife Resorts in Rajasthan Khem Villas is a place where you will get to see some uncommon species of animals that includes the wild jungle cats, desert fox, jackals, crocodiles and birds of various local and international species around this luxury camp stead. Due to the presence of various and exotic birds' species the place has now also becomes now a paradise for birds' watcher.
2. Accommodation and Amenities
Khem Villas Ranthambore houses 22 rooms that are well-appointed and nicely groomed rooms which are categorized into Luxury cottages, tents and general accommodation rooms. The comfort of the luxurious tent will relaxes you at the day and makes you feel fresh at the next day. The hotels include various amenities like 24 hour room service, high speed internet access, 24-hour front desk services and a pleasing air conditioned ambience along with the medical facilities like doctor-on call.
For offering its guests a recreational experience, there is a huge serene swimming pool in the hotel where guests can take some dips after spending a hectic day of their busy schedule. All those who wish to take the massage therapies they are welcome in the in-house spa center where they will be getting an array of aromatic and healthy massage therapies.
All Food Lovers in the resort are offered with the best and scrumptious delicacies in its in-house restaurant that tickles every taste bud and suffice every palate in the restaurant.
3. Tiger Safaris at Ranthambore National Park
Being one of the Best Rajasthan Wildlife Resorts you are going to experience a never before seen tiger safari while your stay over here. While staying at Khem Villas Wildlife Resort, you will enjoy the Jungle Safari at Ranthambore National Park. Ranthambore National Park which is surrounded by the Vindhyas and Aravalis range is spreaded over an area of 1410 sq.km including core and buffer area. It is the famous heritage sites due to its forts and temples. It is one of the best places to see the Royal Bengal tigers and other animal species. There are various lakes in the Ranthambore National Park which is known as Padam Talab, Raj Bagh Talab and Malik Talab.
4. How to Reach Khem Villas?
Situated near one of the Best Nation Parks in India, Ranthambore National Park is well connected to other cities through airways, railways and roadways.
By Roadways – Sawai Madhopur is 4 hours drive by road from Jaipur.
By Airways – Jaipur International airport is 200 kms away from Sawai Madhopur. Thus it connects it to the major cities of India and the World.
By Railways – Sawai Madhopur is well connected by trains from Kota, Delhi, Mumbai and Jaipur.
Thus the focus of Khem Villas is not just tigers but also informing them about the survival of Ranthambore and its tigers.