Rann Utsav 2022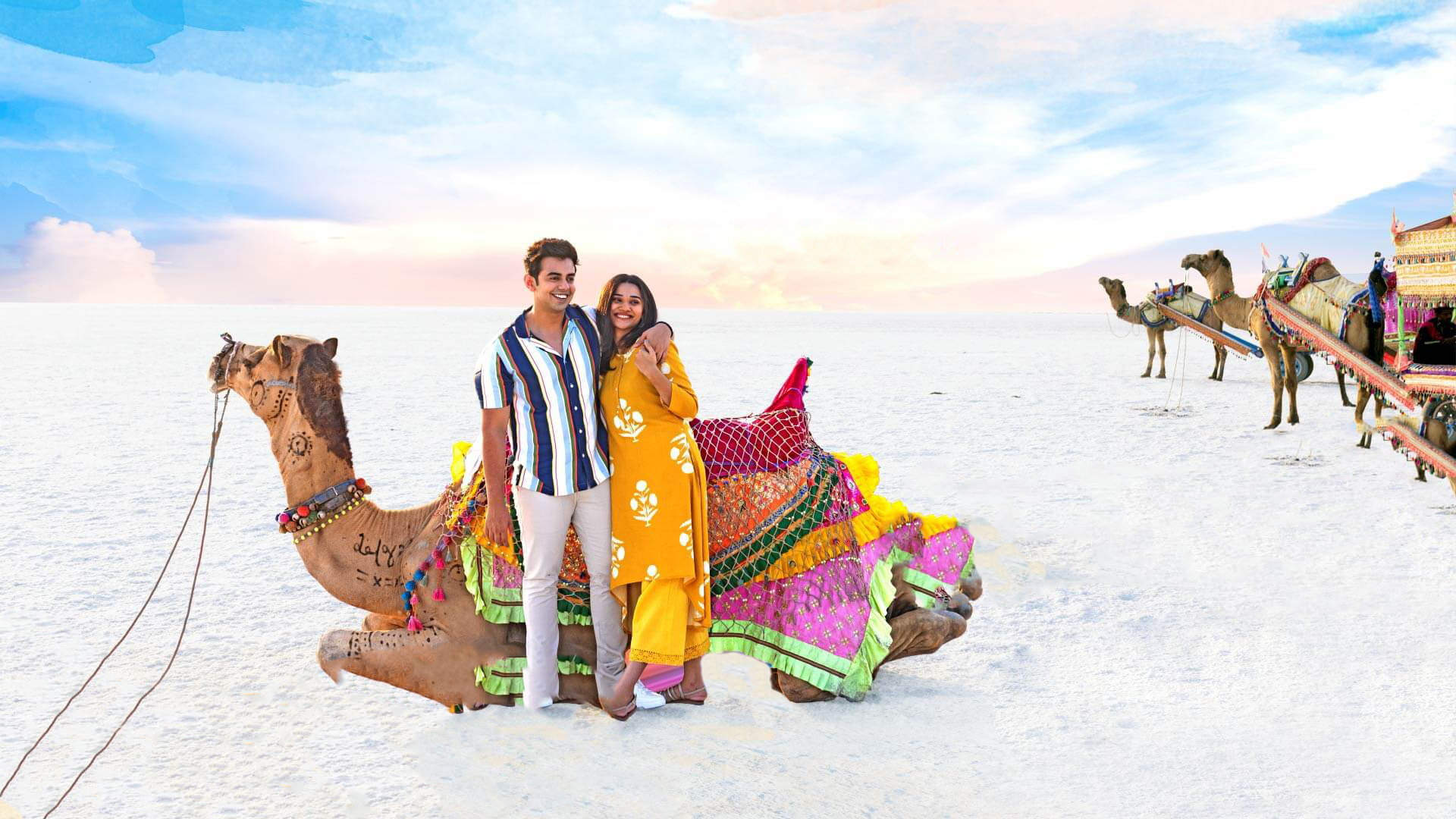 One thinks of white sandy horizons when someone mentions Rann of Kutch in Gujarat. Known for various romantic Bollywood movie shots, this area is also famous for its pearl white desert-like sandy dunes. The Rann Utsav in Gujarat is a magnificent event that happens here and draws various tourists from all over the globe annually. You can be a part of a Rann Utsav 2022, an annual event that combines cultures with vibrance and paints a spectrum over the white dunes of this arid region.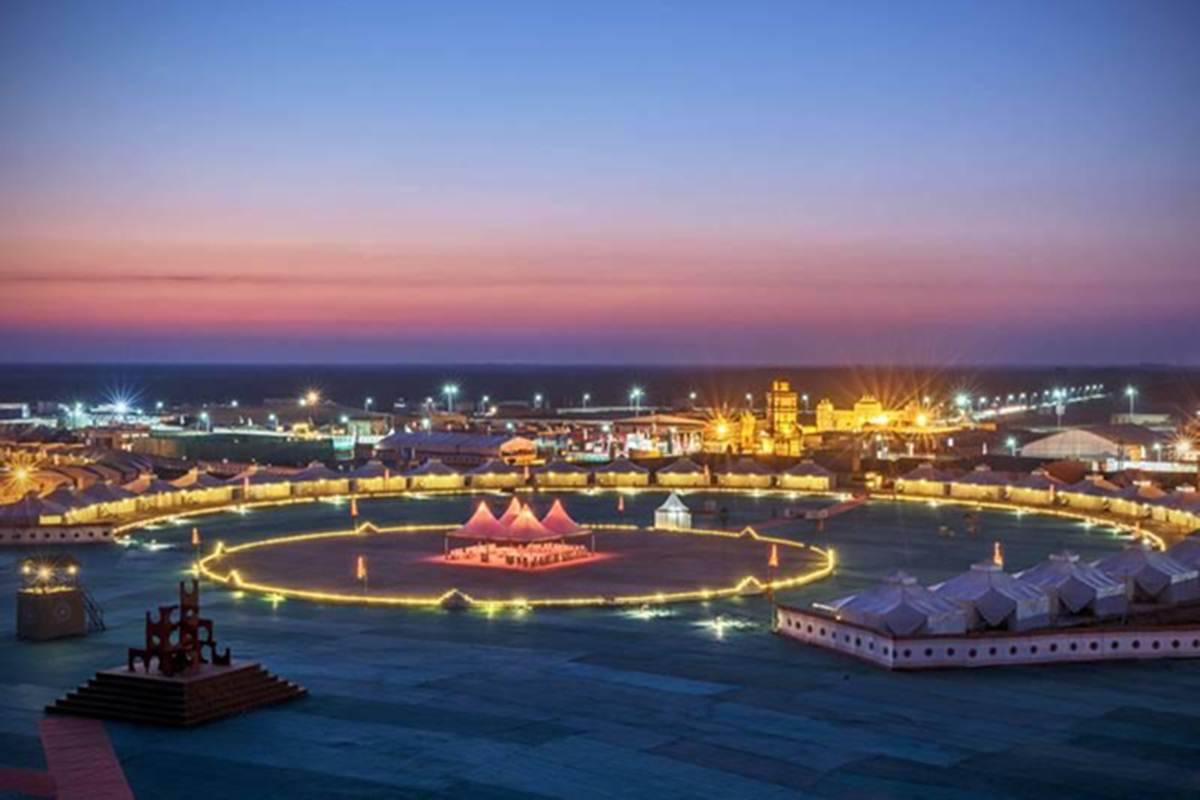 Witness a display of vividness and spectate the glory of Indian heritage at the Rann Utsav of Kutch and take home the exuberant vibrance of this celebration along with you. If you are wondering what and how to do during the Rann Utsav activities, have no worries because we have got you covered in this guide below: 
Rann Utsav 2022 Dates
The Rann Utsav in Gujarat is held under the supervision of the Gujarat tourism department. It is the most awaited winter festivity in Gujarat. The anticipation of this vibrant celebration has no bounds for the people of Gujarat and it is undeniable that the arrival of tourists during that time also remains high due to this. This year the Rann Utsav 2022 dates are from 1st November 2022 to 20th February 2023.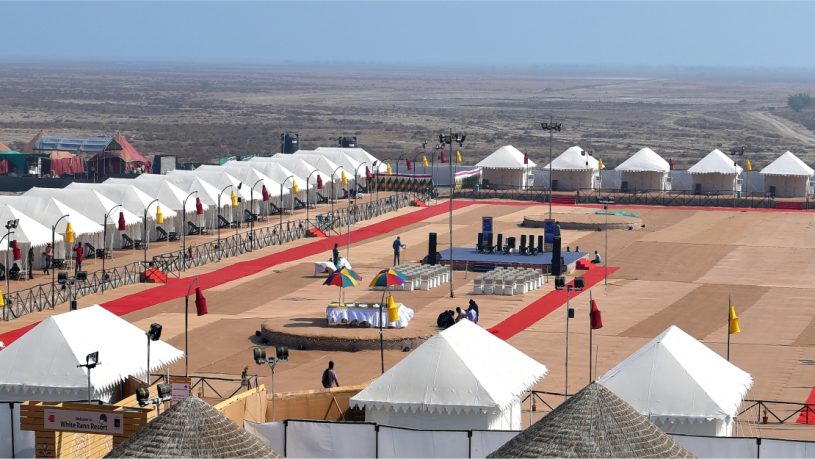 Why Is It Celebrated?
The primary aim of Rann Utsav of Kutch is to relish the cultural heritage of Gujarat, revive the traditions and customs, and familiarize the younger generations with the inherited values and morals of Gujarat. The entire concept was commenced by the former chief minister of Gujarat, and the current prime minister of India, Shri Narendra Modi Ji.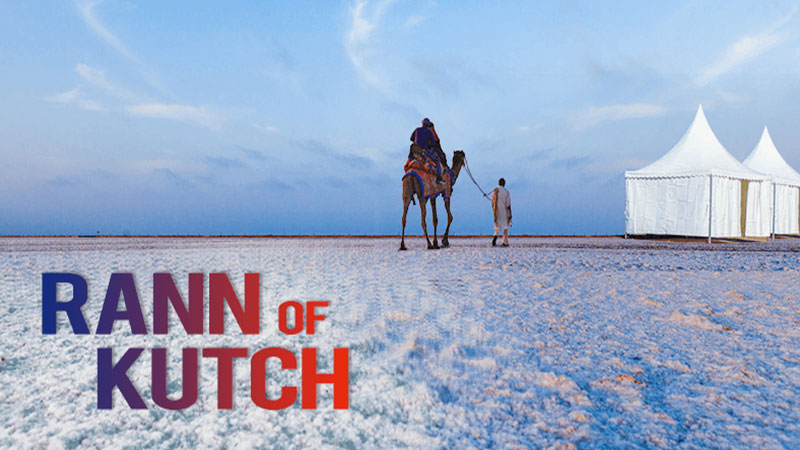 Currently, the entire idea of this celebration along with the itinerary of Rann Utsav activities is handled by the department of tourism of Gujarat. They put in efforts for advertising this festivity, maintain decorum throughout the event, and manage the incoming tourists with the issues about their accommodations. 
Where Is It Celebrated?
The scope of the revelry is far more than one might imagine. The Rann Utsav 2022 will also start in Bhuj, like each year, as well as at the surrounding complex will celebrate it for several months. The event's conclusion is held at Rann Utsav tent city, which is largely composed of over 400 air-conditioned and non-air-conditioned tents. It is conveniently located in the little settlement of Dhordo, which is easy to reach from the Bhuj airport.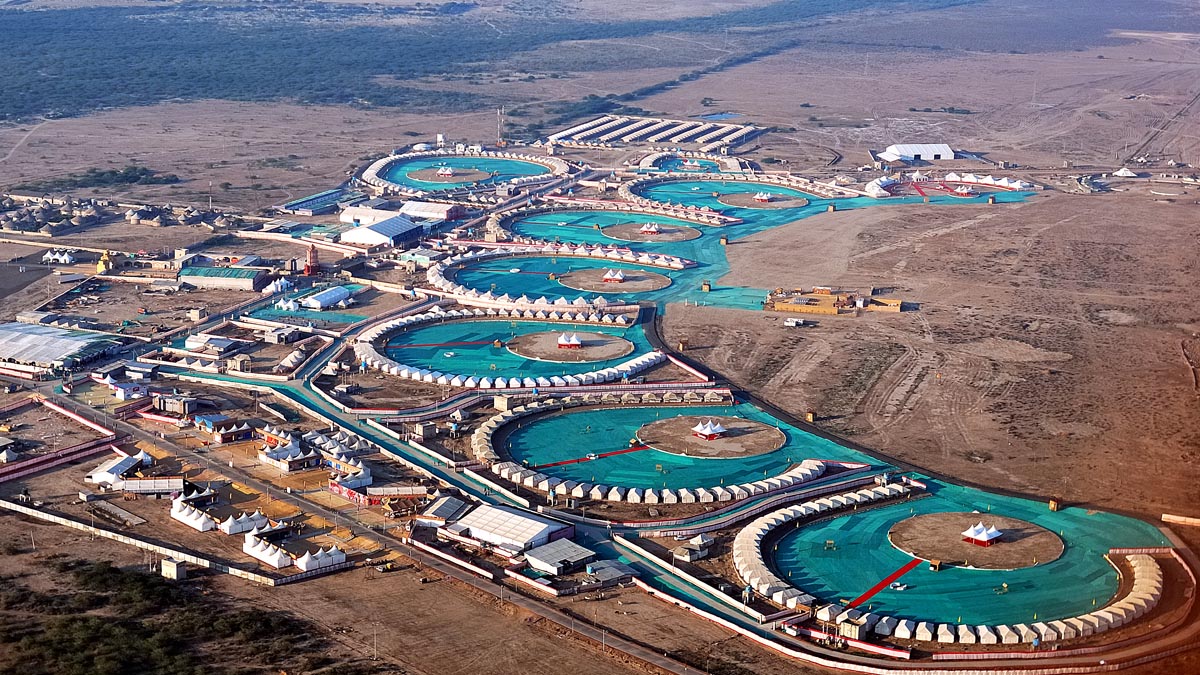 Rann Utsav Activities
Moon watch:

It doesn't get more lovely than a white swath of tranquil desert underneath the full glory of the moonlight.

Rann Utsav of Kutch

shall leave you speechless. You can sit and stare at the moon for hours here.

Cultural shows:

Enjoying the traditional carnival with folk artists from all across Gujarat is one of the most entertaining things to do at the spectacular. Musicians perform practically anywhere and at all times. You may carry out your fantasies of a sandy campfire while dancing to the melodies of authentic folklore, the zeal of which stretches much beyond all other activities to do at

Rann Utsav in Gujarat

.

Adventure and sightseeing expeditions:

The

Rann Utsav of kutch

offers a diverse choice of adventures. Your time can be used for a solitary journey through the desert in a Desert Patrol Vehicle. Another exciting pastime to consider is a sand safari. There are also reasonable thrill coasters for children at the fair. Skyzilla offers aerial outdoor pursuits such as ziplining and much more, as well as checkers, carrom, camel rides, paintball, and star gazing.

Hot air balloon rides:

We invite you to recuperate from a spectacular journey on a hot air balloon, we bet you cannot. The sensation of staring out across the brilliant colors of the saline dunes from the pinnacle is so enthralling that you will feel compelled to talk and ponder about this. Get the most exciting wintertime in Gujarat this year at

Rann Utsav 2022.
Handicraft workshops:

Take considerable time out to explore the edge of the world as the azure kiss the heavens at the

Rann Utsav of kutch

. Explore the towns and villages of Bhirandiyara, Khavda, and Gandhi-Nigam, where industries producing beautiful handmade textiles and materials are held. Discover the artisan and craftsmanship sector in the neighboring districts. Goods are also available at marginally lower costs.

Delving in delicious foods:

It is indeed a requisite since the fantastic cuisine offerings here are exactly all you need to give your visitors some remarkable memories during your

Rann Utsav in Gujarat

. Two magnificent local restaurants serve delectable real Kutchi cuisine. Furthermore, there are snack stands open late in the evening to satisfy food cravings.
The other list of activities includes the following:

Kids zone area

Food court

Live Music concerts

Camel cart ride

Gaming zone

Shopping area

Cultural dance performances

Spa and wellness center

Yoga and meditation center

Garba and dandiya raas performances

Sightseeing tours to Hodka village, White Rann, and black hill

Different types of rides and swings

Conference hall for business (if needed)
Rann Utsav Shopping Details
Once you browsed down to see if there were any Rann Utsav shopping opportunities, the carnival got you fulfilled. The possibilities will drive you insane. Exquisitely and carefully crafted Gujarati products, fabric items, brilliant jewelry, delicate Kutchi needlework, and skillfully crafted decorations. You will also get a chance to buy handmade products from renowned artisans belonging to regionally famous hamlets like Khavda, Bhirandiyara, and Gandhi-Nigam. You can make it as a banquet on your pocketbook or devour them in your sight.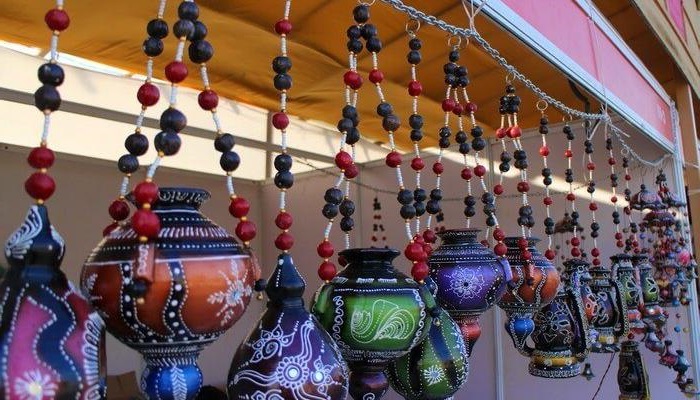 You may even explore the following markets in Kutch during your stroll in the Rann Utsav 2022: 
Khamir crafts store

Bandhini Bazar

Roopalee handicrafts

Aslam's collection

Shrujan threads of life

Rainbow textiles
Consider buying the following items as a souvenir for your trip:
Bandhani Sarees

Kutch Bandhej

Mojari With Embroidery

Handicraft Items

Handbags

Fabric With Kutchi And Other Embroideries

Mirror Work Fabric

Traditional Silver Jewelry

Readymade Garments
Hotels Near Rann Utsav 2022 Venue
It is easy and convenient to do Rann Utsav 2022 booking for your hotels beforehand so that you may find a deal of your choice and budget on time. It happens to be a peak tourist season which is why we will advise you to check your budgets with the Rann Utsav 2022 package price so that your budget aligns with it. Following are the hotels you may find best for your stay during performing various Rann Utsav activities: 
Tent City In Dhordo Village

Regenta Resort Bhuj

Rann Riders

Radisson Hotel Kandla

Gateway To Rann Resort

Shaam-E-Sarhad Village Resort

Rann Village Resort

Hill View Resort Bhuj

The Fern Residency 

Villa Hillside
Another way of acquiring a budgetary Rann Utsav 2022 package price is through group or pooled bookings. There are group tours organized by the department of tourism in Gujarat which may help the solo travelers to find their spot in this festivity. 
Read more: Manchester of India, Ahmedabad | History, and Reason
Tips For Visiting
Following are some useful tips and hacks to make your travel much easier to the Rann Utsav 2022. 
Because the

Rann Utsav of Kutch

occurs during the colder months, it is suggested that you bring some warm clothing with you. 

If you visit Rann, do not however miss the sundown panorama from Mandvi Beach. 

Experience the picturesque scenery from the highest altitude in Kutch, Kalo Dungar (Black Mountain). 

Identity documents are required to be carried as they are required to be verified at checkpoints. Driving licenses, Aadhar cards, passports, voter identification cards, and other similar papers are acceptable as ID cards for the

Rann Utsav 2022

.

It is advisable to book your tickets and do

Rann Utsav 2022 booking

for your hotels at least 60 days before your tentative arrival date, because the hotels and resorts fill out soon, as the festivity coincides with the peak tourist season in Gujarat. 

You will mainly find vegetarian food items here, only a few eateries will offer non-vegetarian food items. 
How To Reach
Reaching Bhuj is conveniently easy and you may opt for one of the following alternatives that suit your travel requirements: 
By air:

Bhuj airport is 86 kilometers from Dhordo, the tent city. Bhuj is also the closest railway station. You can take a cab or a taxi from there to drop you off at the

Rann Utsav 2022. 
By rail:

If you are coming via Mumbai, the Kutch Express will leave you near Gandhi Dham, and Dhordo is 135 kilometers away. You may take a cab or a taxi from there to reach the

Rann Utsav of kutch. 
By road:

The transportation system is excellent, and government transportation buses interconnect all of Gujarat's metropolitan areas. You may even self-drive from nearby cities like Ahmedabad and Mumbai to the

Rann Utsav in Gujarat. 
Conclusion
Unquestionably, the Rann Utsav in Gujarat is indeed one of the most spectacular sights to witness during your visit to the western regions of India. Aren't all of you delighted to see this one-of-a-kind and bright celebration that would further accentuate Gujarat's splendor? If that is so, organize a vacation immediately by booking one of Rann Utsav's packages at HotelDekho.com and soak in the appeal and colorful ambiance!