7 Places To Go For Skydiving In India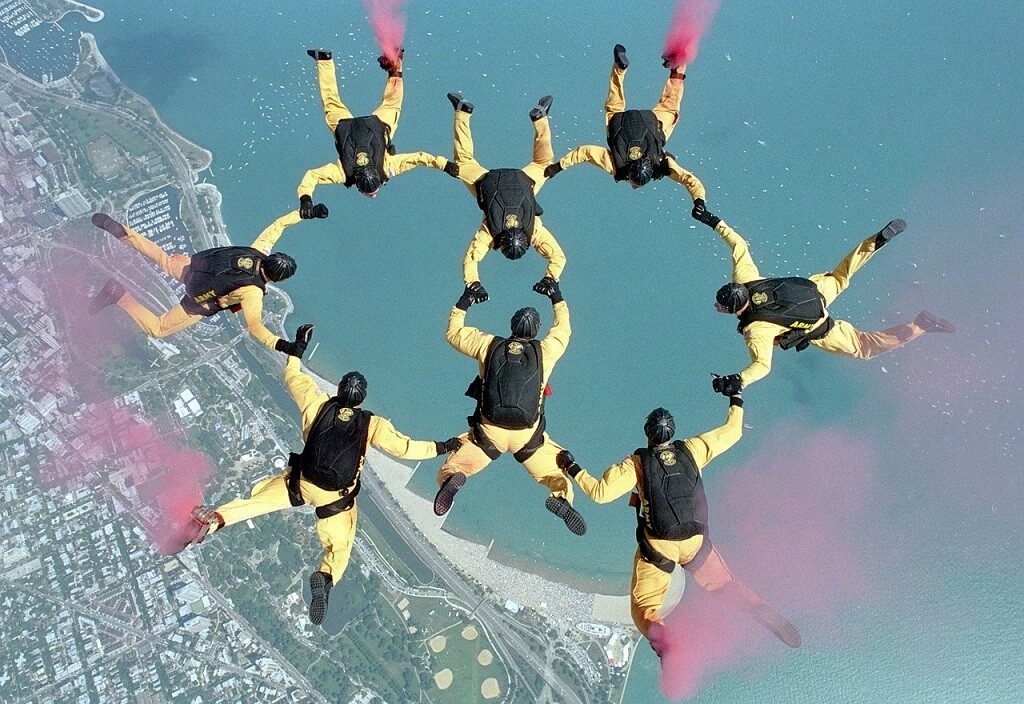 Are you one of those people who have yet to cross out skydiving off their bucket list? So, this is where you'll find all of your answers. To begin with, do you know from where the phrase "skydiving" originated? No, right? Keep scrolling for more information. Skydiving, also known as parachuting, is the employment of a parachute to slow a diver's descent to the ground after jumping from an airplane or other high location, for either recreational or competitive purposes. 
The sport dates back to the descents made by French aeronaut André-Jacques Garnerin from a hot-air balloon in 1797, but modern skydiving is mainly done from a propeller-driven airplane. Parachutists can leap from a variety of aircraft, including hot-air balloons, helicopters, and a Boeing 727, during events like the annual World FreeFall Convention in Quincy, Illinois.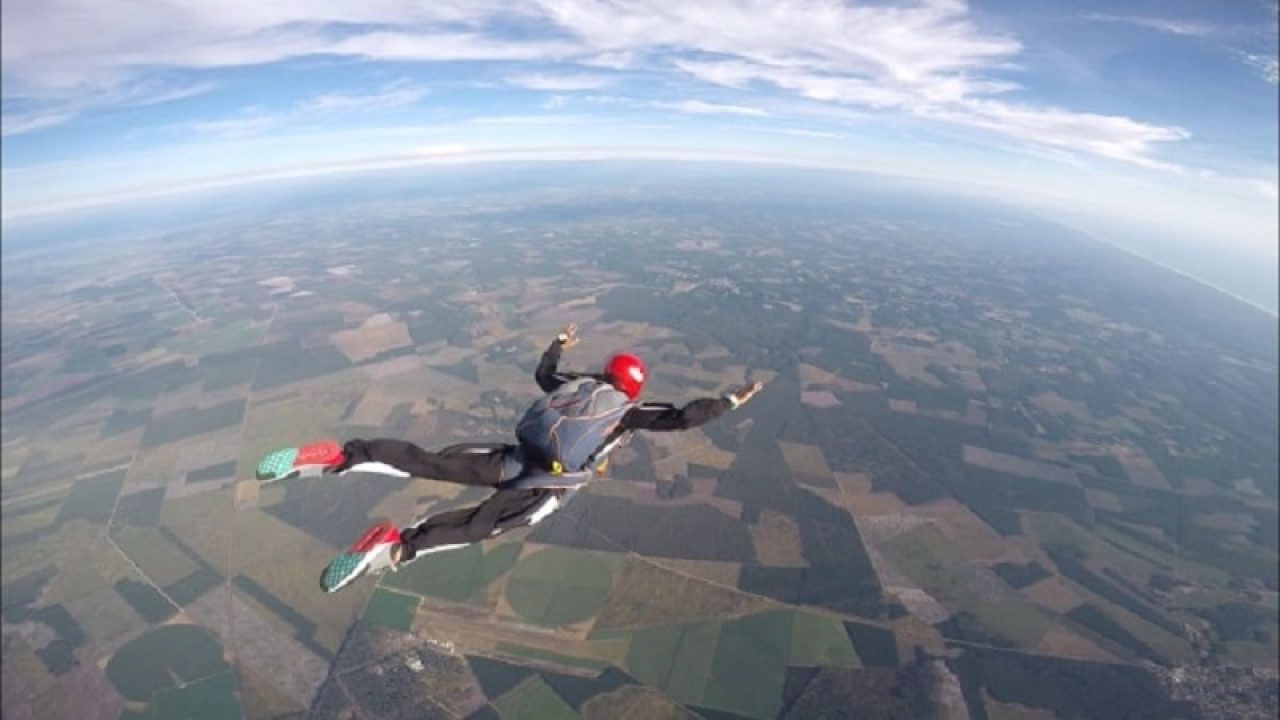 Extreme adventure sports like skydiving were once thought to be risky and impractical. Since then, more and more adventure enthusiasts have accepted a civilian jumping out of a flying plane as a sport that enhances adrenaline levels. With the right training, anyone may enjoy the sport. Skydiving may be both safe and fun if you have the appropriate training. Hard-core skydiving fans like participating in this adventure sport regularly. And now, there are many places to go skydiving in India. The cost of Skydiving in India is from INR 16,000 to INR 40,000.
This adventure sport has recently acquired a lot of attention thanks to movies and social media posts. Although India has a few safe and certified skydiving places with qualified instructors and enough equipment infrastructure, the majority of civilian skydiving destinations are located outside of the country. There are also some places to go skydiving in India during the winters. Travelers can enjoy various adventure activities in India, such as scuba diving and paragliding, in addition to skydiving. Because most skydivers are unfamiliar with India's major skydiving places, they have inquiries like "Where can we conduct skydiving in India?" and "Where is Skydiving in India?" 
As a result, most skydivers avoid India and prefer skydiving sites outside of India. The United States, New Zealand, Spain, and Africa remain the top skydiving locations, with world-class equipment and facilities. Most people learn about these areas through word of mouth and visit them for adventure sports. However, only a small percentage of skydivers are aware of India's significant skydiving destinations. 
So we have brought to you some of the best skydiving places in India:
Aamby Valley, Maharashtra

Dessa, Gujrat

Dhana, Madhya Pradesh

Narnaul, Haryana

Mysore, Karnataka

Aligarh, Uttar Pradesh

Pondicherry, Tamil Nadu
Some of the famous places to try skydiving in India :
Aamby Valley, Maharashtra 
The top sky diving destination in India is Aamby Valley in Maharashtra, especially for tandem jumps. If you are a frequent skydiver, this location also provides memberships that allow you to skydive all year. Their specialty is 10,000-foot tandem leaps, but the organizers are looking to incorporate more popular types of jumps in the future. Before opting for skydiving in Aamby Valley you will have to attend an hour-long training session with the instructor during which you will be instructed on the fundamental Dos and Don'ts of skydiving.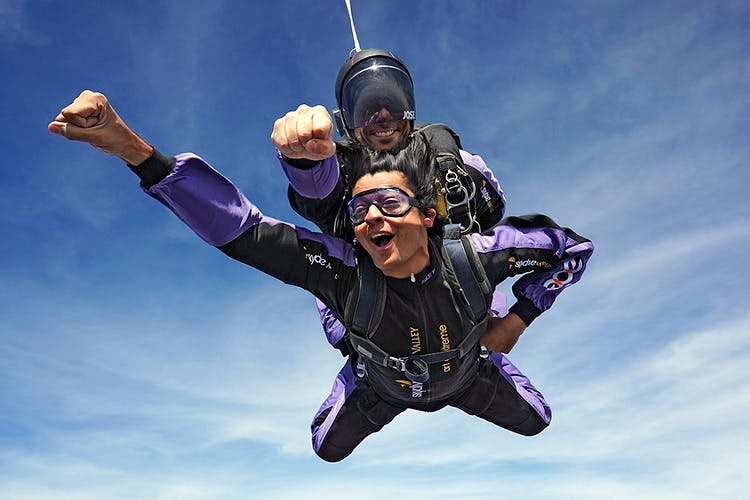 Following the briefing, a plane will transport the skydiver to the starting location, which is approximately 10,000 feet above sea level, where you and your instructor will take that big exciting leap from the plane. The instructor will deploy the parachute in around 20-30 seconds. You may absorb the picturesque surroundings of Aamby Valley for the following 40-45 minutes while the wind takes you on a fun journey. 
Except during monsoon and extremely windy seasons, any time of the year could be the best time to visit. 

The height of this fall is 10,000 ft. 

The price varies from INR 20,000 to INR 25,000 according to the days. 

The operators here are ThrillsExtreme. 
Must Read: 11 Breathtakingly Beautiful Hill Stations In India
Deesa, Gujarat
The Sports Authority of India identified the potential of Deesa, a gorgeous lakeside city in Gujarat, to become a certified drop zone for skydiving as an adventure activity. As a result, Deesa became the country's first skydiving destination. Several skydiving events are held in the city each year. Gujarat's Athletics Specialist is working to turn Deesa into a destination for more such adventure sports.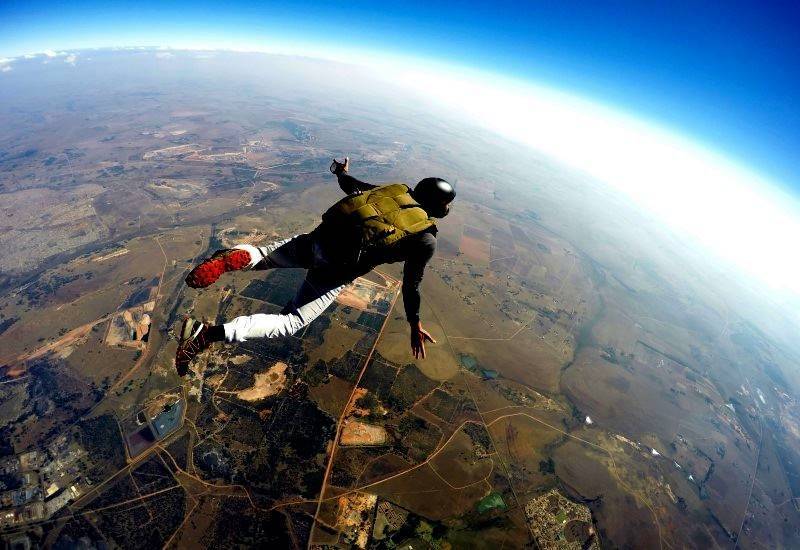 While first-time skydivers can choose a Tandem Jump here for a guaranteed memorable experience. There is also a Static Jump, which requires the skydiver to train for 1.5 days. In a Static Jump, the skydiver is his or her own master; there is no teacher tied to them with a harness; instead, the skydiver is connected to two instructors through a radio who lead the skydiver through the safe landing. Once the skydiver leaps, the parachute is deployed immediately. This spot in Gujarat can be considered one of the cheapest skydiving in India. 
You can visit this site at any time of the year without hesitation. 

The height of this fall is only 3,500 to 4,000 ft. 

The price of the static line jump here is INR 16,500. 

The Tandem jumps and the Accelerated Freefall (AFF) prices are INR 33,500 and INR 37,500, respectively. 

The operators there are the Indian Parachuting Federation. 
Read More: 19 Best Solo Women Travel In India Destinations In 2022
Dhana, Madhya Pradesh 
The tranquil town of Dhana is located in Madhya Pradesh's Sagar district. The site has an airfield where multiple operators organize skydiving camps for adrenaline junkies. The time of freefall is shorter here, but the massive stretches of the panorama are worth seeing. This charming village hosted the first Indian skydiving competition. which ended up making skydiving in Dhana a famous adventure sport.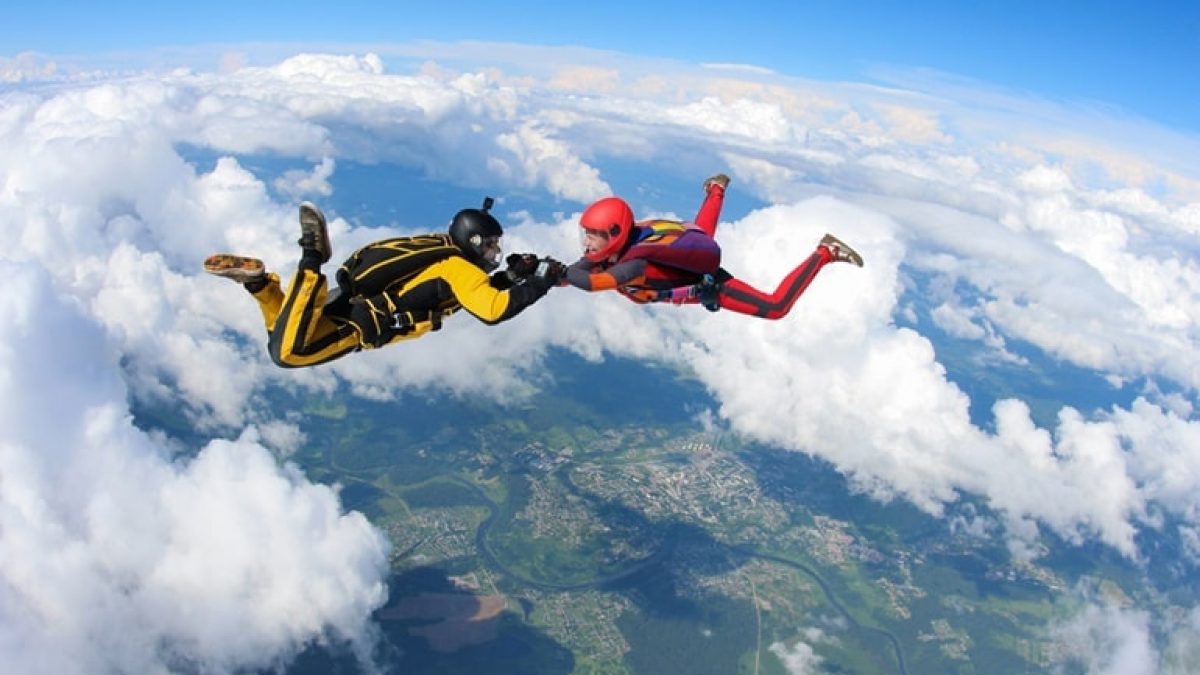 The tandem instructor is attached to the skydiver to ensure a safe landing. Previous experience in a similar situation is not required. All that is required for the big dive is a valuable 30-minute training session. The free fall is approximately 120 mph.
Except during monsoon and extremely windy seasons, any time of year is ideal to visit. 

The height of this fall is 9000 ft to 10,000 ft. 

The price of the static jumps is INR 24,000 and the Tandem jump prices are INR 37,500.

The operators there are the ThrillsExtreme and Chimes Aviation Academy. 
Read More: 17 Stunning Wedding Destinations In India
Narnaul, Haryana
India's only international skydiving zone is the Bachhod Airstrip in Narnaul. It is a famous destination for adventure seekers, located two hours from New Delhi. Tandem Jump and Static Line Jump are two types of skydiving alternatives offered by SkyHigh Diving Company. Before the main skydiving in Narnaul, they also provide an hour of training.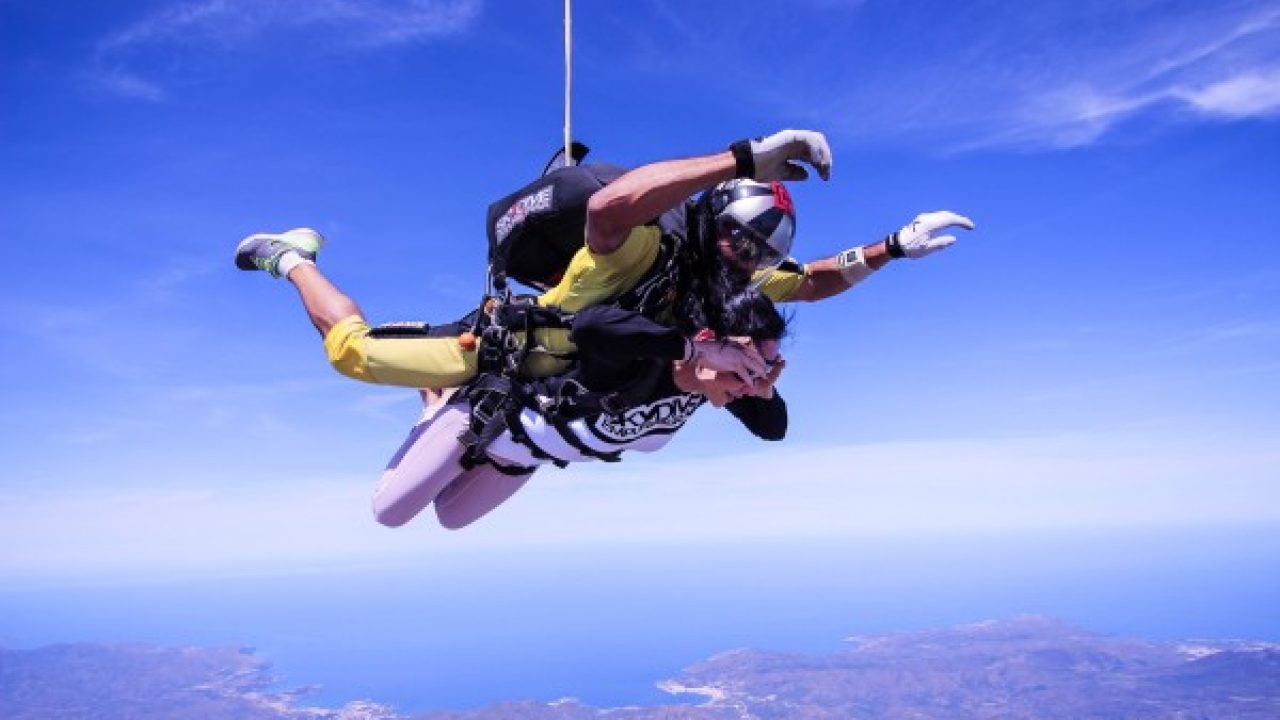 The best time to visit this site is anytime throughout the year except for the monsoon seasons. 

The price of the Tandem jump is INR 27,500. 

The fall's height is 10,000 feet.

The operator present here is SkyHigh. 
Mysore, Karnataka 
Interestingly, Mysore is one of India's best-skydiving destinations. The Mysore skydiving strip is located at the base of the Chamundi Hills and offers two types of jumps: You get to see a breathtaking panoramic view while skydiving in Mysore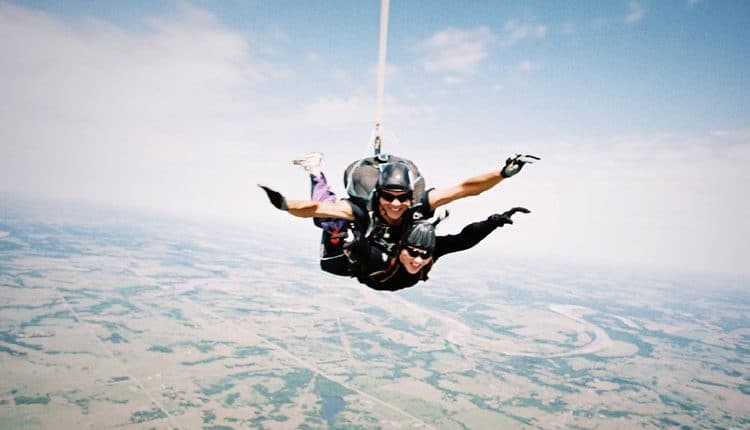 You can visit the Mysore Skydiving site anytime around the year. 

The height of this fall is 9,000 to 10,000 ft. 

The price of the Tandem jump is INR 35,000 and the AFF price is INR 25,000.

The operator that is present here is Skyriders. 
Aligarh, Uttar Pradesh
Yes, there is a skydiving facility at the Aligarh airport where you may take that wonderful huge leap. To ensure that the participant is medically fit, you will be required to do a fitness test. A general physician can offer this medical certificate. Following the registration process, qualified tandem instructors will lead induction training. Because the Aligarh airstrip only has 5 slots per day, one must make a reservation in advance to assure that they can dive on the day they choose. Early risers who want to soak up some sun should report at 9:00 a.m., with the jump taking place between 10:00 a.m. and 12:00 p.m. If you enjoy watching sunsets, arrive at noon and prepare for a bird-like experience between 1:00 p.m. and 5:00 p.m.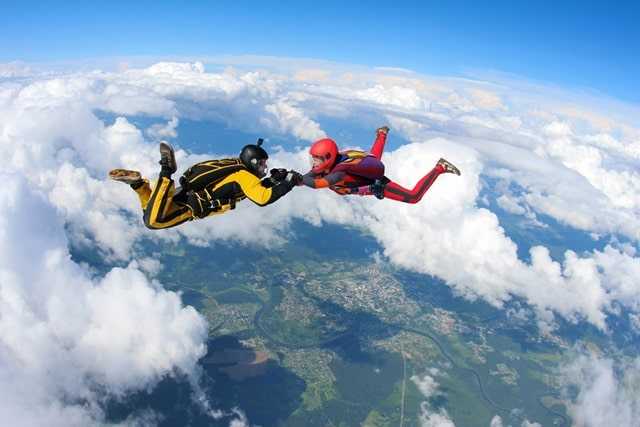 A Tandem Jump, in which the instructor assists in the deployment of a parachute for the landing, or A Jump to Remember are two options. A coffee mug and a certificate of completion are included in the Tandem Jump package. Participants in A Jump to Remember will also receive images and video footage of their trip from the sky to the ground. Because, well, you're on camera, give the broadest of all your smiles. These participants can also select a Coffee mug from a variety of options. Skydiving in Aligarh is a fun activity you will want to keep doing often.
The best time to visit can be any time of year, however, avoid planning during periods of high rainfall.

The height of this fall is 9000 ft to 10,000 ft. 

The Tandem jump price is INR 27,025. There is also a special jump called "A jump to remember", which costs INR 31,625.

The operator that is present here is SkyHigh. 
Pondicherry, Tamil Nadu
While Pondicherry is a famous tourist destination for a variety of reasons, one of them is skydiving. Tandem and static jumps are offered in this coastal idyll. The free fall from the sky will let you take in the spectacular scenery that surrounds you. From above, you can view the water kissing the land while soaring like a kite as the wind controls your flight.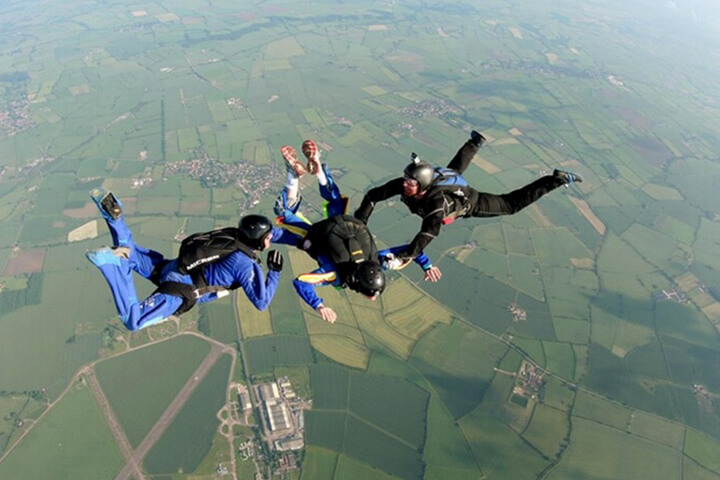 For individuals who get high on adventure activities, operators organize frequent camps that are appropriate for the weather conditions. The minimum age for static jumping is 16, whereas the minimum age for tandem jumping is 18. Therefore, organize a trip to this town with a stunning French Colonial settlement and dare to soar high. by skydiving in Pondicherry. 
The best time to visit this place is any time throughout the year, only avoiding the monsoon seasons. 

The height of this fall is 10,000 ft. 

The price of the Tandem jump is INR 27,000. 

The operating teams present there are Waltair Escapade Thrills and Skyriders. 
Things to keep in mind:
The thrill of an unassisted or assisted flight from the sky is worth experiencing. Skydiving allows you to realize your fantasy of flying like a bird. We walk you through the essential Do's and Don'ts of this intense yet safe adventure sport as the final step in getting you ready for the adrenaline rush. Also, if you want to enjoy yourself all by yourself and don't want any instructor with you during your ski trip, then some places allow solo skydiving in India. 
Do's
:
Pay close attention to every detail discussed with you during the training session so you can understand the finer points of skydiving. While most organizers provide a mandatory training session, you can also enroll in a well-equipped training facility if you want to fly solo.
Make sure you have a thorough understanding of the equipment.
Check to see if the trainer has the relevant credentials.
It's ideal to do a jump after a light lunch, rather than on an empty stomach or a full stomach, because first-timers may feel queasy.
Dress accordingly – gym shorts, a full-sleeved tight-fitting shirt, and tight-lacing shoes so the wind doesn't throw them off or the strings on your stylish top don't make the joyful ride miserable.
Acrophobics should avoid skydiving since they will not like the experience.
Don'ts:
It's a good idea to conduct some internet study before undertaking anything new and adventurous like skydiving, but don't believe everything you read. There will always be negative aspects to everything, and there will also be disturbing stories on the internet. The difficulty is to resist the urge to believe everything you hear. The operators take great care to ensure the safety of the players, so the chances of things going in the wrong way are exceedingly slim.
While the height of freefall is stated to give you an idea of the excitement involved, don't torture yourself by envisioning the inconceivable in terms of how big the fall is because that's where all the pleasure is.
If panic strikes during the fall, relax, take a deep breath, and calmly recall the training course. If you are on a solo flight, contact the instructor immediately over the radio.
Confidence is always a wonderful thing, but don't get too cocky and think that you don't need training because you've watched enough skydiving videos on YouTube.
Always do some training before jumping. Finally, skydiving is an adrenaline-pumping activity in and of itself, so don't expect to compound the fun by consuming alcohol. We guarantee that you will have a good time.
There are some of the best cities for skydiving in India, but we've selected the best for you in other regions of the country. And with so many spectacular locations for skydiving in India, it would undoubtedly be a once-in-a-lifetime experience. So, what do you have to lose? Or are you having any problems over planning your trips? If so, hoteldekho.com is always happy to help you with that. Plan a vacation to your favorite Indian destination and experience one of the most exhilarating flying trips of your life. Explore the skies by flying like a bird. Mountains, hills, valleys, rivers, waterfalls, lush green plains, and more all combine to create spectacular panoramic landscapes. Only the sky's the limit! 
If you have any remaining doubts, you can always contact your friends who have previously experienced skydiving! But the best option for you, according to us, would be to visit our website, as there we also give away the opportunity for you to get the best offers on the hotels near the designated location. 
Prepare to extend your wings and fly aloft now that you know when, where, and how to skydive!!
FAQ:-
Is India a safe country to try adventure sports like paragliding and skydiving?
Yes, India has become a safe country to try adventure sports like paragliding and skydiving. 
Where is the cheapest skydiving in India available?
The cheapest skydiving in India is available in Gujarat. 
What is the cost of skydiving in India?
The cost of Skydiving in India is from INR 16,000 to INR 40,000. 
Which city would you say offers the safest and most funfilled skydiving?
Skydiving at present is considered safe almost everywhere throughout India. 
How many cities in India provide skydiving?
There are more than 10 cities in India that provide skydiving. 
From where in India can one train for skydiving and achieve a certificate?
First, skydivers must obtain their A license. A minimum of 25 jumps is required to obtain a skydiving license. A TDS (tandem direct supervision) or an AFF can be used to accomplish this (accelerated freefall course). A day of ground school is required for skydiving certification.