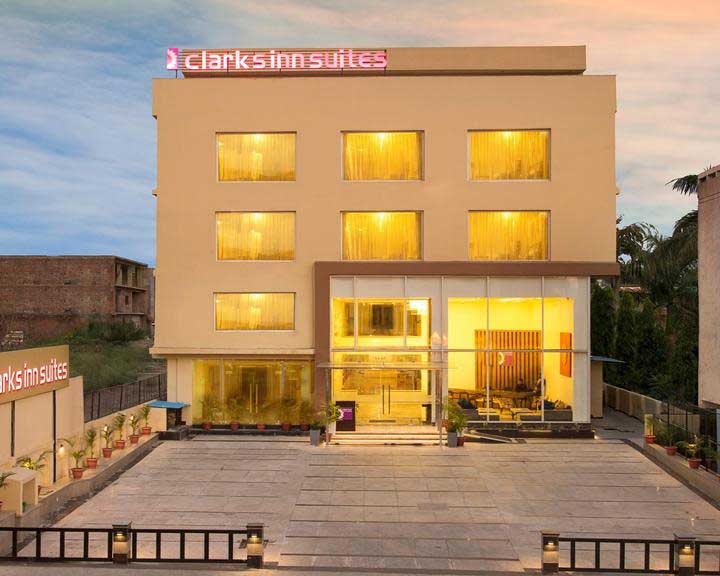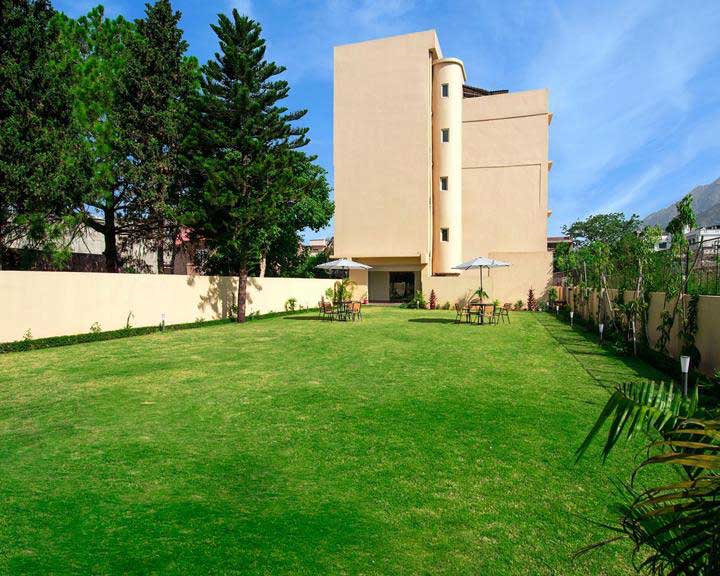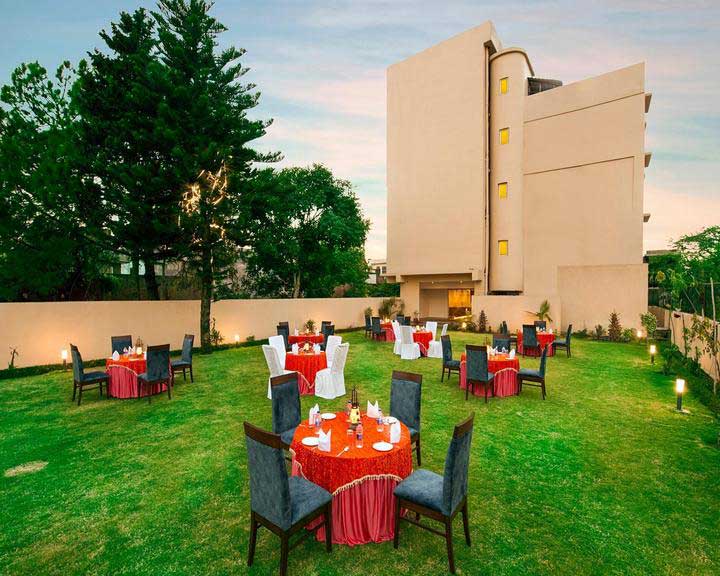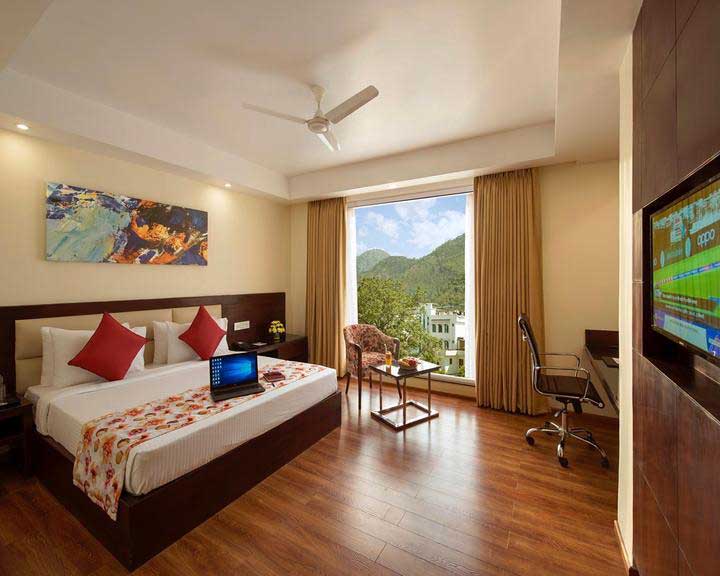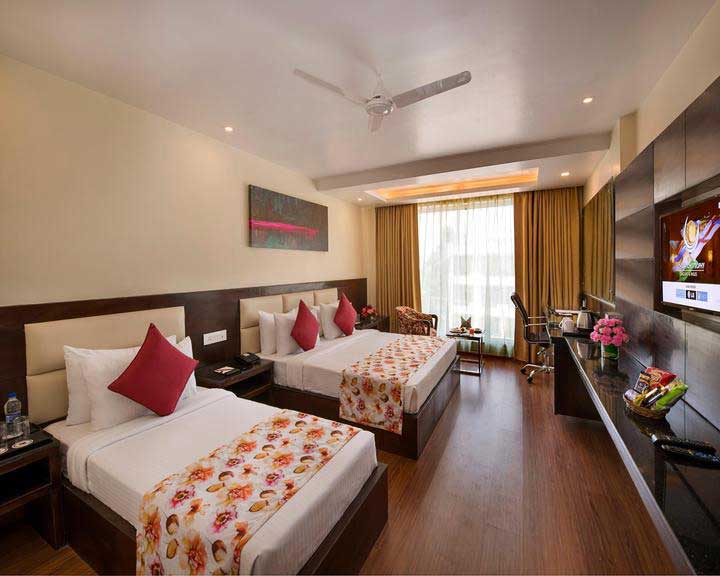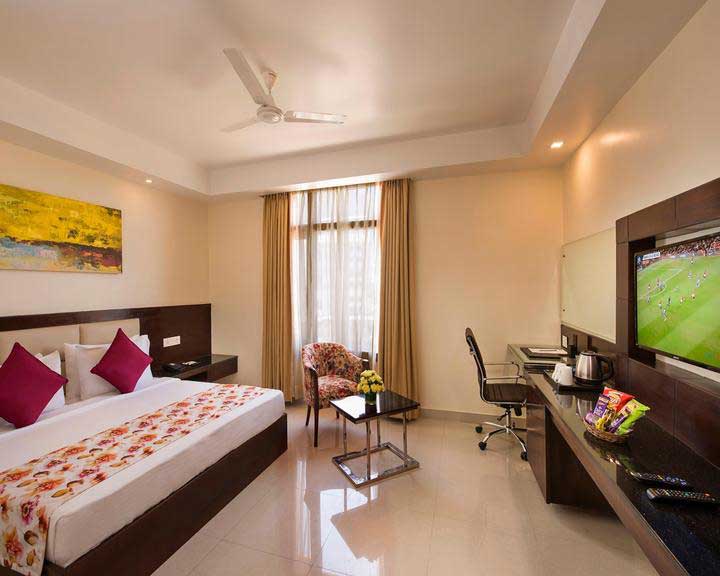 Free BreakFast Available
Login & Get
The Best Deals & Prices
Price Starts At :
2877
+ 345.24 taxes & fees
per room / night
About Clarks Inn Suite, Katra
Overview
Clarks Inn Suite, Katra, is a hotel designed for both business and vacation travelers. It offers great facilities such as a free car park, free wi-fi in all rooms, and a spa. With the airport at a short distance from this budget hotel in Katra and various attractions nearby, it is one of the best hotel choices for customers travelling to Katra for business or leisure.
Highlights of the Hotel:
The hotel's location has a great review from the customers due to its proximity to many tourist destinations in this holy city.
There are suites, deluxe rooms, and executive rooms at Clarks Inn Suite. The rooms are air-conditioned and have free bottled water, coffee and tea maker, television with cable channels, free wi-fi, etc.
The hotel has a restaurant to relish Jammu's delicacies and a spa for quality relaxation time.
The hotel offers free parking, luggage service, business service, excellent room amenities, a restaurant, and a spa.
There are working elevators, and fireplaces are also available in the hotel. It is a beautifully furnished hotel and has a 24-hour front desk reception.
Clarks Inn Suites offers utmost comfort and extravagance to its customers at affordable prices.
It has a daily housekeeping, dry cleaning, and laundry service. There are working elevators, and fireplaces are also available in the hotel. The car park is free of charge, and this budget hotel in Katra has a restaurant and a spa.
All rooms are air-conditioned and have cable television. They are facilitated with tea/coffee makers, cloth racks, towels, and free bottled water. The bathrooms are well-maintained and are provided with toiletries by the hotel.
The check-in for this hotel in Katra is 1 pm, while the check-out is until noon. Therefore, one can choose early check-in or late check-out during booking, depending on the availability.
Popular Places near Clarks Inn Suite:
Banganga Temple
Around 1.2 km from Clarks Inn Suites Katra is the holy site of the Banganga Temple. It lies at the bank of the sacred river Ganges. With a amazing view it serves as one of the best places to visit in Katra.
Bhimgarh Fort
Bhimgarh Fort, or the Reasi Fort, is 2.2 km away from Clarks Inn Suites Katra. It is located at the hillock that is approximately 150 meters in height by Maharaj Rishipal Rana. The place's history and architecture attract tourists to visit the fort and see its glory from all over the country.
Dera Baba Banda
Dera Baba Banda is a major Sikh pilgrimage center easily accessible from this hotel in Katra. It has a Gurudwara, built by soldier Baba Banda Bairaagi, which gives the place its name. It is located on the banks of river Chenab, and thousands of people visit this place to see the ashes of Banda Bahadur, the arrow given to him by Guru Gobind Singh, and the sword used by him during wars.
Vaishnodevi
If you plan to visit Katra, then Vaishno Devi is a must to visit. Millions of people visit the place to get from the goddess'. It makes it one of the most visited pilgrimage centers of India.
Bhairon Temple
The Bhairon Temple is just 3 km away from the temple of Mata Vaishnodevi sits. It is on the adjacent hill to Trikuta at the height of 2017 meters. One visiting Vaishnodevi must know that the yatra for Mata Vaishnodevi's blessing is only considered complete once they pay homage at the Bhairon temple. Tourists can take the cable-car ride to reach this destination.
Best Restaurants Nearby:
Madhuban
Madhuban ranks number 1 restaurants near Clarks Inn Suites, with a 4.5 rating out of 5. The multi cuisine restaurant serves very delicious vegetarian food. It is a highly recommended and popular restaurant in the beautiful city Katra.
Chilly to Vanilla
A posh, well-lit, and well-furnished restaurant near this budget hotel in Katra would be Chilly to Vanilla. It serves both Chinese and Indian cuisine along with Pizzas and Soups. It ranks 3rd in Chinese restaurants and 16th out of 28 restaurants around our 3-star hotel in Katra. It is an excellent choice to dine here while you tour.
Prem Lahori Vaishno Dhaba
Prem Lahori Vaishno Dhaba ranks 5th out of 28 restaurants near Clarks Inn Suites with an Indian-only cuisine and vegetarian-friendly plus vegan options. However, it has five on five ratings for food, 4 for service, and 4.5 for prices. Enjoy delightful food here at reasonable prices during your stay!
Sagar Ratna
This multi-cuisine restaurant serves very delicious Chinese cuisine, fast food, street food along with Indian and Asian cuisine. So for the people looking for a change from their daily Indian cuisine, they can try some Chinese dishes here in the vicinity of Clarks Inn Suites.
Lazzez Restaurant
Ranking 1st in Italian restaurants of Katra and 9 out of 28 restaurants in the locality of Clarks Inn Suites. The furnishings of the restaurant are appealing to all customers, and the food is satisfying as well.