50 Destinations to Visit in Goa: A Brief Handbook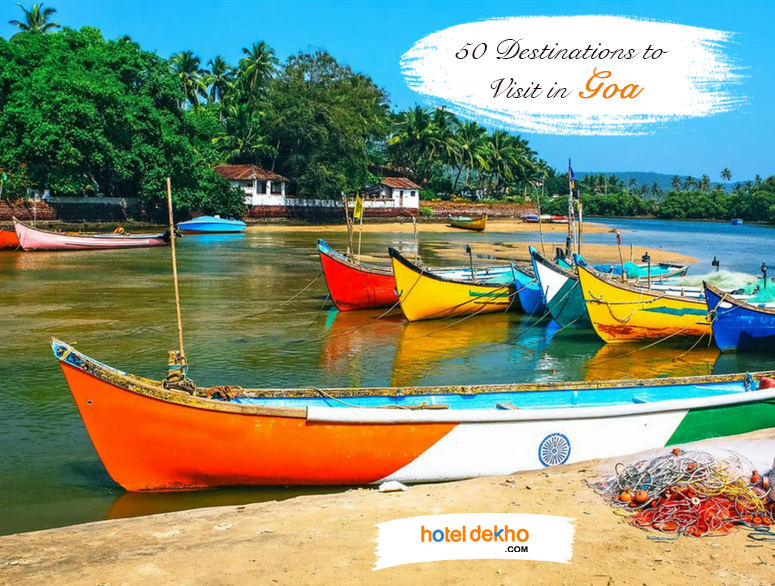 Anjuna Beach, Candolim Beach, Vagator Beach, Roam at Tito's Street, Sao Tome Latin quarter, Dudhsagar Waterfalls, Fort Aguada, Chapora Fort, Corjuem Fort, Casino Cruise, Mandovi River Cruise, Club Cubana, Club Curlies, Lamgau Caves, Mangueshi Temple, Bom Jesus Basilica, Church Of St. Augustine and many more.
Today we bring to you the 50 most amazing places to visit in Goa. This blog is like a quick guide to skim through and know what all the locations mentioned below offer to the visitors. Goa has always been a dream destination for many people and a party paradise for party animals. Goa is both calm and serene as well as luxurious and fun-filled. It is completely up to you, which side of this coin do you plan to choose?
Many people come here to experience the idea of sole searching and it is a haven for all the beach lovers out there. Almost everyone visiting Goa visits the beaches, the cafes, the clubs, and experiences the nightlife. Apart from this, there is so much more that Goa has to offer.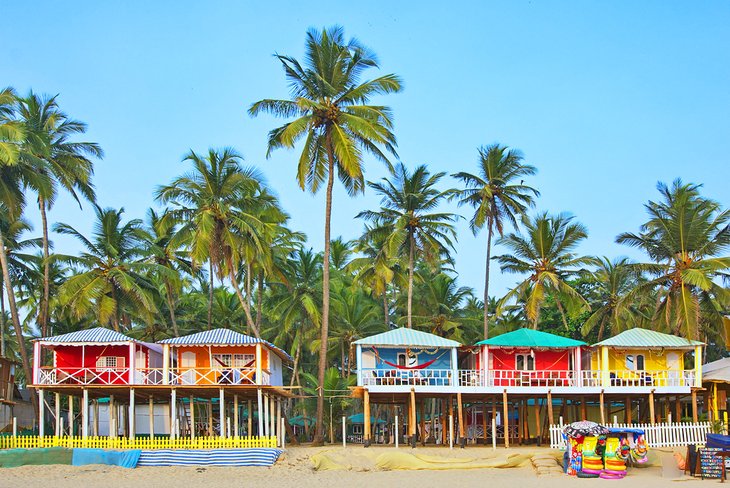 Let's enlighten you about the popular Goa destinations that are worth visiting. Mentioned below are some of them and we will do our best to share with you everything that you must know before planning a trip to Goa.
For the starters, let's begin with famous beaches in Goa: for the mermaid in you:
Famous beaches in Goa
| | | |
| --- | --- | --- |
|     Calangute Beach |       Anjuna Beach |      Arambol Beach |
|     Mobor Beach |      Vagator Beach |      Dona Paula Beach |
|     Galgibaga Beach |      Candolim Beach |      Cabo de Rama Beach |
|      Baga Beach |      Butterfly Beach |      Sinquerim Beach |
1-Calangute Beach: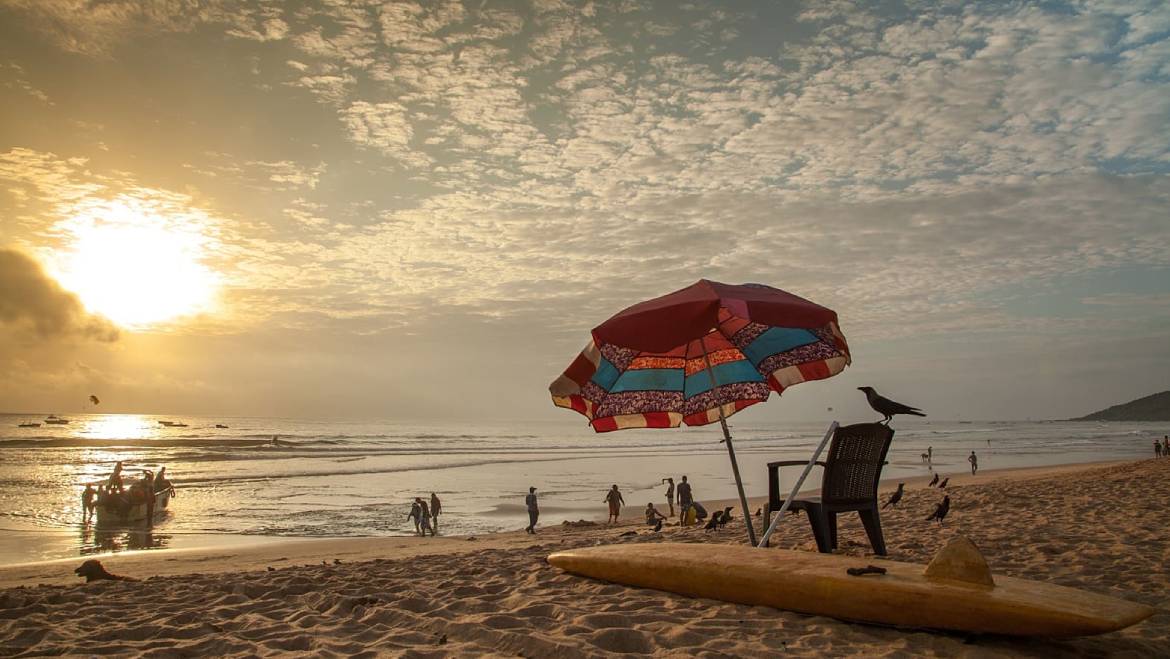 The beach is known as the Queen of Beaches in North Goa. The Calangute beach is really clean and during the golden hours of the day, the sunlight makes the sand turn shimmering gold. The beach looks divine and you can even capture some instagrammable pictures during the soft lighting hours as it is just the filter you require for those pictures. The beach is surrounded by restaurants, clubs, lounges and is a treat for sore eyes. Activities one can take up while visiting the beach are jet-skiing, parasailing, and banana ride. 
2- Anjuna Beach: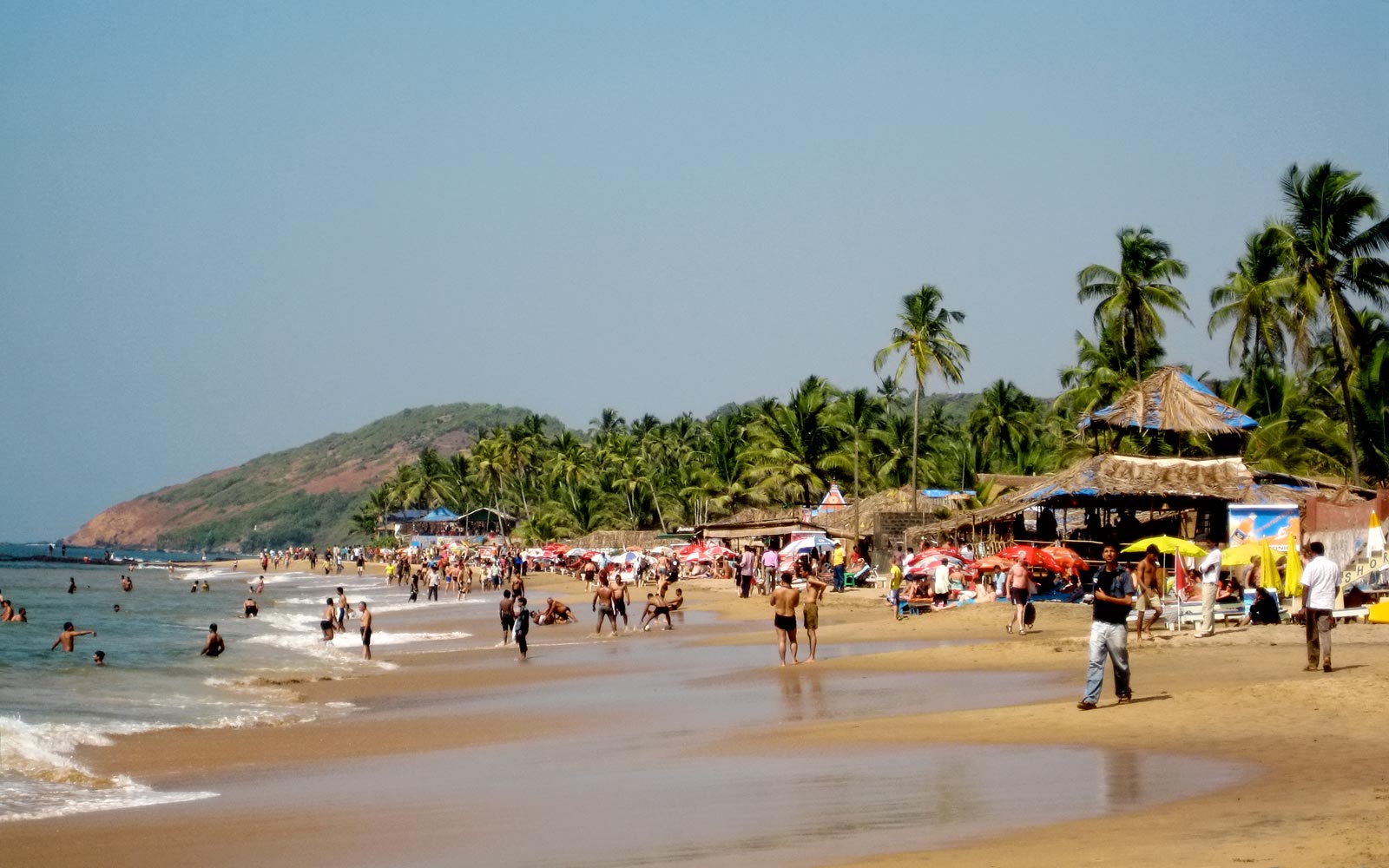 Located in Northern Goa near Panjim, this picturesque beach is situated at a distance of 21 km. Anjuna Beach is a Shangri-la for Hippies and is a rocky beach. This beach has a lot to offer when it comes to adventure one can try out sports like the bumping ride and water scooter. If you are traveling solo or with friends then you can be a part of the trance parties organized here. 
3- Arambol Beach: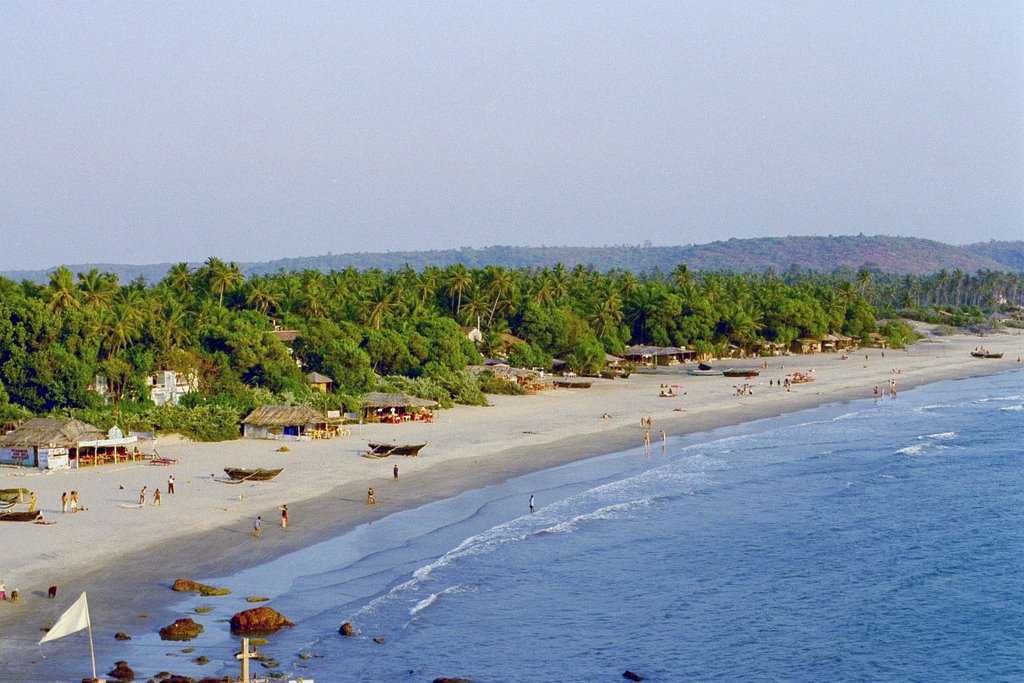 One of the best beaches in North Goa, this beach is considered a gorgeous beach that one must visit while exploring Goa. Arambol beach has a very Bohemian and chill vibe to it. The best part is that you can easily get budget-friendly accommodation here. During the night one can be a part of the parties held near the beach, enjoy the yoga and meditation sessions, and enjoy activities like kite surfing, sunbathing, and paragliding. 
4- Mobor Beach:
A vibrant beach that is often crowded, this place is full of life. A lot of parties and activities are held on this beach. The palm trees and the sandy dunes add up to the beauty of this place. Here one can take part in water sports like Ringo ride, parasailing, banana boat ride, and jet skiing. There are a lot of restaurants around the beach that serve amazing cuisines. 
5- Vagator Beach: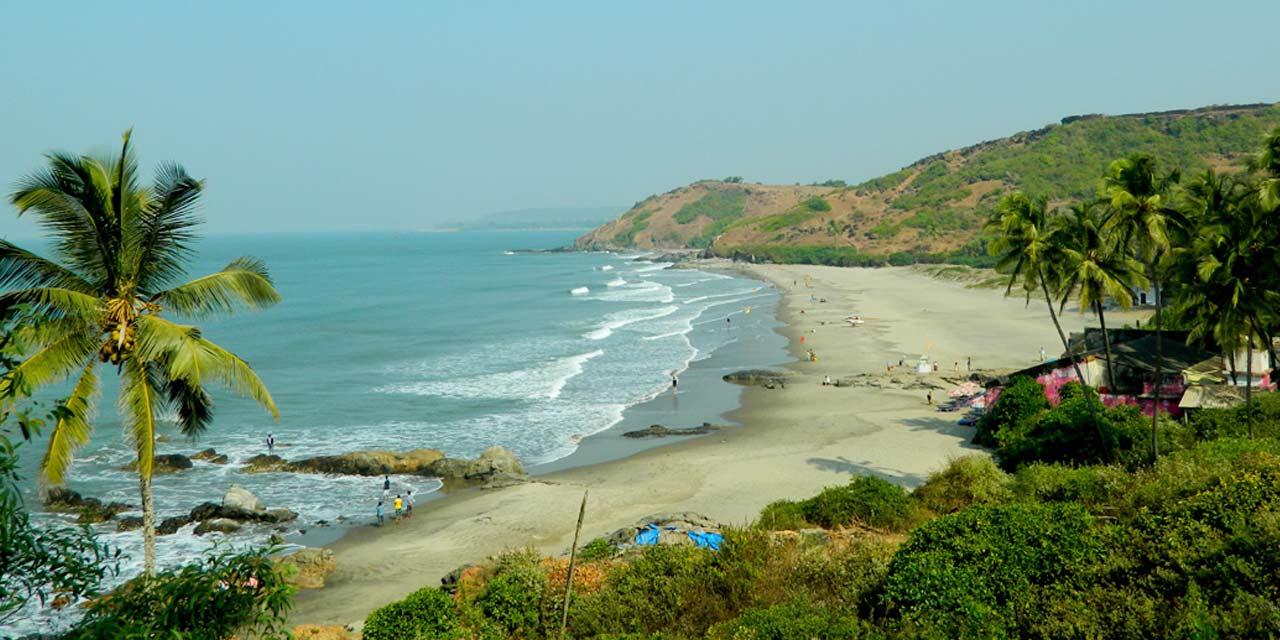 A beach in Goa that offers an experience of a lifetime. The Vagator beach is full of picture-perfect locations, the red cliffs which support the freshwater springs are worth seeing. Here one will find several stalls selling clothes, food, and drinks. The beach has a very laid-back kind of vibe to it with a tinge of rave culture. This beach is segregated into two parts one is the small Vagator whereas the other one is the big Vagator. One can try water sports here. 
6- Dona Paula Beach: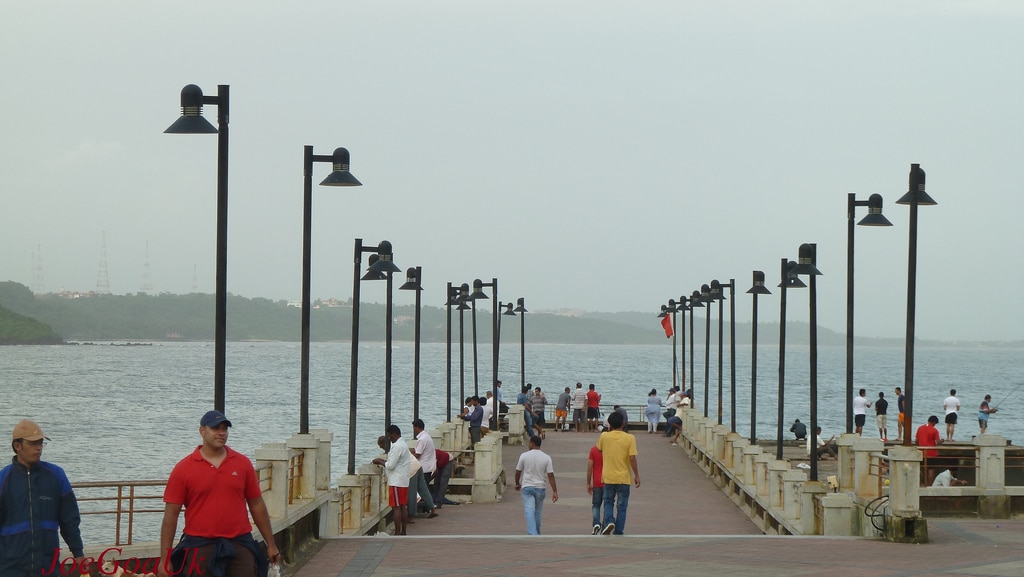 A comparatively smaller beach with a bleak past. Before visiting the beach one must know its history as it involves love and suicide. The top beach to visit in Goa is the Dona Paula beach. It offers a plethora of options to choose from when it comes to water sports. Sports like windsurfing, parasailing, ski-bob, kayaking, water-skiing, swimming, fishing, ski-biscuit, and snorkeling can be tried out here. 
7- Galgibaga Beach: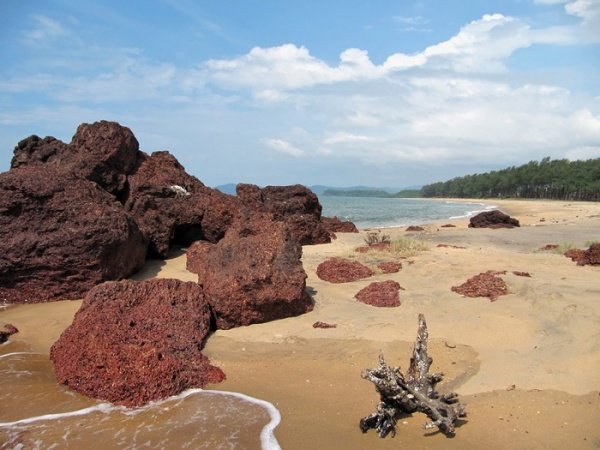 Galgibaga beach is a serene location famous due to the fact that it is a nesting place for the olive ridley turtles. The water of this beach is clean and silvery sand adds up to its beauty. If you feel like spending a lazy day this beach is the perfect location. 
8- Baga Beach: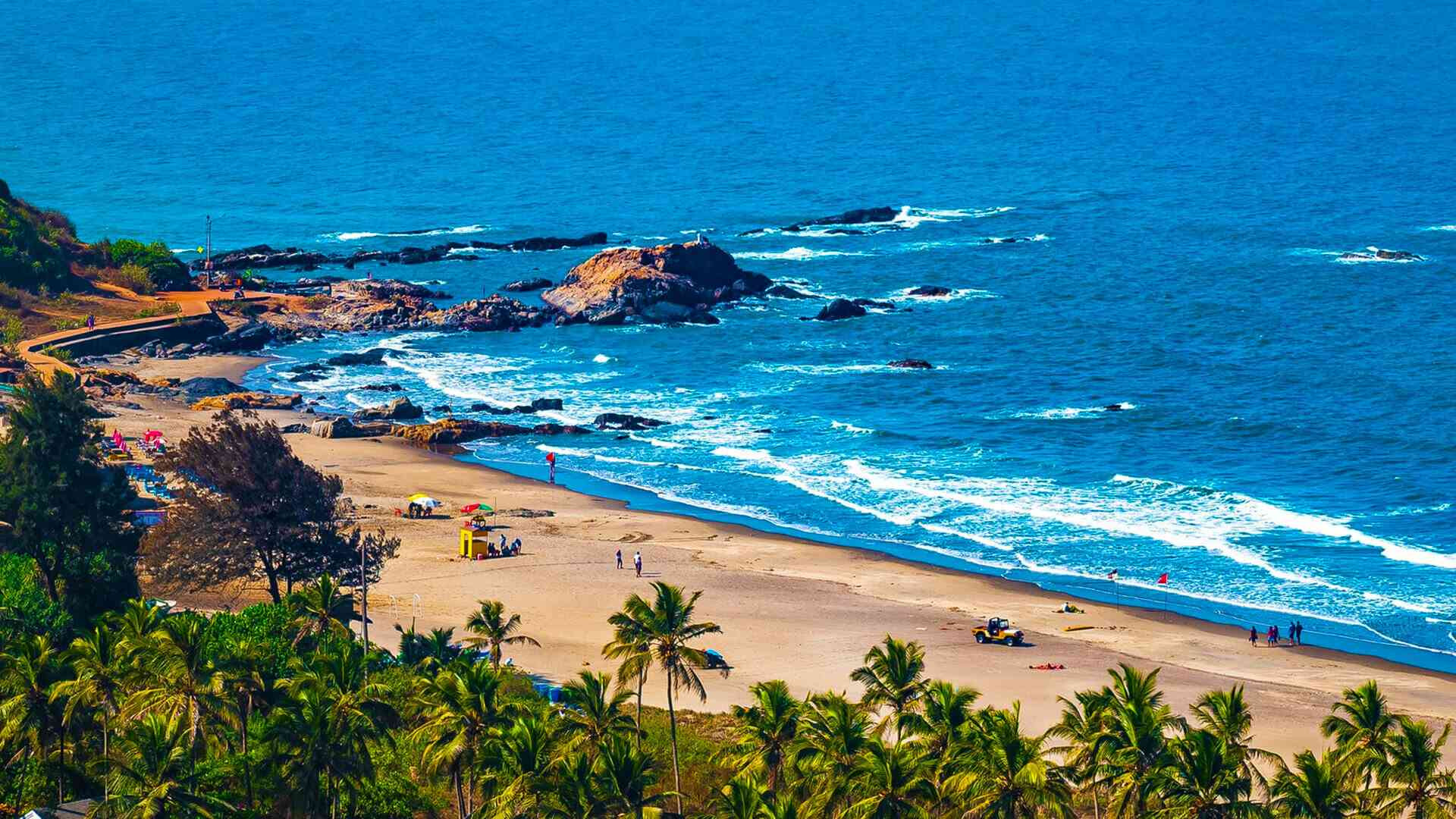 Baga beach is filled with clubs and nightlife. If you are a party animal then this is the place for you. The nightlife that this beach offers is one of a kind and if you want to know what partying and nightlife truly is then come here. 
9- Butterfly Beach: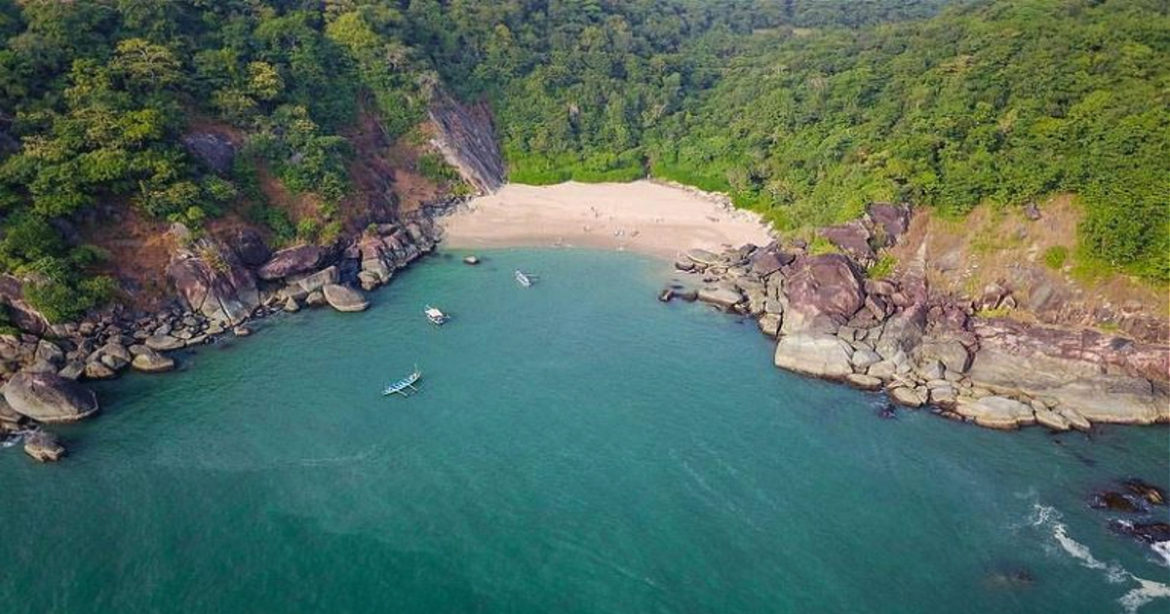 A secluded beach that is still raw and has natural beauty intact. This beach is accessible through boats and one can even spot a variety of butterflies here. This beach offers water sports too. 
10- Sinquerim Beach: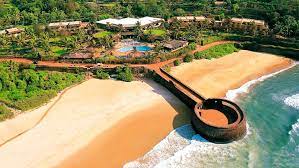 Surrounded by beautiful palm trees this coruscating beach is an amazing destination to visit in North Goa. If you are on a trip with your friends then you should give it a try, the famous Love Passion Karma is here too, ready to make you experience a night that you will always remember. From here you will get a glimpse of the Aguada Fort. The water sports offered here are paragliding and skiing. Another terrifying yet exciting activity one can take up here is crocodile spotting. 
If you are one of those travelers who wish to stay near the beach then you should have a look at the 5 Best Hotels in Goa that are situated near beaches. There are a lot more beaches in Goa that you can visit apart from these 10 beaches. 
Best Waterfalls of Goa, for the kid in you:
| | | |
| --- | --- | --- |
|      Dudhsagar Waterfalls |         Tambadi Surla Waterfalls |    Arvalem Waterfalls |
11-Dudhsagar Waterfalls: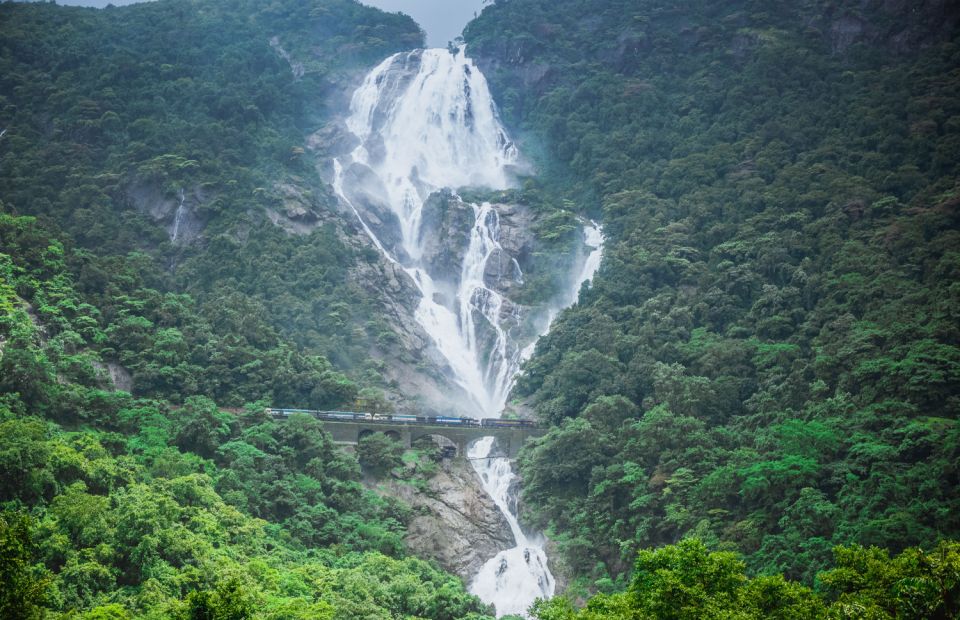 A mesmerizingly beautiful waterfall situated on the Goa Karnatak border that is four-tiered and the water here is milky white in color. The amount of nature that surrounds this waterfall adds up to its beauty and makes it a sight to behold. 
12- Tambadi Surla Waterfalls: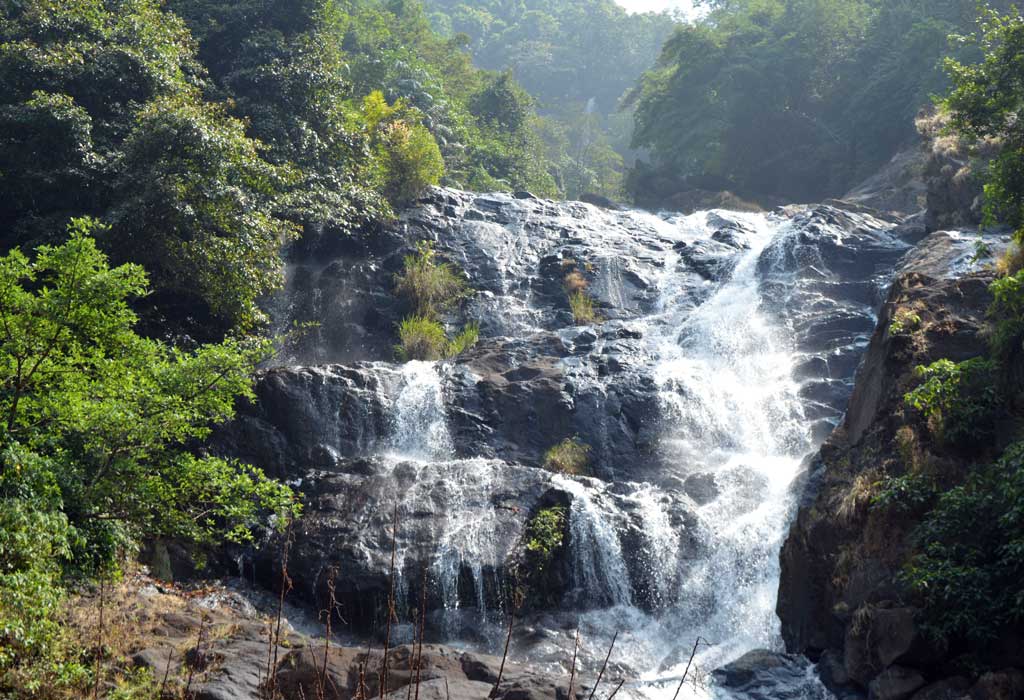 The picture-perfect waterfall is located at the Bhagwan Mahavir Wildlife Sanctuary. The waterfall is surrounded by dense woods and one needs to trek their way to the waterfall.
13- Arvalem Waterfalls: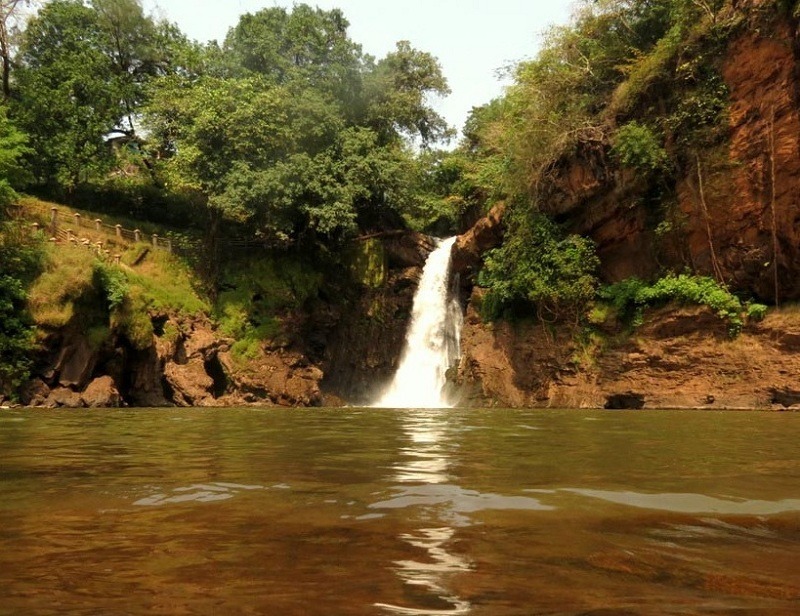 The Arvalem waterfalls are cute, to be honest. It is tiny in front of Dudhsagar lake but if you visit this place during the rainy season you will enjoy the time spent here, for sure. 
A few more waterfalls one can visit while in Goa are the Hivre waterfalls and Charavne waterfalls.
Popular Forts in Goa: A walk down the ancient lanes.       
| | | |
| --- | --- | --- |
| Fort Aguada | Fort Tiracol | Corjuem Fort |
| Cabo de Rama Fort, North Goa | Reis Magos Fort | Chapora Fort |
14- Fort Aguada: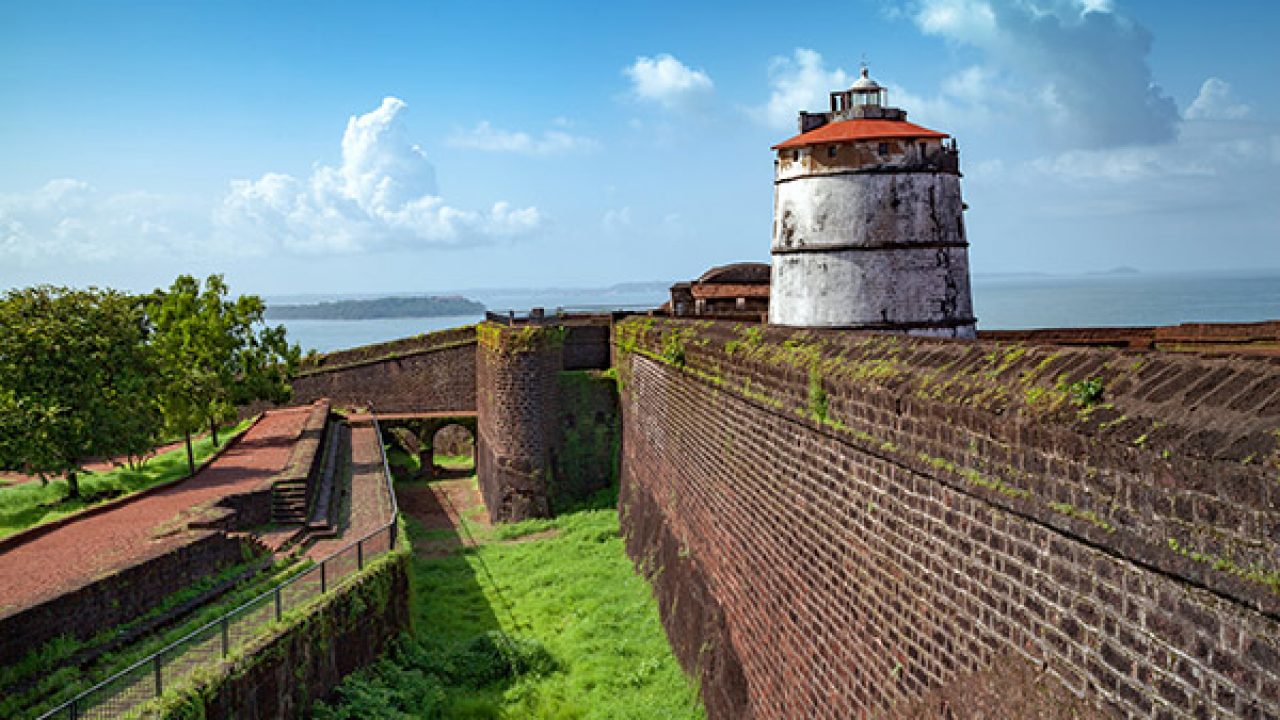 A fort in Candolim, North Goa, the Aguada Fort is a Portuguese heritage that has been standing headstrong along the beach. This fort was constructed in 1612 and back then was used as armor to defend the place from the attacks of the Dutch as well as the Marathas.
The fort is famous amongst the visitors due to the old lighthouse which dates back to 1864. The ancient fort provides a breathtaking view and one can explore it from 9:30 am to 6:00 pm. 
15- Fort Tiracol: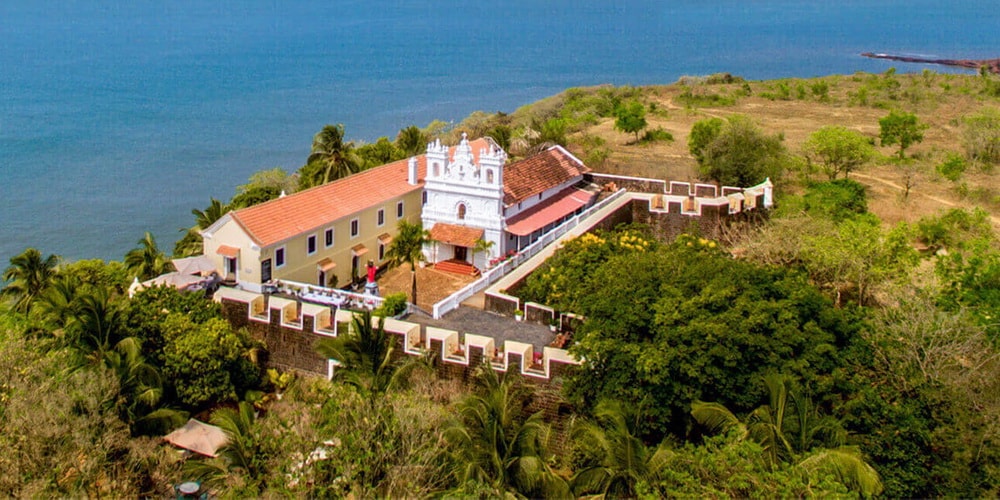 The Tiracolo Fort is also known by the name of the Terekhol Fort as it is situated across the river Terekhol. This fort during the Portuguese rule served as the maritime defense and now is a well-maintained heritage hotel. There is a church on the premise of the fort which opens for visitors only during special occasions. The fort we see today has undergone several renovations as it faced battles several times. If you visit the church during special occasions remember to enjoy lunch at the heritage hotel.
16- Corjuem Fort:

The Corjuem Fort, an island fort is a must-visit fort in Goa. It is really small as compared to the other forts in Goa but one should visit it to experience the Goan culture. This fort was built in 1705 in Panjim and is open 24/7 but the best time to visit Corjuem Fort is from 6:00 am- 7:00 pm. This fort is the perfect representation of the saying, 'damaged yet beautiful'.
17- Cabo de Rama Fort, North Goa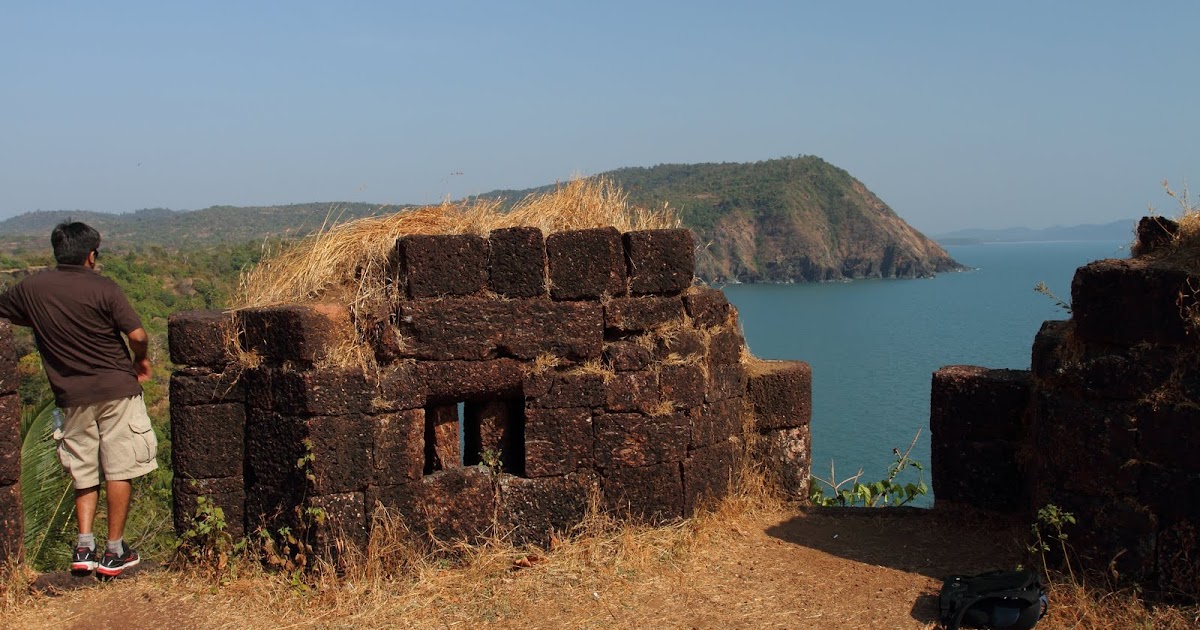 The Cabo de Rama Fort is located at a place that holds mythological value for the believers of the Hindu religion. The region traces back to the Ramayana, it is believed that the fort stands tall at a place where the mighty Lord Rama, his wife Sita, and his brother Laxmana resided during their exile. The fort is one of the oldest forts in Ayodhya and is situated in Canacona. The best time to visit the fort is from 9:00 am to 5:30 pm. 
18- Chapora Fort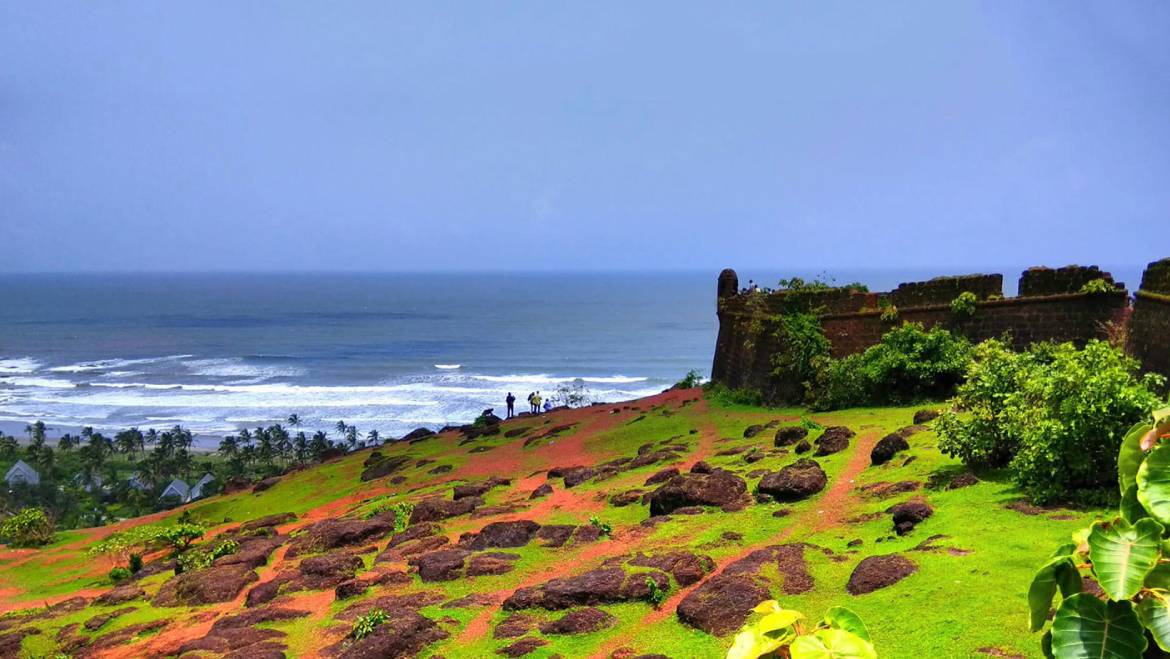 Once you set your eyes on this fort you may feel a certain sense of familiarity with it. The Chapora Fort has been in many serials and movies. It gained popularity after ending up a role in the movie Dil Chahta Hai and since then this fort has been a dream destination for youngsters. From this fort which is located in Bardez, one can enjoy the view of Vagator Beach. The best time to visit the Chapora Fort is from 10:00 am to 5:30 pm.
Famous Clubs in Goa: The Crazy Nightlife 
| | | |
| --- | --- | --- |
|         Club Cubana |       Hill Top  |        Hammerzz Nightclub  |
|         Club Curlies |      Shiva Valley |        Love Passion Karma |
19- Club Cubana: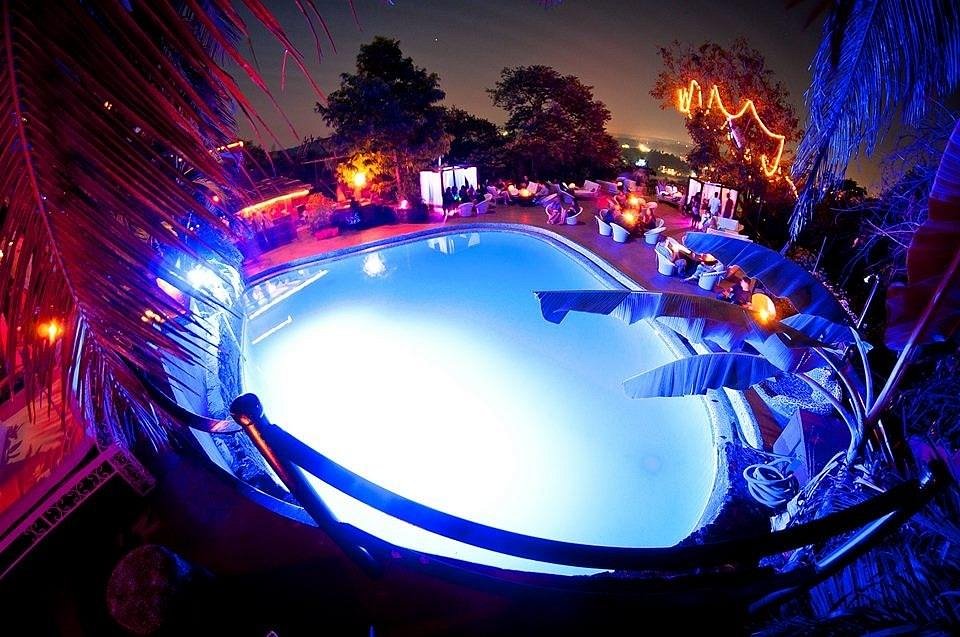 You may also call it the "Nightclub in the Sky". This amazing club is located in North Goa on top of Arpora hill. If you are on a solo trip, a trip with your loved one, or a trip with friends, this place is the one for you. It is a paradise for party animals as this is the club with a spacious dance floor where you can dance till you drop. The Cubana has a very luxurious vibe as it has a lounge and a swimming pool. On Wednesday this club hosts a ladies' night and stags aren't entertained until they are with a huge group of couples. So it is better to call before you go. 
20- Hill Top: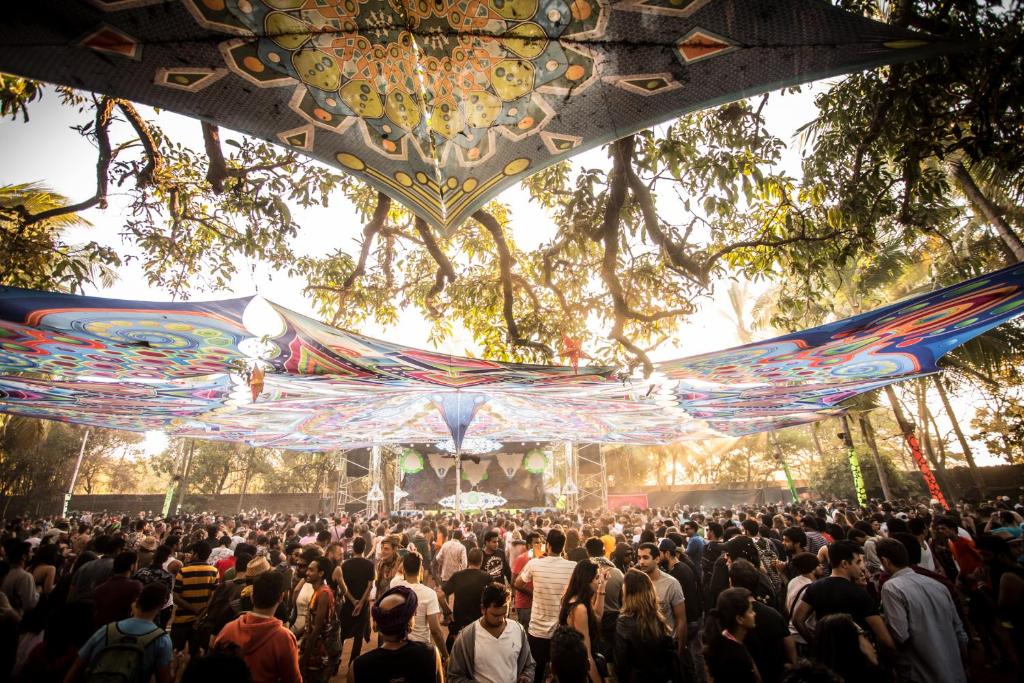 One of the famous clubs in Goa is the Hill Top. It is situated near St. Vagator and operates from 4:00 pm to 10:00 pm. The Hill Top is a famous tourist place in Goa and welcomes both Indians and foreigners. This nightclub offers a huge variety of drinks to choose from. The music played here will take you on a rollercoaster ride and compel you to let loose. If you are planning on visiting Goa towards the end of the year then you must not at any cost miss out on this place. 
21- Hammerzz Nightclub: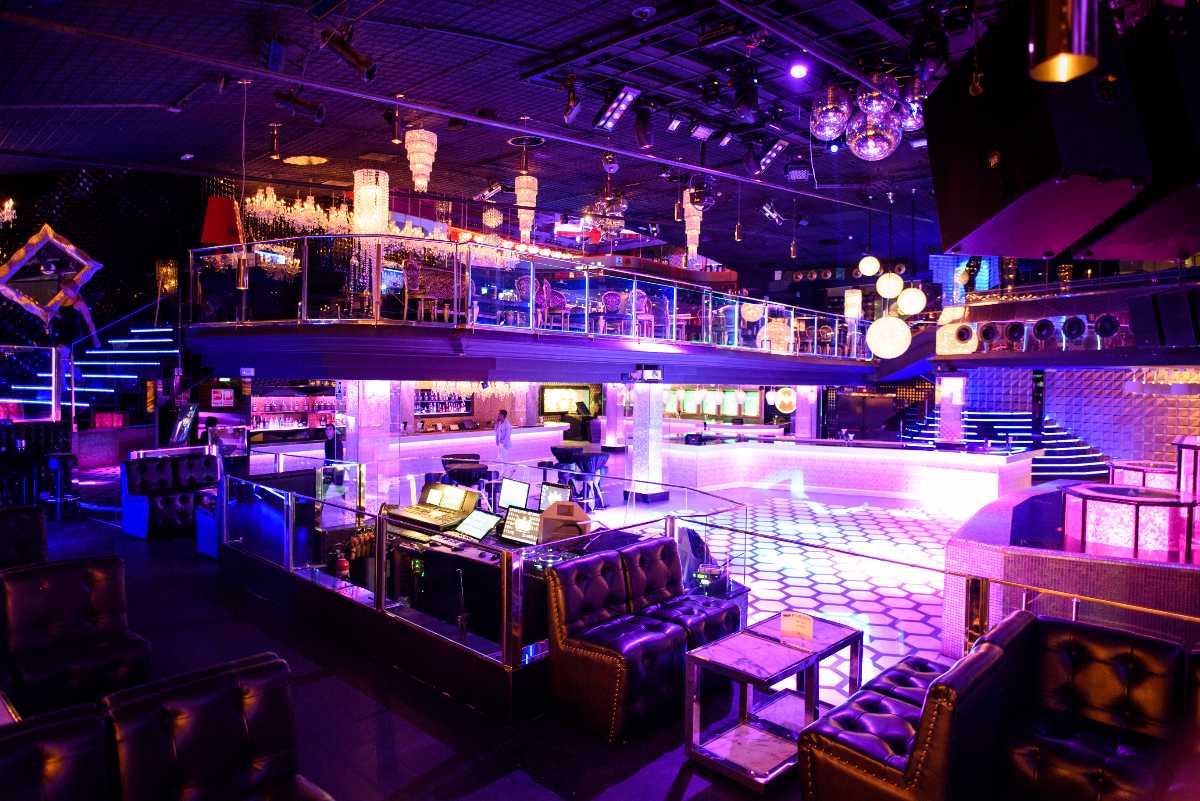 Sorry to say but Male Stag entry is prohibited here. This nightclub will make you go bazinga and the time spent here will make you want to keep coming back. If you want to have a night filled to the brim with music, fun, and food while you dance to the rhythm of the beats then this is the place for you. The Hammerzz Nightclub opens at 9:00 pm, the party starts at 10:00 pm and the day comes to end at 4:00 am. People above 21 are allowed to enter the nightclub. 
22- Club Curlies: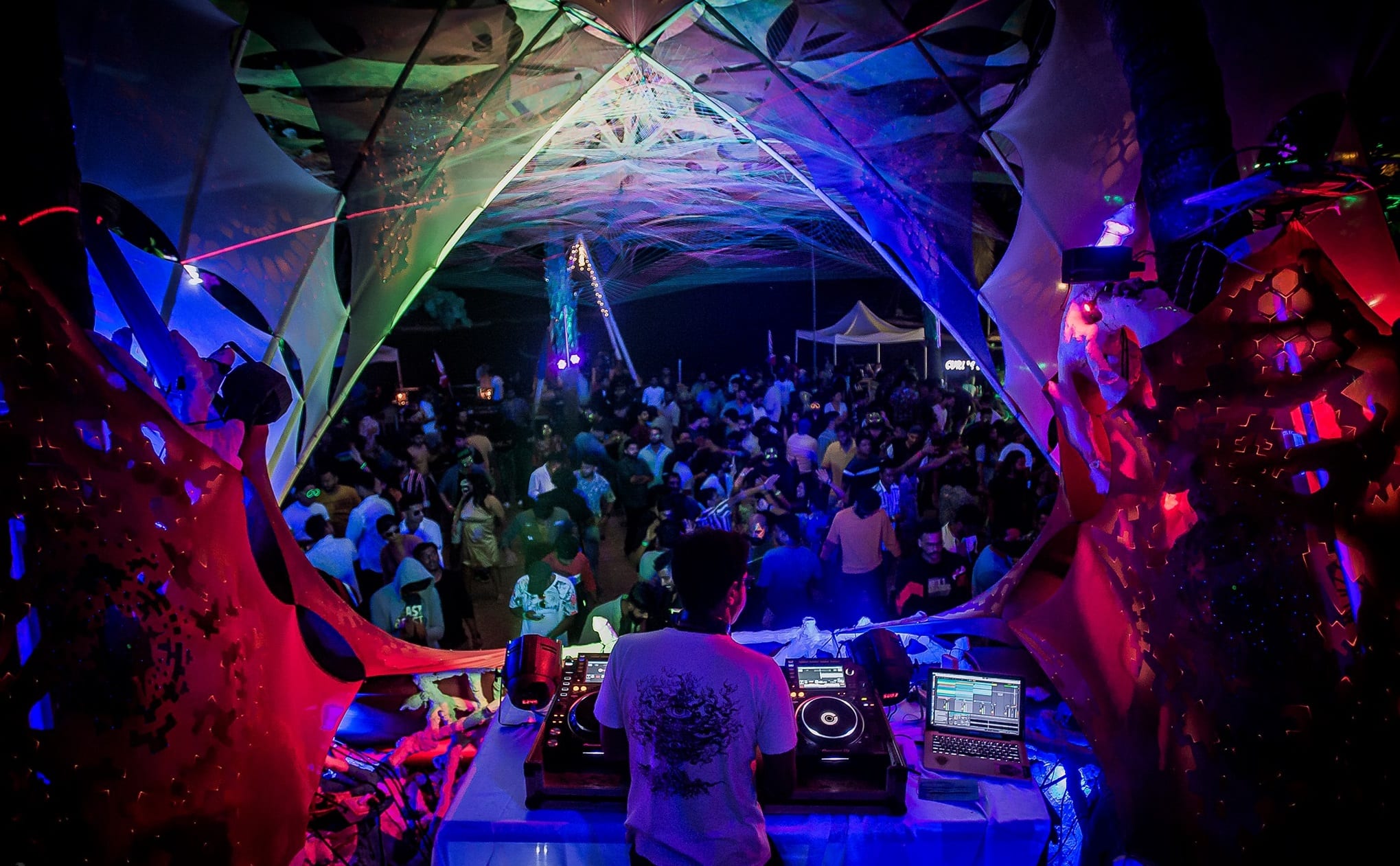 The Curlies is located on the Anjuna beach and welcomes tourists with open arms. All you have to pay for here is the food and drinks. The club is situated on a huge property and throws some of the most amazing parties. The delicacies and drinks served here will awaken your taste buds. The place is open from 8:30 am to 2:30 am. 
23- Shiva Valley: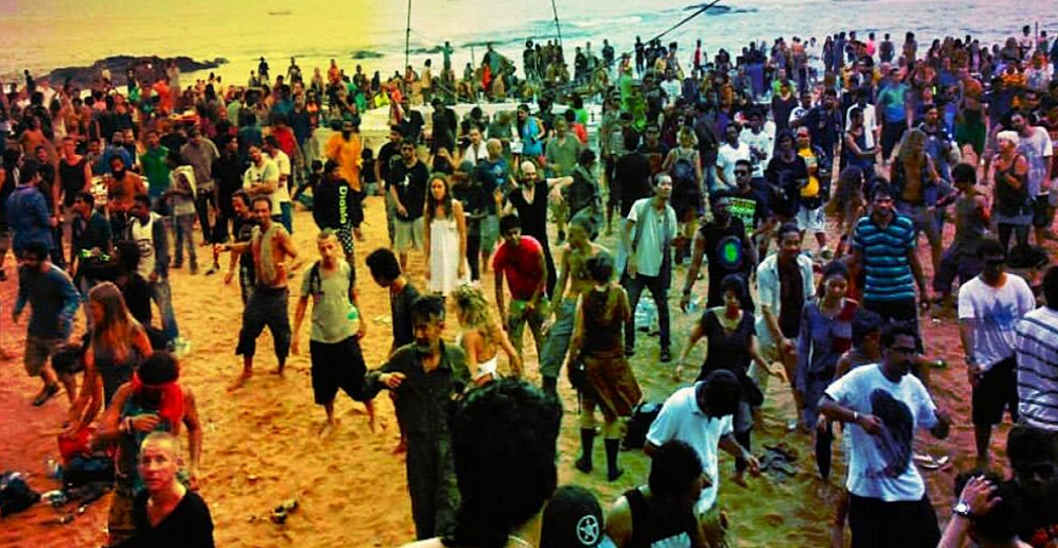 Shiva Valley is the place to unleash the party animal in you. It is one of a kind beach as the music played here is psychedelic and the crowd here is full of hipsters. The place is theme-based and is inspired by the Natraj. This nightclub in Goa is a must-visit place as it is known as the temple of trance and people keep on revisiting this place. The Shiva Valley will help you destress and energize yourself. It operates from 9:30 am to 11:30 pm.
24- Love Passion Karma: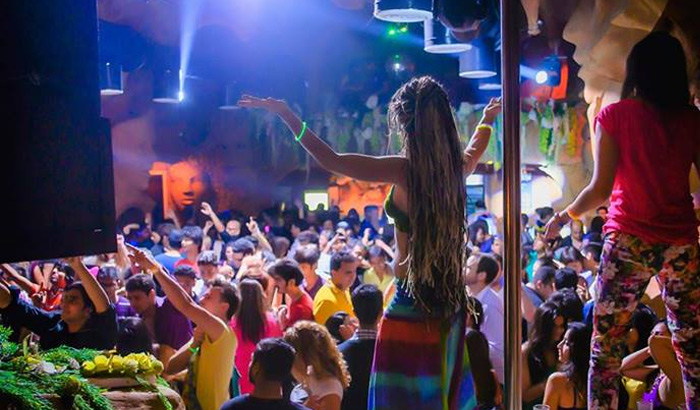 The LPK is known to be the best party club in Goa and it successfully attracts a huge number of party animals due to the amazing combination of lighting and music that it offers. Women can attend the ladies' night and enjoy the complimentary drink. It is advised to fill your stomach before you come here. The club is in a secluded area and coming here can be a bit tricky so it is best to sort that out beforehand. 9:30 pm- 3:30 am is the time for the LPK club. 
Famous Temples in Goa: Offer silent prayers
| | | |
| --- | --- | --- |
|        Mangeshi Temple |            Brahma Temple |        Saptakoteshwar Temple |
25-Mangeshi Temple: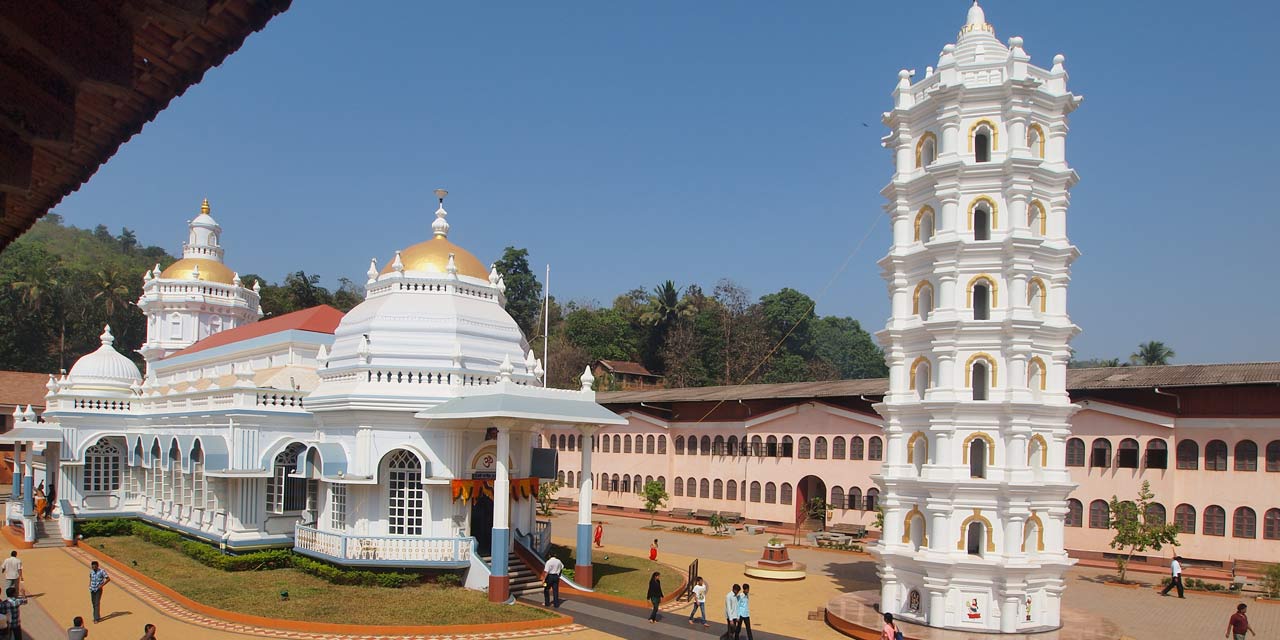 It is a vintage and famous temple of Goa located in the Mangeshi Village of Priol. The deity that resides in this temple is Lord Mangesh who is known to be an avatar of Lord Shiva. 
26- Brahma Temple: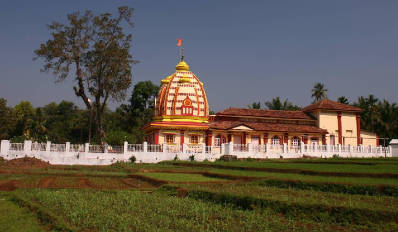 There aren't many Brahma temples in India, right? You must have heard about one of them in Pushkar but this one should definitely be on the places to visit in Goa, list. The temple is located in Valpoi, Satari, and was constructed during the Kadamba period. This temple has a beautifully carved statue of Lord Brahma. 
27- Saptakoteshwar Temple: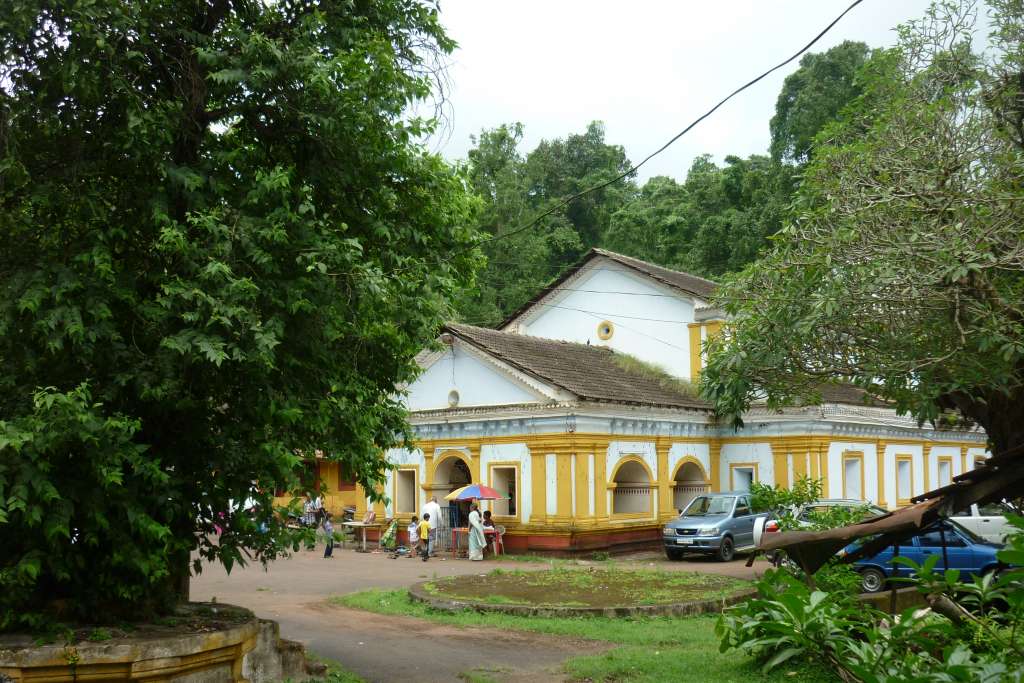 The temple houses Lord Shiva and is a tourist attraction in Goa for Shiv devotees who are exploring the Konkan region. The architectural marvel is easy on the eyes and the dome is constructed in European style. The Saptakoteshwar temple is located in Narve and one has to take a ferry ride from Divar island to reach here. 
Mesmerizing Churches of Goa
| | | |
| --- | --- | --- |
| Church of Our Lady of Immaculate Conception | Bom Jesus Basilica | Sé Catedral de Santa Catarina |
| Church of Saint Francis of Assisi | Mae De Deus Church | Nossa Senhora de Penha de Franca |
| | Church of Saint Cajetan | |
28- Church of Our Lady of Immaculate Conception: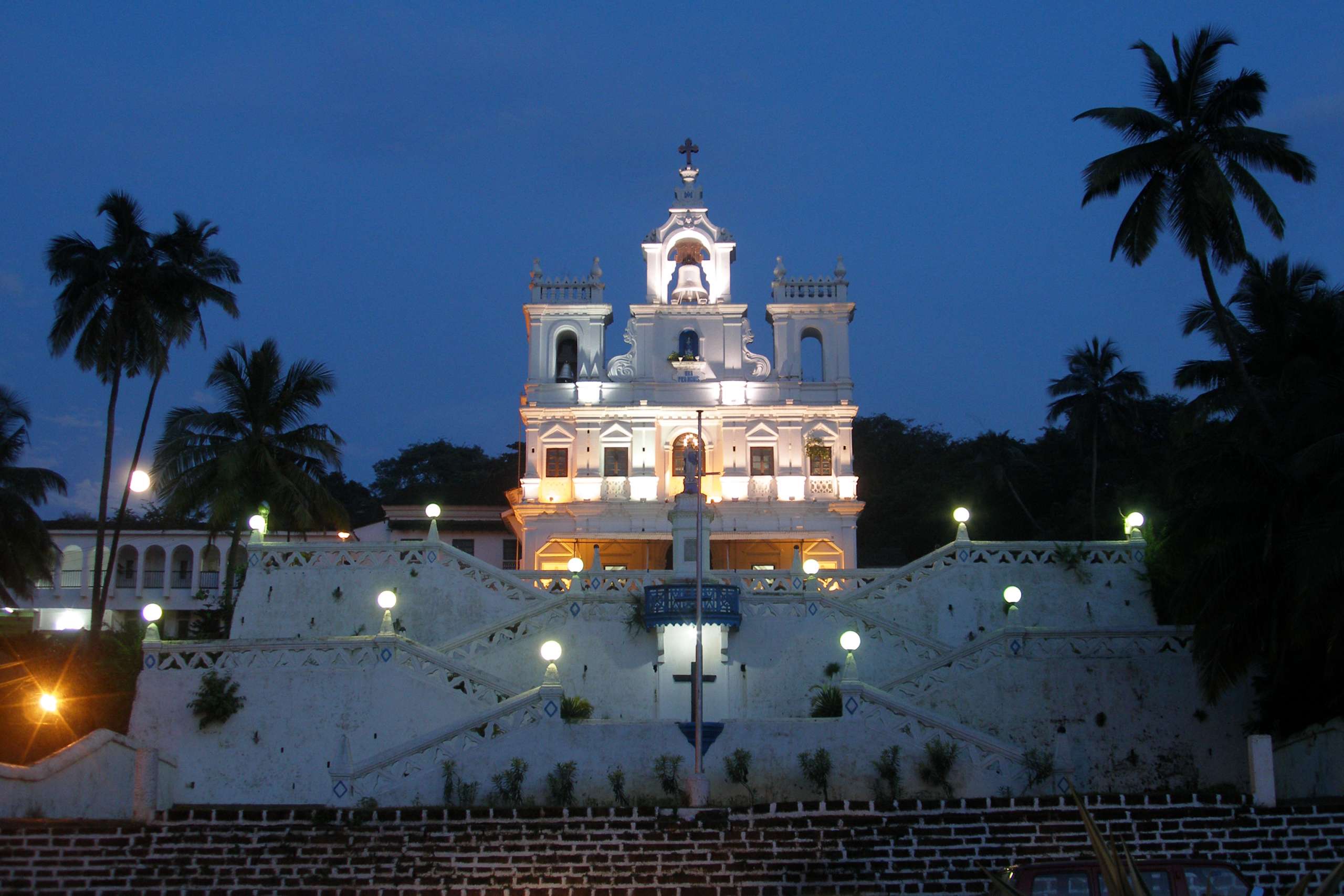 The ancient Goan church is known for its beautiful architecture. This church is home to the second-largest bell in Goa and one must visit it. The Church of Our Lady of Immaculate Conception is in Panjim. The church is very picturesque and has been a part of many Bollywood movies. 
29- Bom Jesus Basilica: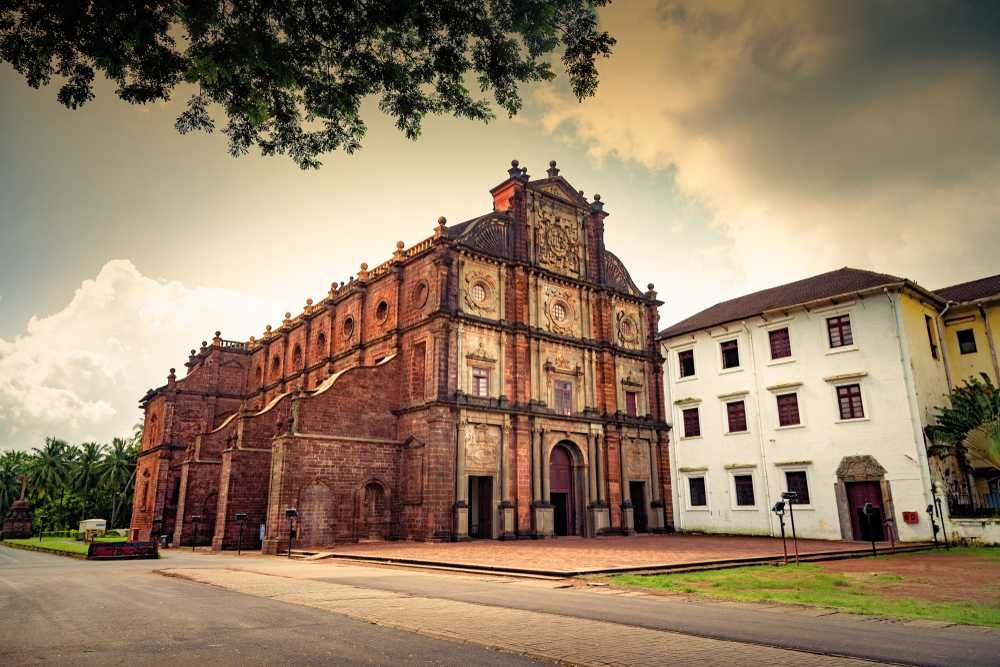 The 16th-century church is built according to Baroque architecture. It is a UNESCO World Heritage Site and is a must-visit church in Old Goa. The church houses a mummy of St. Francis Xavier. 
30- Sé Catedral de Santa Catarina: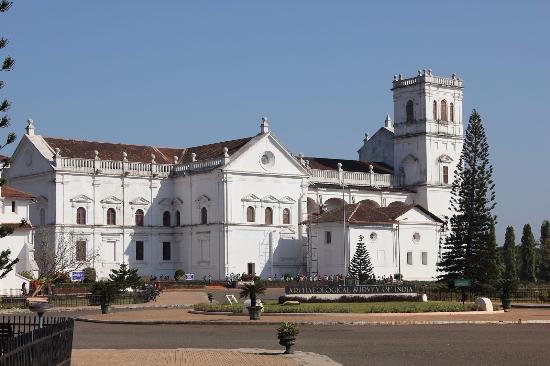 This church possesses the largest Golden Bell in Goa and is one of the largest churches in Old Goa. Visiting this Church will have a calming effect on you.  
31- Church of Saint Francis of Assisi: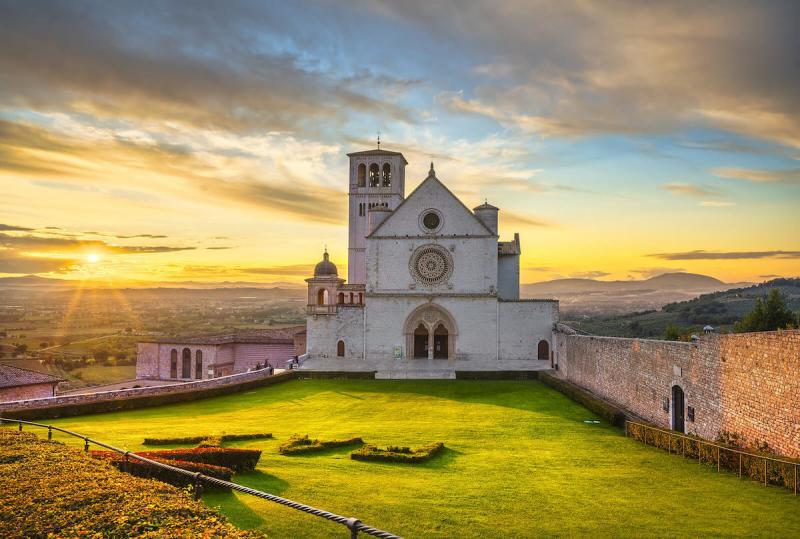 One must visit the Church of Saint Francis of Assisi to bless their eyes with the beauty this church possesses. Be it the interior or the outside of the structure, every nook and cranny of this church screams beauty and simplicity. The woodwork and the architectural style of the church make it stand out. 
32- Mae De Deus Church: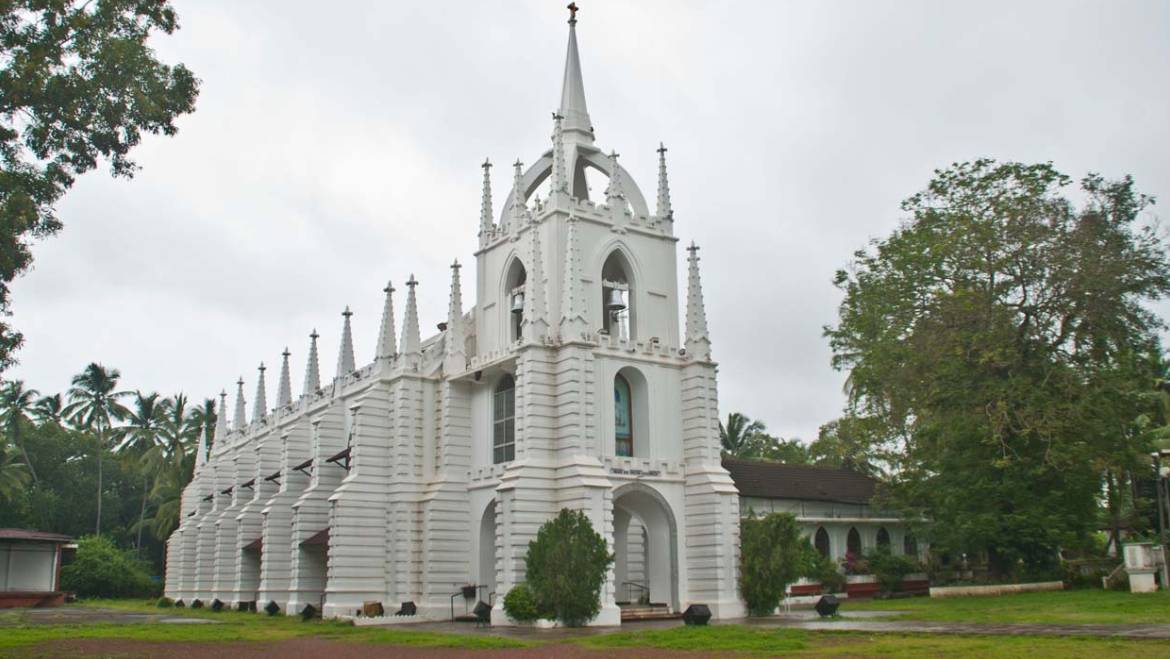 The Mae De Deus Church is in the Saligao region of Goa. This church has Neo-Gothic architecture which makes it look similar to a castle. The church has a gilded altar. 
33- Nossa Senhora de Penha de Franca: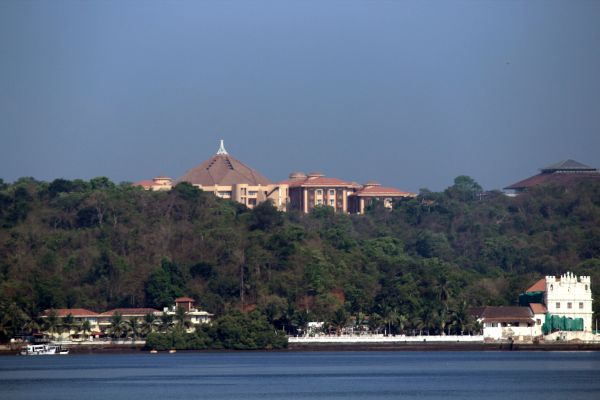 This church is at a picturesque location and just the view will make you feel instantly refreshed. The Nossa Senhora de Penha de Franca faces the intersection of two rivers making it a treat for sore eyes. The architecture is mesmerizing too thus one should for sure visit this church in Panjim. 
34- Church of Saint Cajetan: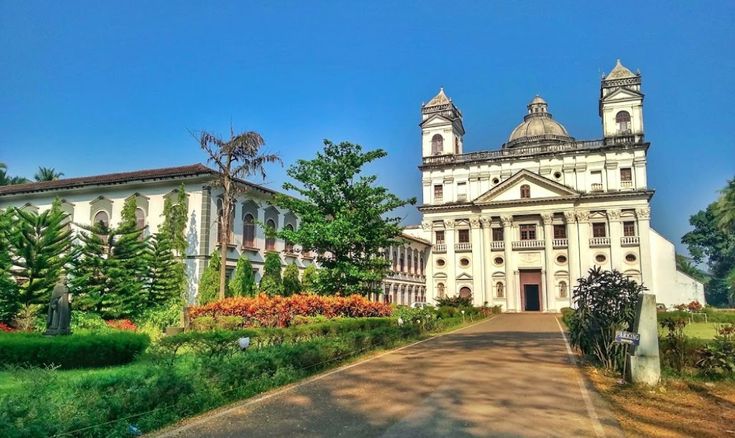 The architecture of this church is influenced by the Basilica of St. Peter in Rome. The architectural style is Corinthian and is very classy in itself. 
Popular Wildlife Sanctuaries in Goa: In the laps of Mother Nature
| | | |
| --- | --- | --- |
|     Bondla Wildlife Sanctuary |    Dr. Salim Ali Bird Sanctuary |    Netravali Wildlife Sanctuary |
| |     Cotigao Wildlife Sanctuary | |
35- Bondla Wildlife Sanctuary: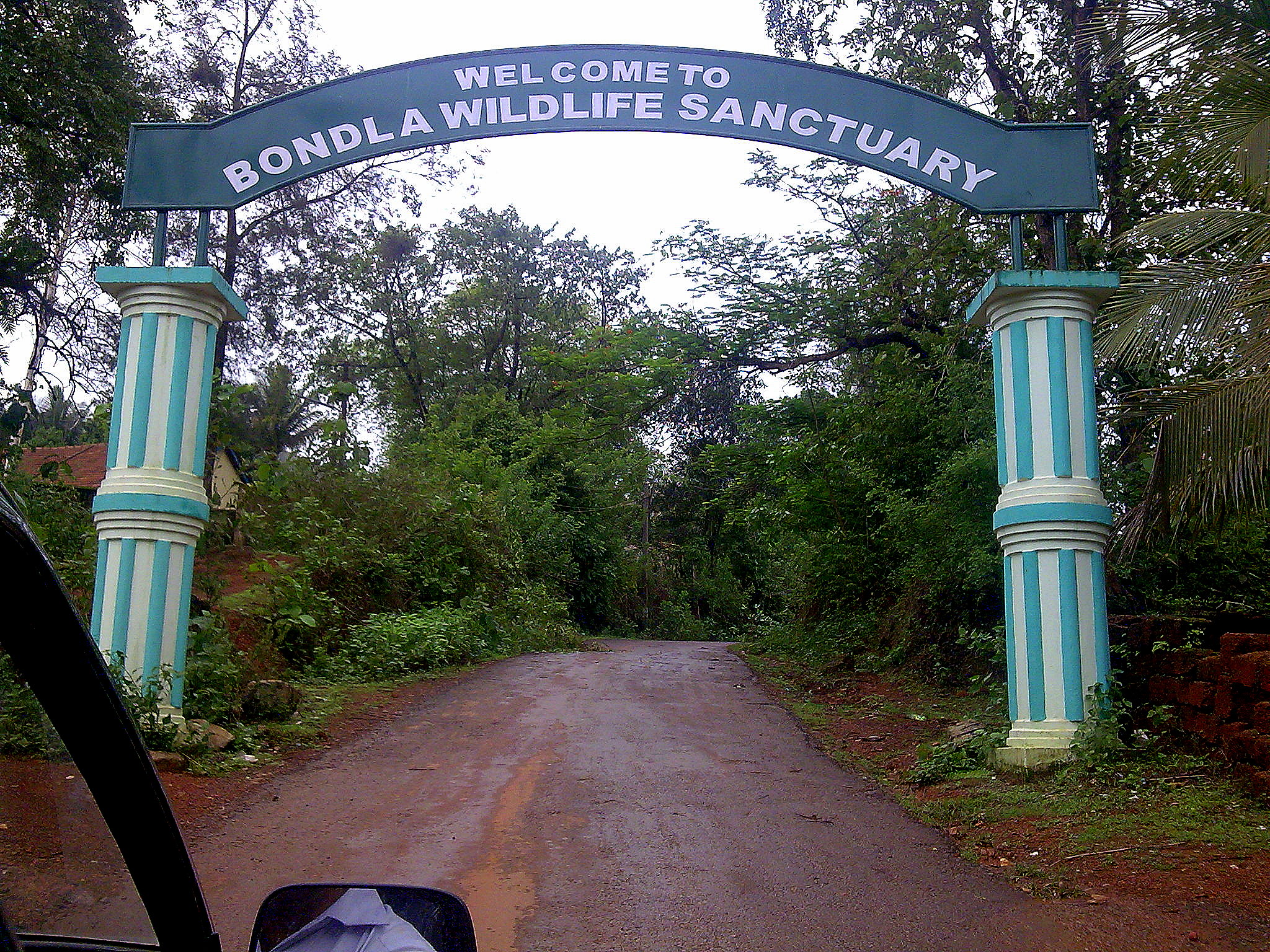 Bondla Wildlife Sanctuary located in Ponda, is a comparatively smaller sanctuary but is home to a variety of flora and fauna. This is one of the best tourist attractions in Goa. The key feature of this place is that it gives the visitors an opportunity to stay in the cottages that are thoughtfully built on the premises. Here you get to stay at a place surrounded by nature and it is a paradise for wildlife photographers. One can visit this place from 9:00 am to 5:00 pm. 
36-  Dr. Salim Ali Bird Sanctuary: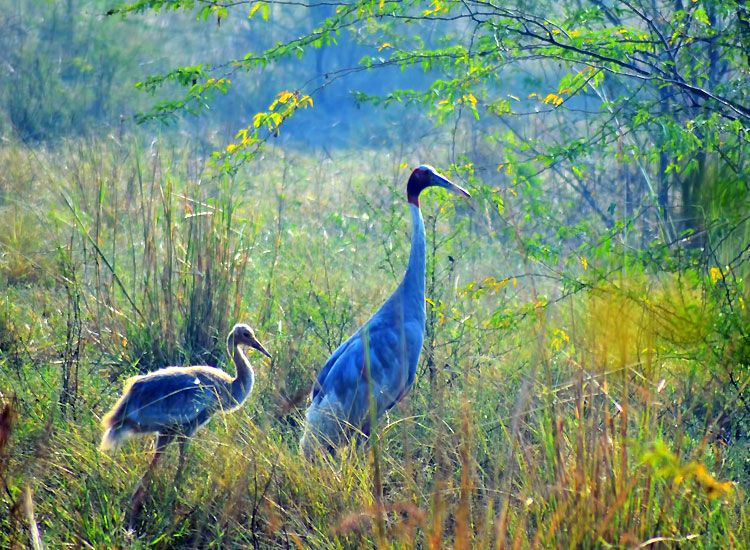 The sanctuary is at a picture-perfect location and is accessible only via a ferry. If you are a birdwatcher then this place is for you because here you can easily spot a variety of birds. Dr. Salim Ali Bird Sanctuary is located on Chorao Island and is open for visitors from 6:00 am to 6:00 pm. 
37- Netravali Wildlife Sanctuary: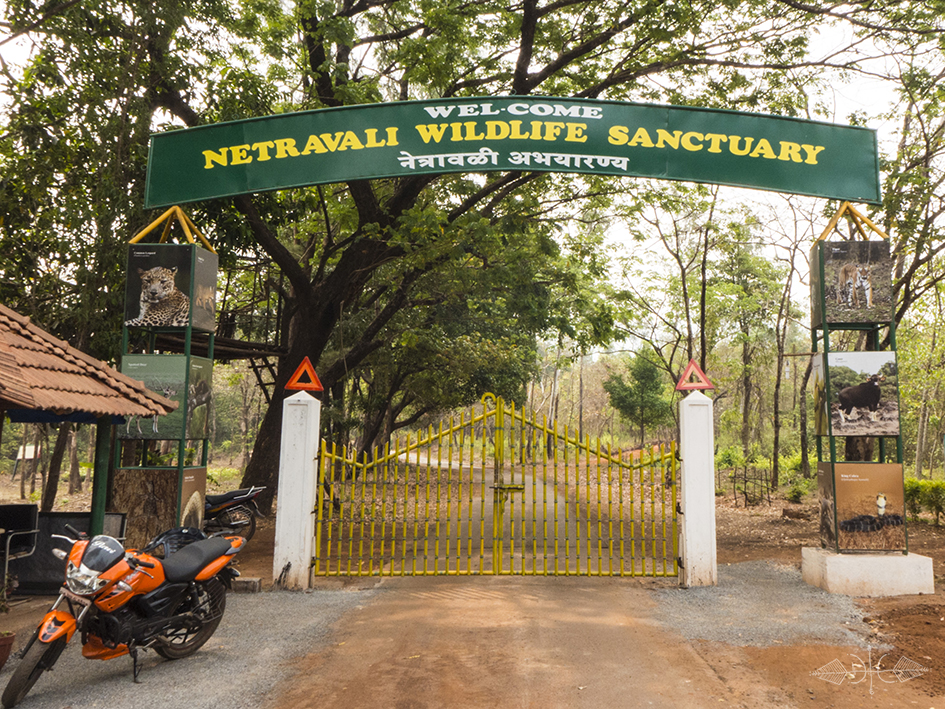 People visit this wildlife sanctuary to view birds and butterflies. Like any other wildlife sanctuary, this one is filled to the brim with flora and fauna too. It is located in Sanguem Taluk and is open for visitors from 8:30 am to 4:30 pm. 
35- Cotigao Wildlife Sanctuary: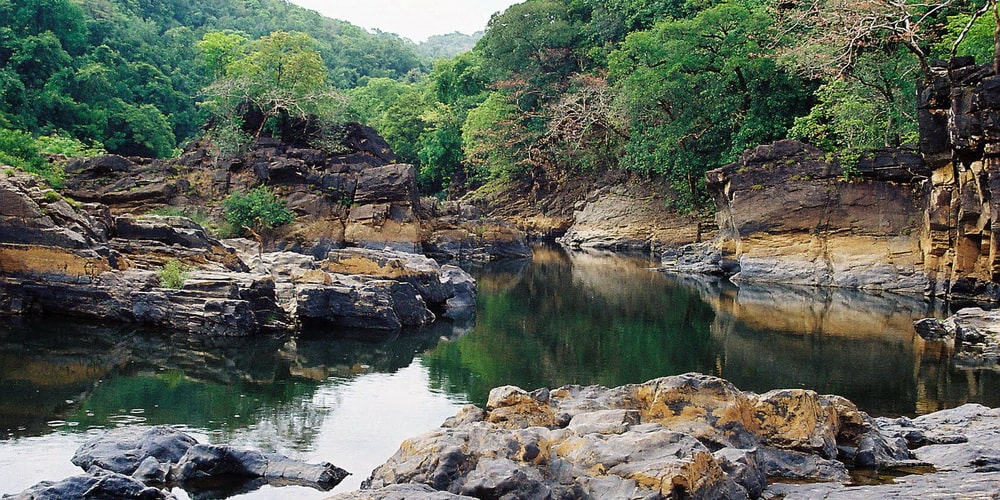 The sanctuary is in the Canacona Taluk and is open from 7:00 am to 5:30 pm. The Cotigao Wildlife Sanctuary offers an observation deck for its visitors From this deck visitors can easily spot wild animals roaming around in the sanctuary. 
Beautiful Islands of Goa: A perfect place to mellow.
| | | |
| --- | --- | --- |
|      Grand Island |      Divar Island |    Pequeno Island or Bat Island |
36- Grand Island: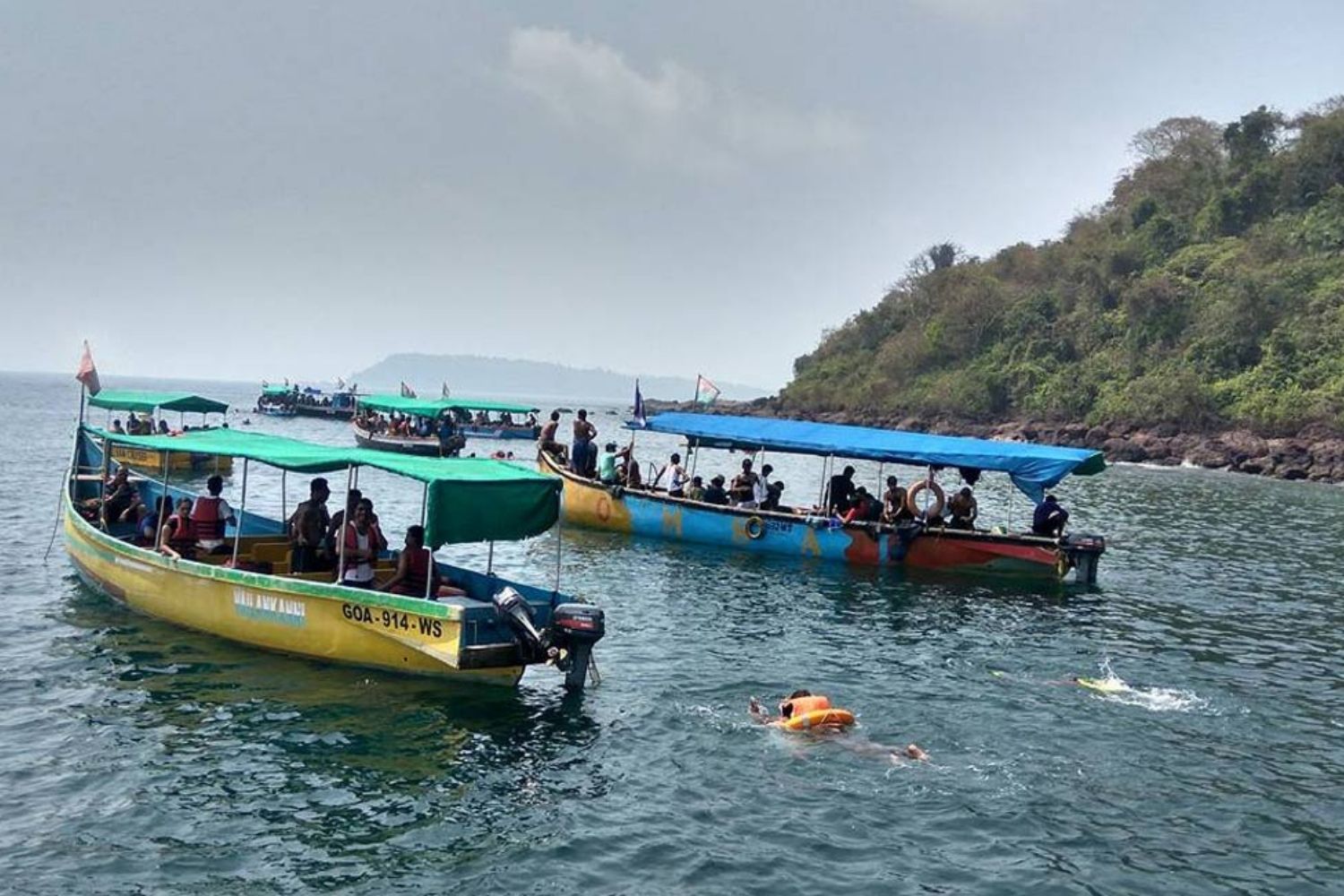 The Grand Island is a paradise for those who love water sports. You name it and it will be here. From scuba diving to fishing this sandy paradise has it all. One must try scuba diving here as you get to see reefs and shipwrecks. Bumper boats and banana rides are popular here. Carry your swimming essentials with you along with spare clothes. Remember to arrange for the ferry ride beforehand. 
37- Divar Island: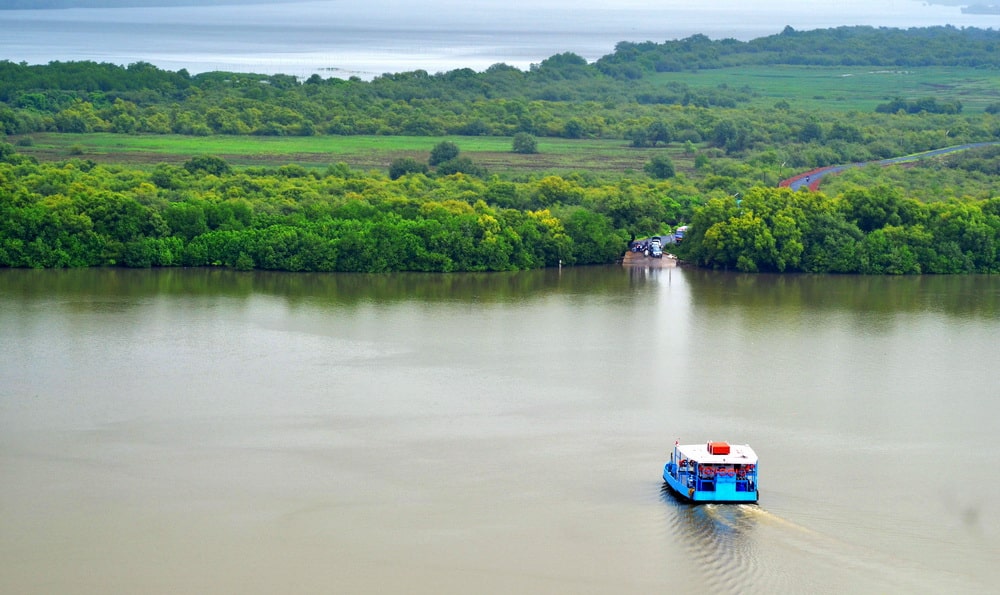 Divar island is the best island in Goa and your eyes deserve to capture the beauty this island possesses. It is a simple, elegant, and clean island that has a very homely and cozy vibe to it. If you are a nature lover then you should visit this island. There is not much to do here but if you have a day during your trip when you feel like doing nothing then you should visit this island and chill. 
38- Pequeno Island or Bat Island: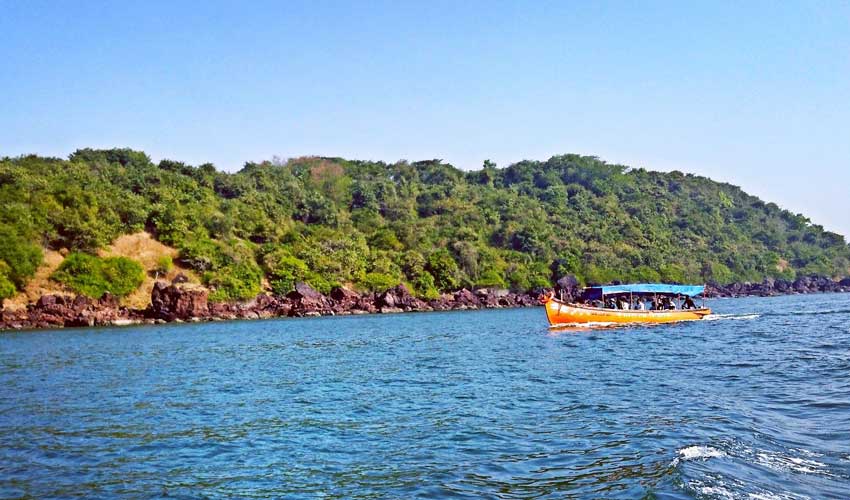 The island is still unmarred and raw, that is what makes it beautiful. Here you can try snorkeling under professional guidance. This island has a huge variety of fishes, filling the clear blue waters with a tinge of colors. You can request any of the fishermen to drop you here from Vasco De Gama Beach and you can listen to their stories during your ride. 
Best Cruise Casinos in Goa: Wanna try your luck?
| | | |
| --- | --- | --- |
|     Deltin Royale Casino |        Majestic Pride |    Big Daddy Casino |
39-Deltin Royale Casino: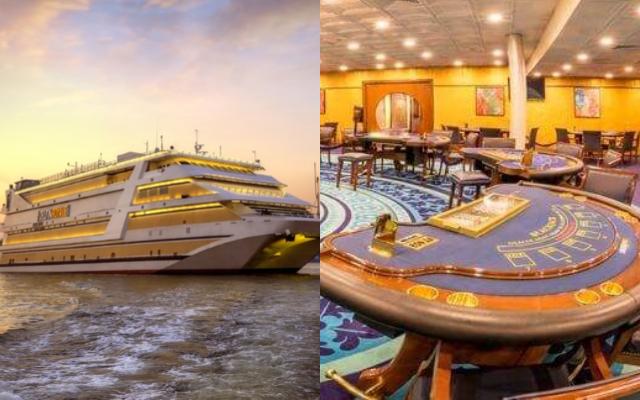 The Deltin Royale Casino in Goa offers very Vegas-style entertainment, so you can have your "what happens in Vegas stays in Vegas" moment here. These Cruise Casinos are in trend amongst the younger generation. These cruises come to life during the night making them a huge part of the nightlife of Goa. This cruise screams luxury and class, it operates 24 hours a day. The casino is a gamers' paradise, it has a dedicated poker room, and a tash room, it is considered to be one of the best casinos in Goa. The ship floats on the Mandovi River.
40- Majestic Pride: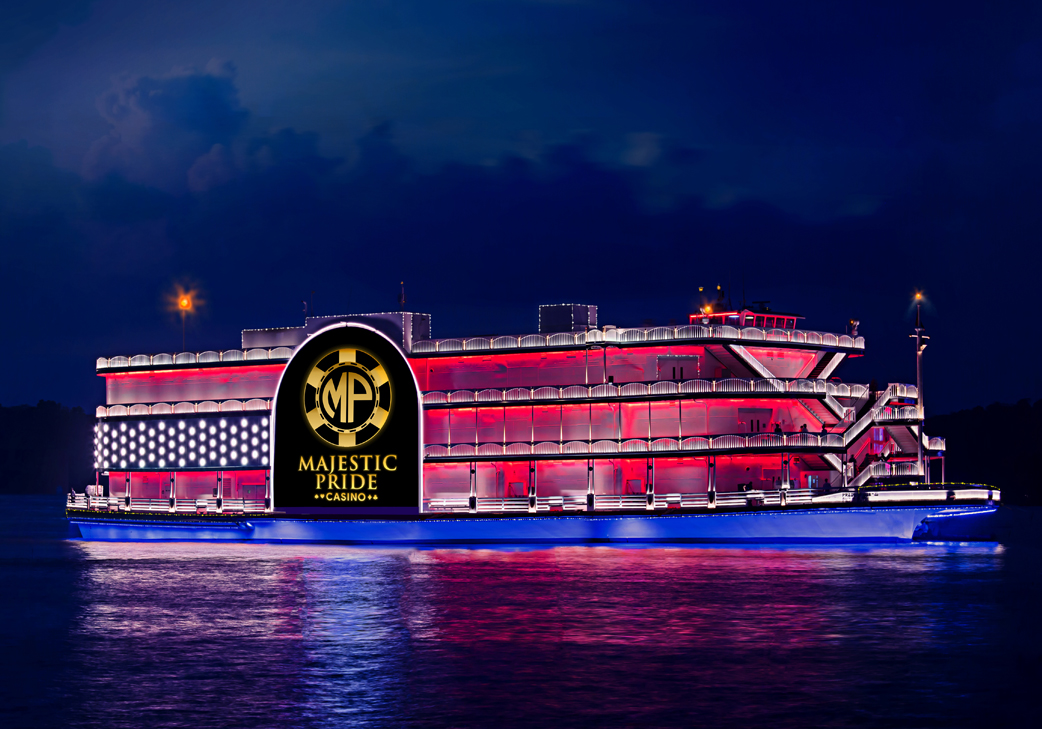 Majestic Pride casino is spread across 30,000 sq. ft and the ship floats on the river Mandovi. The Majestic Pride welcomes its guest with open arms and the ambiance along with the lights and music sets the perfect tone for the night. Here a player gets to try their luck at both national and international games. The restaurant serves multi-cuisine dishes making it a casino one must visit in Goa to have some fun and expect the unexpected. 
41- Big Daddy Casino:
Try your hands on games like Indian Rummy, flush, American Roulette, Black Jack, and many more. This casino will give you a regal ambiance. Here you will find international artists performing to keep the guests entertained. The cuisines served here will awaken your taste buds. The amazing lighting followed by the peppy music and a variety of games keep you entertained while you are in this casino. 
Famous Museums in Goa: The Guardians of History
| | | |
| --- | --- | --- |
|    Archaeological Museum |     Wax World Museum |     Ancestral Goa Museum |
| |      Houses of Goa | |
Archaeological Museum: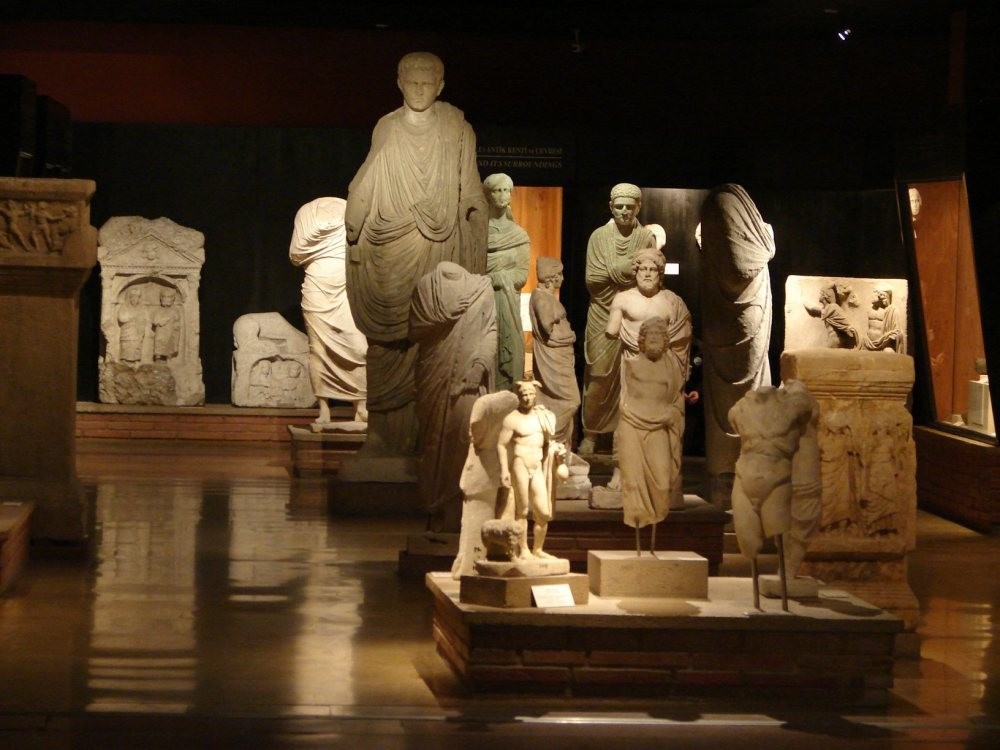 This museum of North Goa gives you a glimpse of the history of Goa. Here you will get to see old maps that will remind you of Vasco da Gama, the Portuguese explorer. They have preserved the Persian and Arabian inscriptions which are displayed here. Vintage artifacts, wooden sculptures, and a lot more carried forward from the ancestors are placed here. The Archaeological Museum welcomes visitors from 10:00 am to 5:00 pm. 
Wax World Museum: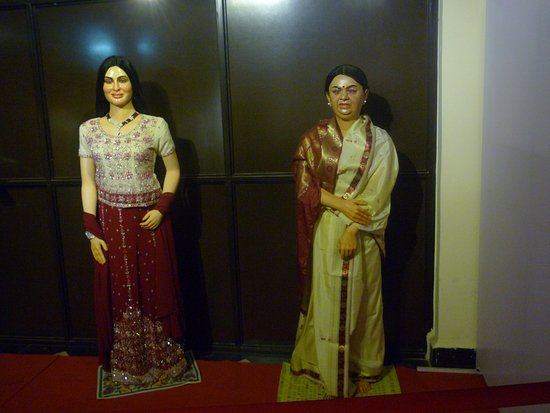 The Madame Tussauds of Goa is this museum. The wax statues of famous personalities and celebrities can be found here, there are approximately 30-35 of them. If you are a fan who wishes to get pictures clicked with your favorite celebrities then you can try out a few poses here. This will give your dreams and imaginations some life. You can visit anytime between 9:30 am and 6:30 am. 
Ancestral Goa Museum: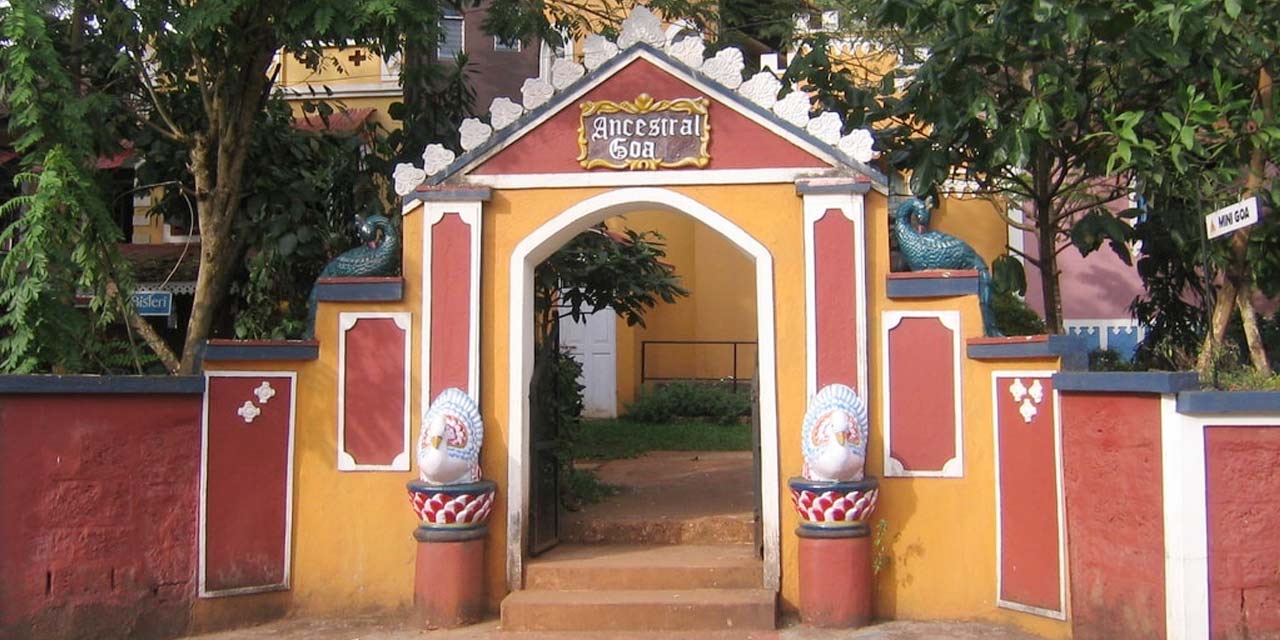 A museum in North Goa that shows the ways in which people of Goa lead their lives back then. It is an open-air museum that has huge sculptures, tiny models of traditional Goan houses, and artifacts that represent the culture and traditions of Goa. It operates from 9:00 am -6:00 pm. 
Houses of Goa: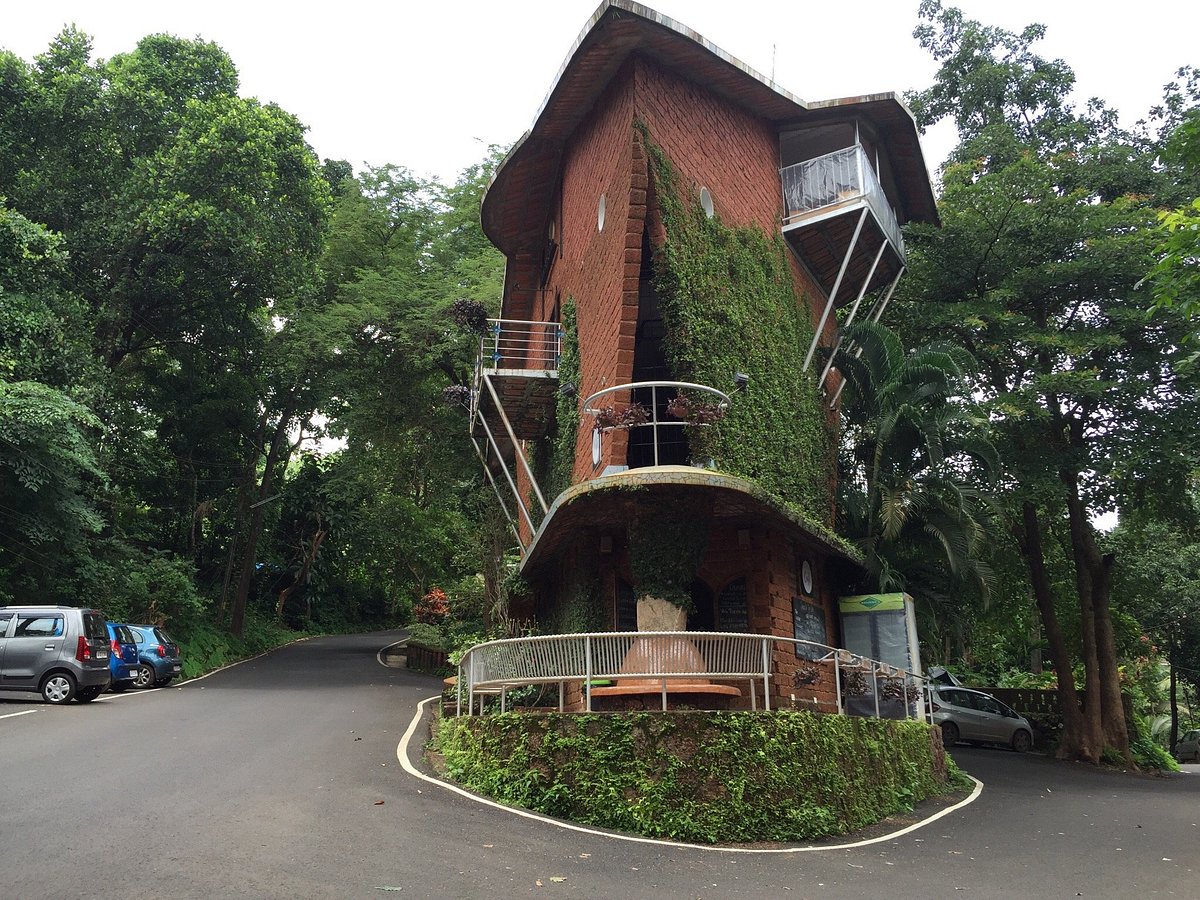 The Houses of Goa is a museum that is a popular destination to visit in Goa as it has a ship-like structure. This museum is the epitome of Goa's architectural past which it displays via various exhibits. This museum can be visited from 10:00 am to 7:30 pm. 
Offbeat places in Goa: Give it a try!!
| | | |
| --- | --- | --- |
| Spice Plantations Visit | Chapora River | Lamgau Caves |
| Fontainhas and Sao Tome Latin quarter | Anjuna Flea Market | |
46- Spice Plantations Visit: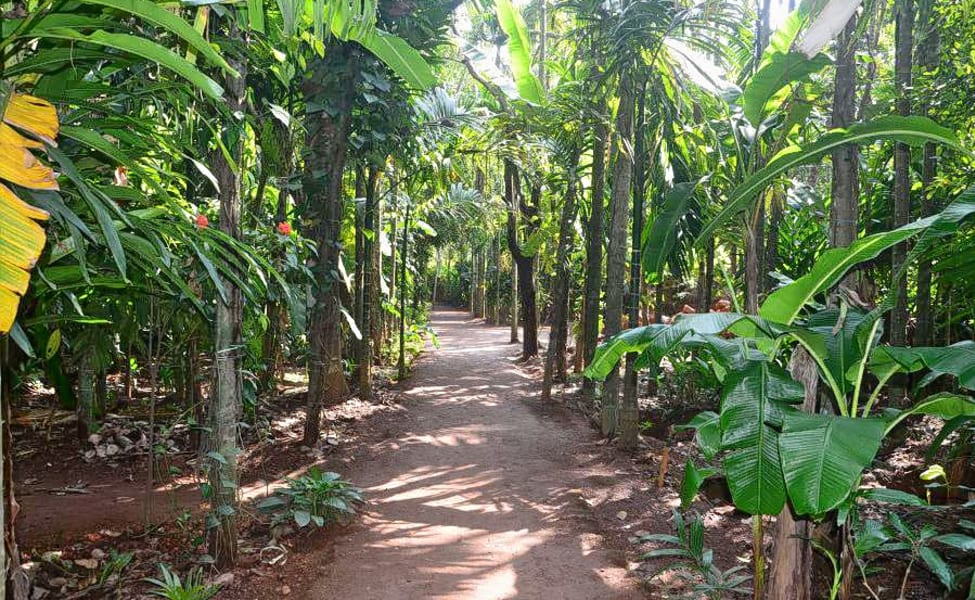 Not many visitors explore these spice plantations, they come to Goa and visit the beaches, enjoy the nightlife and leave. Did you know that Goa is a hub of many types of spice plantations? No, right? Well, in the spice plantation of Goa one can find a variety of spices used in daily life as well as exotic ones. You can take a tour around the plantation, understand the growth procedure and also learn ways to extract the maximum amount of flavors from these spices. In these plantations, you can also enjoy home-cooked meals. Some of the spice plantations worth exploring are Tropical Spice Plantation, Savoi Spice Plantation, and some more. 
47- Chapora River: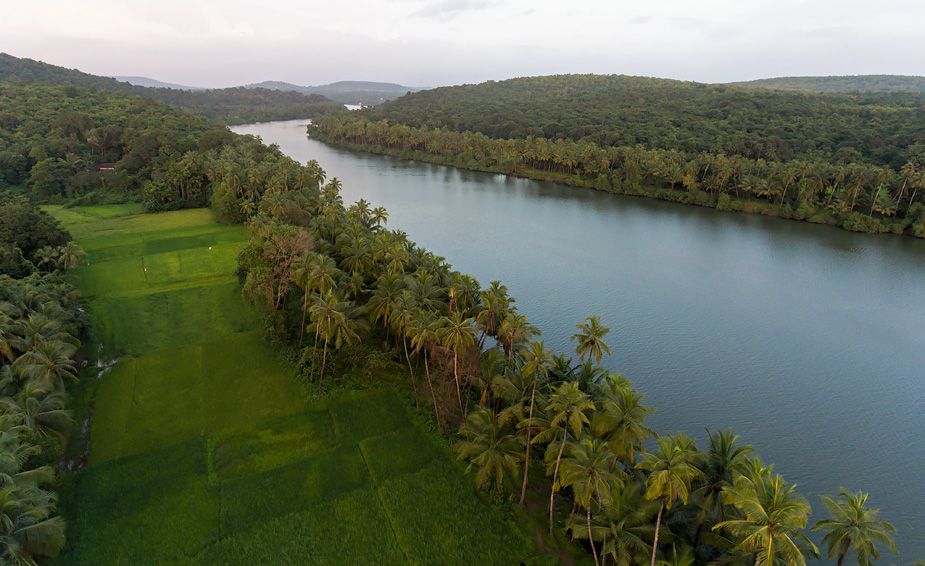 If you are looking for a serene place to connect with your inner self then this is it. The free-flowing river runs along the coast of Northern Goa. If you are a rafter then you should try river rafting here due to the ideal water currents and rapids. The sunset view from this river is a moment worth cherishing and sunset boat rides are very famous. This place is away from the hustle and bustle of the city. 
48- Lamgau Caves: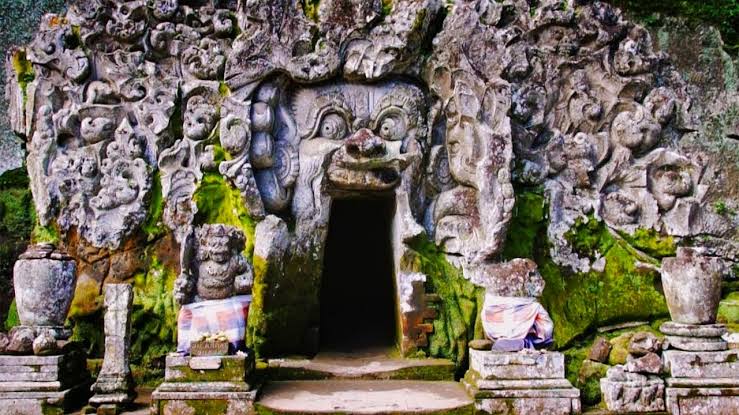 A tourist attraction in Goa that is visited by many due to its picturesque view. The caves are situated near Bicholim and are two man-made caves that were constructed for monks to reside. The Lamgau Caves mark the shift from Buddhism to Hinduism because the architecture of these caves screams Buddhism and the idols placed near the main entrance of the cave are of Lord Shiva and Nandi. One has to trek through the natural paths and some Goan villages to reach the caves. You can visit the caves from 9:00 am to 5:00 pm. 
49- Fontainhas and Sao Tome Latin Quarter: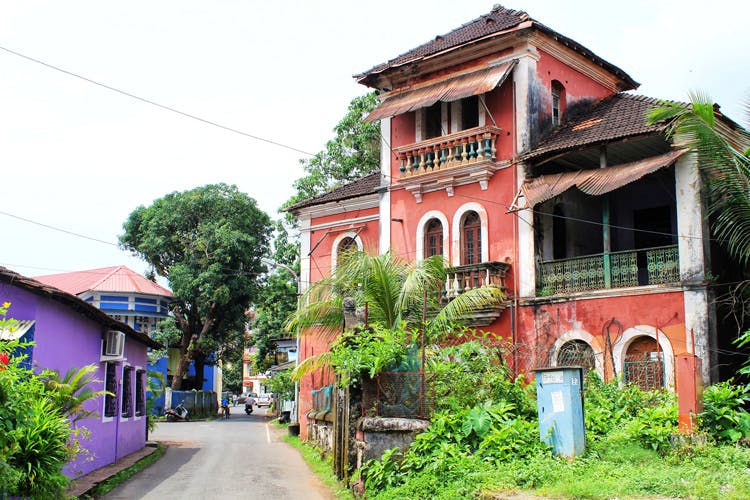 A beautifully built Latin Quarter located in Panjim, it is named after a spring that is situated nearby. It was constructed around the 18th century and is now a heritage site. People visit this place to capture instagrammable pictures of the mesmerizing Portuguese-style houses.
50-  Anjuna Flea Market: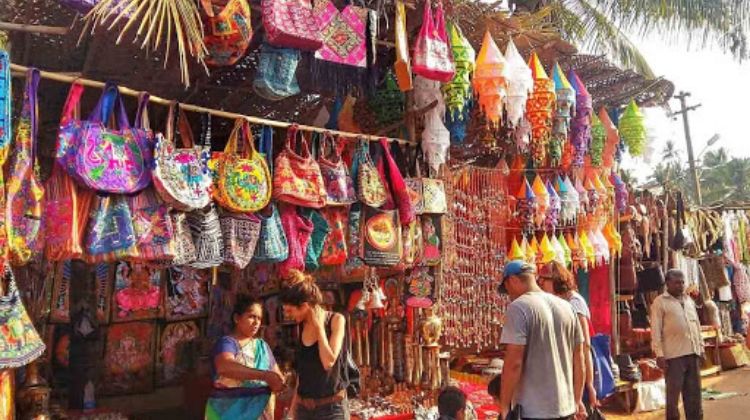 A market that has successfully captured the hearts of many visitors. This market operates on Wednesdays from 8:00 am. This flea market operates from mid-November to April and it was earlier a place for hippies. Here they could sell off their personal items but now with time, the market has developed into a huge marketplace where one can purchase almost anything they want. At the market, you can purchase clothes at really good rates while you munch on some snacks that are sold here. 
Here, our list of 50 Places one must visit while they are on their trip to Goa, comes to an end!!
Tourist attractions in Goa never disappoint anyone as each of them has something unique or unusual to offer. Here you can walk around all alone and explore the famous markets in Goa to make the shopaholic in you happy, or come with a group of friends, a loved one, or your family. Basically, Goa is a very welcoming destination that is fit for all kinds of people. All you need to do is be clear about the experience you want to carry along once you leave this amazing destination. 
To get a better understanding of what Goa has to offer go through a Goa travel guide. If you wish to avail the best deals and offers on hotel booking, book through HotelDekho.com. 
If you think that we have missed out on a hidden gem in Goa then don't hesitate to mention it in the comment section below. And we will be happy to help you with your bookings!!