10 Amazing Cycling Routes in India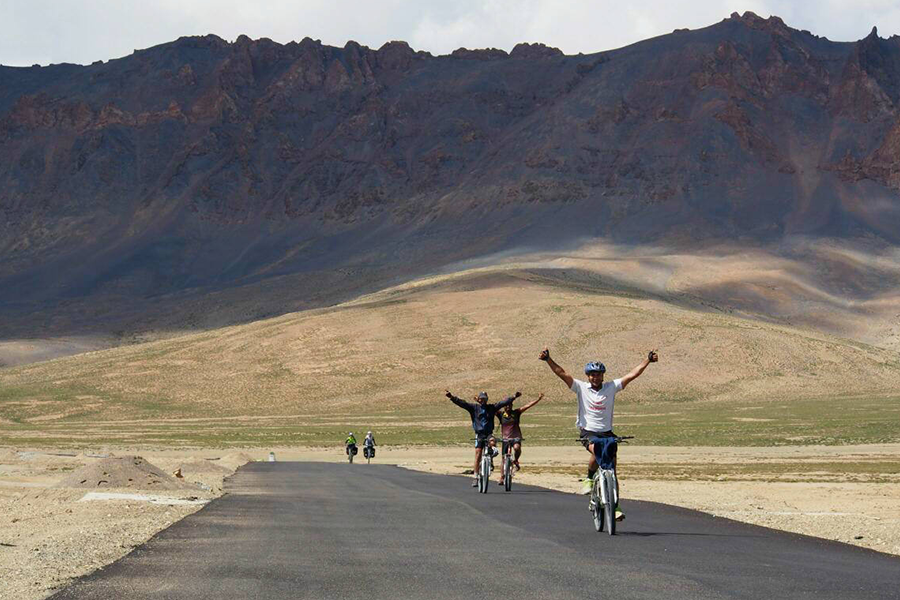 India is a beautiful country with the perfect mix of gorgeous landscapes, popular attractions, and many offbeat destinations that are worth visiting. Nothing can beat the excitement and thrill of cycling in India through various terrains and trails in different parts of the country while there are many other ways of exploring a place. For the environment, health, and your pocket, these cycling tours are very good and helpful. 
Envision cycling trails over fields framed with the high alpine trees or along the beautiful coastal line and the swanky beaches. Picturise cycling beside winding rivers and your hairs flaring in the air, it all seems exciting, isn't it? The experience of exploring the hidden hamlets of this vast country on cycle will be a life long memory for you. There are so many best places for cycling in India available for beginners to experts. Pack some essentials that will aid you on your journeys like medicines, clothes, dry food items, protective gear, and water. 
Equips you to need for the cycling tour:
A bicycle

Bicycle riding gloves

Knee caps

A helmet

Elbow guard

Knapsacks
Here is a list of the top 10 amazing cycling routes in India-
Chennai to Pondicherry- Journey Along the Sealine
Chennai to Pondicherry is a peripheral cycling route in India for beginners outlining the eastern coast that introduces you to a plethora of pristine beaches along the route. Chennai to Pondicherry is considered one of the easiest cycling routes in India. The cycling tour starts from Chennai that passes through Muttukadu to Mahabalipuram- the ancient city of Kalpakkam and reaches the former French Riviera Pondicherry. You will see white sand beaches, crystal clear water, and palms throughout the journey.

Distance between Chennai to Pondicherry- 155 km
Time Taken- 2-4 days
Difficulty Level- Easy
Route- Chennai to Muttukadu to Mahabalipuram to Kalpakkam to Pondicherry 
Places to visit on the route- 
Kovalam Beach

Mahabalipuram

Dakshinchitra Museum

Auroville
Bangalore to Goa
Bangalore to Goa route will take you to different terrains of Karnataka and Goa. From the busiest streets of Bangalore to the narrow streets of Chikmagalur to the amazing pathways of the Gokarna coastline that will lastly reach Goa. This path will take you along the best pathways from North to South. It is one of the long-distance cycling routes in India with a total distance of 698 km. This route starts from the IT hub of the country, Bangalore then reaches the heritage city Mysore to the famous hill station of Karnataka, Chikmagalur then along with the beautiful sealine to the party capital of India, Goa.

Distance between Bangalore to Goa- 698 km
Time Taken- 10-15 days
Difficulty Level- Difficult
Route- Bangalore to Mysore to Hassan to Chikmagalur to Lokavalli to Banavasi to Gokarna to Goa
Places to visit on the route- 
Mysore Palace

Gokarna Beach

Vagator Beach
Manali to Leh
Cycling from Manali to Leh is a dream for many cycling enthusiasts. Manali to Leh is one of the best cycle trails in the country. Cycling through these amazing valleys, high passes, and swiveling roads in the Himalayan mountains will surely test your mental strength along with your stamina. It is one of the most thrilling cycling routes in India that encompasses clear blue skies, heavenly lakes, and snow-clad mountains throughout the journey. The ideal cycling time is from April to August on this route.

Distance between Manali to Leh- 700 km
Time Taken- 12-16 days
Difficulty Level- Expert
Route- Manali to Pangong Lake to Hemis to Chang La to Durbuk to Tangtse to Lukung to Leh
Places to visit on the route- 
Solang Valley

Pangong Lake

Hemis Monastery

Leh Palace
Coorg to Munnar
Cycling from Coorg to Munnar is one of the best routes for you if you are a nature lover. The aromatized smell of coffee along the Nilgiris will keep you fresh, energized, and strong. Coorg to Munnar is one of the best cycling routes in south India but a challenging one too. This cycling route will have a fair share of hills, dense forests, and serpentine roads that will add more thrill and excitement to your journey. The entire cycling trail is dotted with rolling hills, lush green valleys, tea, coffee, and spice plantations making it nature's abode. Don't forget to take a stopover at one of the coffee plantations and with a cup of freshly brewed coffee take away your tiredness.

Distance between Coorg to Munnar- 450 km
Time Taken- 6-7 days
Difficulty Level- Moderate
Route- Coorg to Kushalnagar to Mysore to Chmarajanagar to Talamalai RF to Puliampatti to Palladam to Udumalaipettai to Munnar
Places to visit on the route- 
Coffee Plantations

Mysore Fort

Mattupetty Dam

Eravikulam National Park
Mumbai to Daman
A short bicycle tour is very good for health and a break from the chaotic city life. If you reside in Mumbai then it's a bonus for you, the city has so many cycle trails in and around that you can explore without burning a hole in your pocket. Mainly, cyclists opt for the route to either Lonavala or Khandala, choose Daman this time for a change. Daman is a retro beach city and the route from Mumbai to Daman is the easiest cycling route in Mumbai. The entire route is filled with trees, roadside eateries, and recreational centers, so, whenever you feel hungry or tired you have options to go.

Distance between Mumbai to Daman- 170 km
Time Taken- 3-4 days
Difficulty Level- Moderate
Route- Mumbai to Thane to Manor to Talasari to Vapi to Daman
Places to visit on the route- 
Mahuli fort

Jampore Beach

St. Jerome Fort

Moti Daman Fort
Kalimpong to Zuluk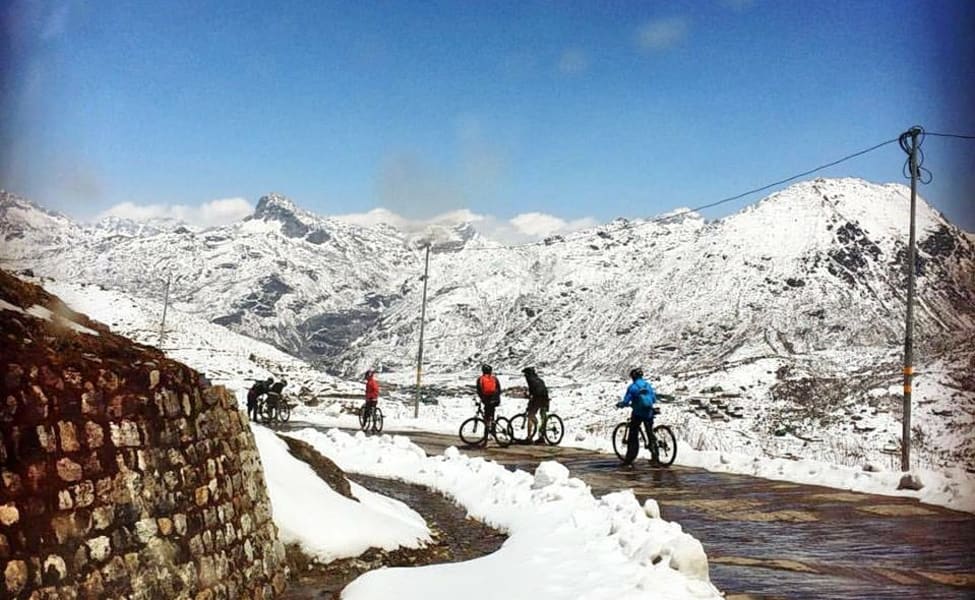 The cycling trail from Kalimpong to Zuluk is one for the challenge seekers. The combination of stunning mountain hills, lush greenery, hairpin bends, scenic terrains, and pristine valleys will make this old silk route goldmine. It is one of the best places for cycling in India that is dotted with several beautiful Buddhist monasteries, food stalls, and snowy peaks. Along the journey taste the famous delicacy 'Momos' in the roadside eateries whenever you feel peckish.

Distance between Kalimpong to Zuluk- 90 km
Time Taken- 6-7 days
Difficulty Level- Experts
Route- Kalimpong to Gangtok to Zuluk
Places to visit on the route-
Kalimpong Science Center

Ranka Monastery

Mt. Katao

Thambi View Point

Zuluk Wildlife Area
Shillong to Cherrapunji
One of the least explored yet fresh cycling trails in North-East India is worth your attention. Shillong to Cherrapunji cycling route is a heaven for nature lovers that is filled with pouring cascades, stunning mountains, scenic lakes, the cleanest village in India, hidden hamlets, a living root bridge, and spiritual monasteries, and a series of 'grand canyon' valleys. This is one of the best cycling routes in India that has mountains on one side and beautiful valleys on the other side giving company to you on your journey. Despite the hilly landscape, the road is easy with no steep climbs, sharp turns, and zigzags.

Distance between Shillong to Cherrapunji- 75 km
Time Taken- 5-7 days
Difficulty Level- Easy to Moderate 
Route- Shillong to Mawphlang to Mawsynram to Mawtynnong to Cherrapunji 
Places to visit on the route- 
Jaintia Hills

NohKaLikai Falls

Arwah Caves

Seven Sisters Waterfall

Mawsmai Cave
Kochi to Alleppey
If you are new to cycling then this is probably one of the best cycling routes for beginners. God's own country 'Kerala' is beautiful in every aspect and has a pristine seashore where you can enjoy cycling by taking glimpses of mesmerizing water. Cycling from Kochi to Alleppey will take you through fish farms to small villages, and backwaters to sandy beaches. The route is short and easy making it one of the best cycle trails in India. If you feel hungry during your journey, stop near a restaurant or at beach stalls and satiate your hunger by having delicious local cuisines.

Distance between Kochi to Alleppey- 54 km
Time Taken- 1-2 days
Difficulty Level- Easy
Route- Kochi to Chellanam to Andhakaranazhi to Maraikulam to Alleppey
Places to visit on the route- 
Fort Kochi

Mattancherry Palace

Marari Beach

St. Mary's Forane Church

Vembanad Lake
Udaipur to Jodhpur
Rajasthan is known for its rich culture and heritage and is a joy to explore on a bicycle. Rajasthan boasts a unique combination of forts and desert landscapes and is one of the best cycle trails that a cyclist will cherish for many years. Udaipur to Jodhpur is one of the best cycling routes in Rajasthan where you can experience the Rural Rajasthani life and culture and can witness black bucks, camels, mules, and deers. There are so many things to see vast stretches of desert, hidden villages, majestic forts, ancient temples, monuments, and many more.

Distance between Udaipur to Jodhpur- 350 km
Time Taken- 7-10 days
Difficulty Level- Moderate
Route- Udaipur to Kumbhalgarh to Ranakpur to Jojawar to Dhakri to Jodhpur
Places to visit on the route- 
Somnath to Diu
Gujarat is known for its charming heritage and is steeped in so many picturesque trails. The cycling trails will start from Somnath passing through lush Gir National Park and will end at the mesmerizing Diu. The cycling route is multi-faceted from rugged trails to seashores to coastal rides. Somnath to Diu is one of the best places for cycling in India and the surrounding water will add charm to this route.

Distance between Somnath to Diu- 145 km
Time Taken- 3-5 days
Difficulty Level- Easy
Route- Somnath to Gir National Park to Diu
Places to visit on the route- 
Somnath Temple

Gir National Park

Diu Fort

Nagoa Beach

Naida Caves
From North to South and East to West enjoy the beauty of the country along with cycling in India. If the travelers are cycling lovers and adventure freaks who wish to seek some adventure then many scenic trails along with cultural attractions await. There's nothing better than exploring the hidden villages, unexplored terrains, attractions, and hamlets in India on a bicycle. Team up with HotelDekho.com for such cycling tours, travel guides, attractions, and activities.