The Celebration of Durga Puja Across India in 2022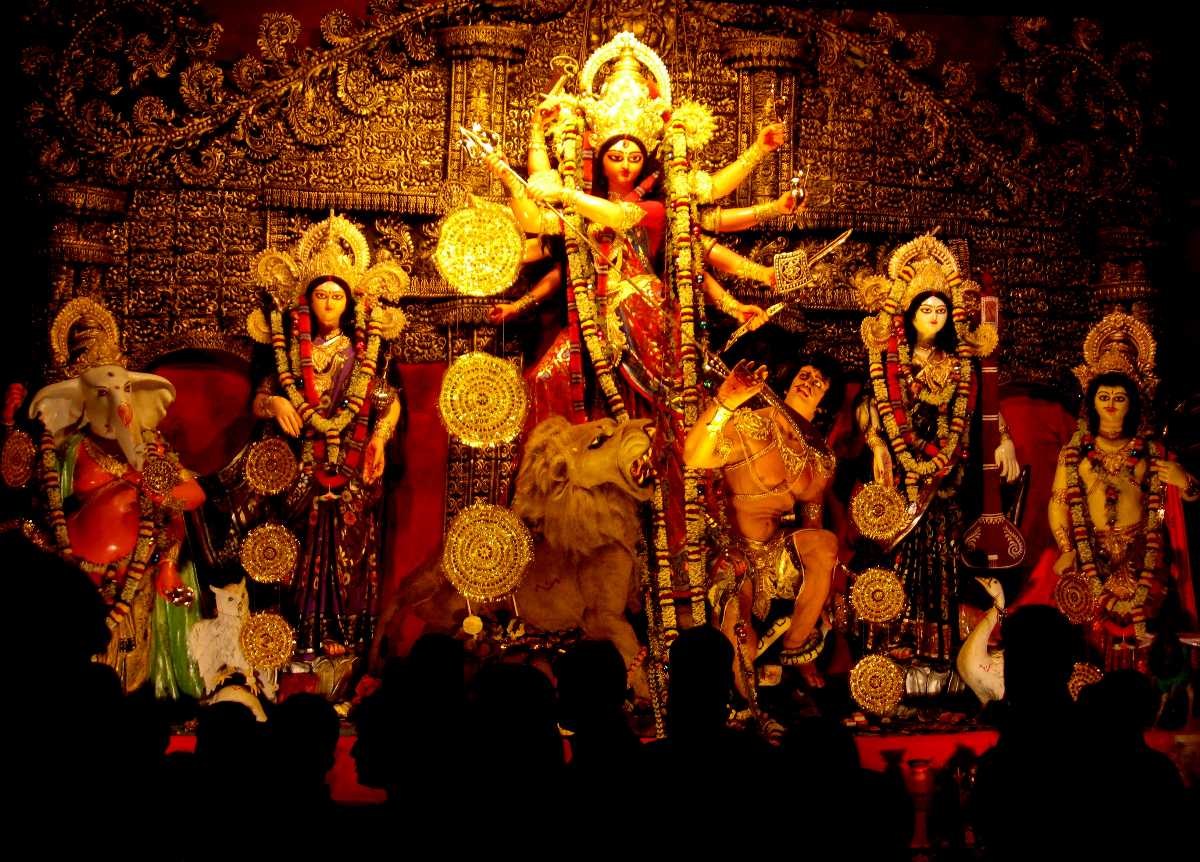 Durga Puja festival 2022, or the annual Hindu goddess Durga Puja, is one of India's most important festivals. It is a multi-day festival that can last anywhere from 6 to 10 days depending on where you are in the country. The celebration is known as Navratri in most of Northern India (nine nights). Regardless of these differences, the last four days of Maha Saptami, Maha Ashtami, Maha Navami, and Vijay Dashami are especially significant and are celebrated with great pomp and splendor across the country.
The event recalls the goddess's victory over a demon known as Mahishasura in most parts of the country. According to Hindu legend, the demon was sent to wage war against the gods, and it was up to Durga to defeat him and save the world. She began her struggle with the demon on Maha Saptami, the seventh day of Navratri, and defeated him by Vijay Dashami, the last day of Navratri.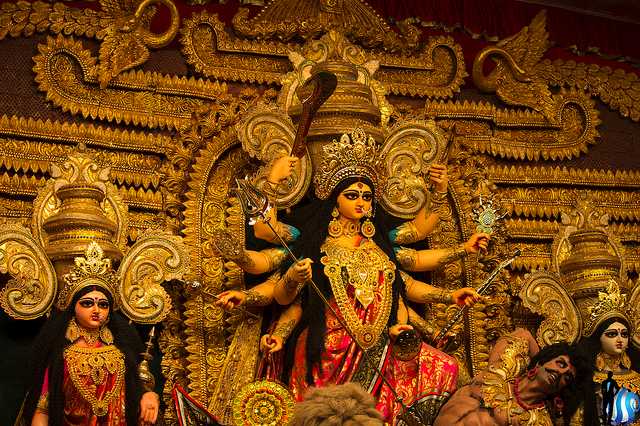 The goddess, also known as the 'destroyer of evil,' is distinguished by her ten arms, each of which carries a devastating weapon, as well as her vehicle, a lion. Durga is also known as Bhavani, Amba, Chandika, Gauri, Parvati, and Mahishasuramardini to Hindu devotees. She is the 'Mother Goddess' and the 'Protector of the Righteous.'
Though the festival is supposed to have originated in Hinduism, the first documented reference of a goddess celebration is from the 1500s in West Bengal. The event, on the other hand, is said to have gained a lot of clout during the country's independence movement and has since grown to become one of the country's largest festivals. The goddess was seen by many as a symbol of the country and its struggle for independence.
Today, the celebration of the Durga Puja Festival 2022 is marked by song and dance, fasting followed by feasts, ornate decorations, pujas (great temple ceremonies), and religious recitals. In certain regions of the country, goddess idols are immersed in water, while in others, young girls dress up as goddesses and participate in numerous rites at temples and public gatherings. The Durga puja Bengali date is from 30th September 2022.
| | | |
| --- | --- | --- |
| Name of the Event | Day | Date |
| Maha Panchami | Friday | 30 September 2022 |
| Maha Sasthi | Saturday | 1 October,2022 |
| Maha Saptami | Sunday | 2 October 2022 |
| Maha Asthami | Monday | 3 October 2022 |
| Maha Navami | Tuesday | 4 October 2022 |
| Bijaya Dashmi | Wednesday | 5 October 2022 |
History of Durga Puja
According to legend, Lord Brahma promised the demon king Mahishasura immortality since he could only be defeated by a woman.
No one was able to stop Mahishasura from attacking Trilok's three kingdoms: Earth, Heaven, and Hell. Goddess Durga was created by combining the energies of Lord Brahma, Lord Vishnu, and Lord Shiva.
As a result, Mahishasura and Goddes Durga fought for 15 days, during which the demon king changed his appearance to deceive the goddess. With her Trishul, Goddess Durga slew him. Mahishasura was murdered on Mahalaya's day.
The festival's Importance and Celebration 
Throughout the nine days, the goddesses Shailputri (Day 1), Brahmacharini (Day 2), Chandraghanta (Day 3), Kushmanda (Day 4), Skandamata (Day 5), Katyayani (Day 6), Kaalratri (Day 7), Mahagauri (Day 8) and Siddhidatri (Day 9) are honored and offered prayers.
During this time, relatives and friends gather to celebrate their traditions. Throughout Gujarat, dandiya is played on all nine days, and the majority of people fast and pray. Durga Puja festival is celebrated in the east, while Ram Leela, a visual retelling of the Ramayana, is celebrated in the north. The nine-day festival concludes with Dussehra when straw effigies of Ravana are burned to symbolize the triumph of good over evil.
Navratri is a nine-day celebration in which Goddess Durga is worshipped in nine different incarnations. It is one of the most important Hindu holidays, which Hindus across India celebrate with great zeal. There are four Navratris in a year, but only two of them are generally observed: Chaitra Navratri and Sharad Navratri. The festival is observed differently in different provinces of the nation. Even though they worship the same deity, they follow different traditions.
'Navratri' means 'nine nights' in Sanskrit. People fast and give special prayers to the 'Nine incarnations of Maa Durga' on these nine nights. Goddess Durga is Goddess Parvati's new form. To defeat Mahishasura, she took the form of Devi Durga.
Maa Durga is worshipped in nine various forms, each with its prasad or bhog. The nine embodiments of Goddess Durga are depicted here, along with the specific blog offered to them.
Goddess Shailputri
Goddess Shailputri is Goddess Durga's initial manifestation. She rides a bull named Nandi while holding a Trishul in one hand and a lotus in the other. Goddess Parvati was born as the daughter of Himalaya, and Shail means mountain in Sanskrit, hence she was given the name Shailputri.

Goddess Brahmacharini
Goddess Brahmacharini is honored on the second day of Navratri. With a rudraksha mala in one hand and a sacred Kamandalu in the other, the goddess wanders barefoot. This goddess's contemplative form represents Goddess Parvati during her intense meditation to satisfy Lord Shiva.

Goddess Chandraghanta
On the third day of Navratri, Goddess Chandraghanta is honored. Chandraghanta is a powerful 10-armed goddess with a crescent moon on her brow, hence her name. She rides a tiger to annihilate all evil and wickedness.

Goddess Kushmanda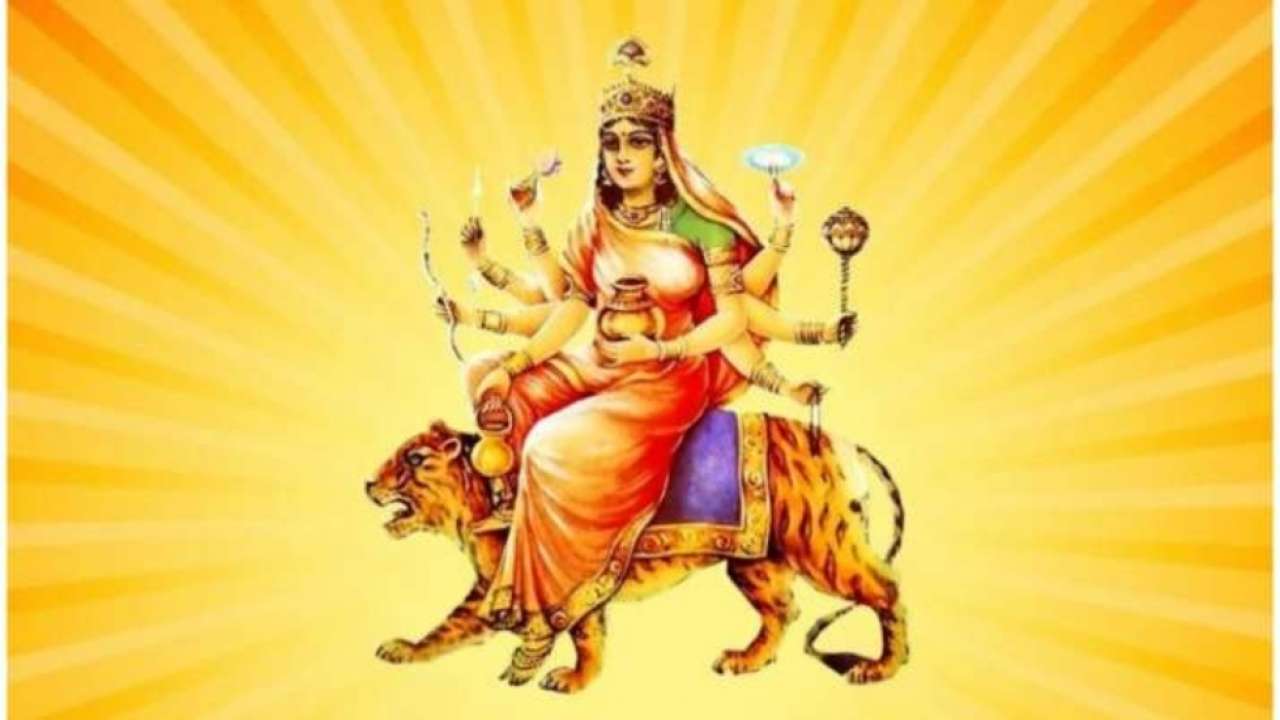 Devi Kushmanda is praised on Chaturthi, the fourth day of Navratri. The name Kushmanda comes from three words: 'Ku' (little), 'Ushma' (warmth or energy), and 'Amanda' (egg), all of which refer to the universe's founder.

Goddess Skandmata
Panchami is another name for Goddess Skandmata, who is adored on the fifth day. Skandmata is a four-armed goddess with a lotus in two arms and a sacred Kamandalu and a bell in the other two. She also had a small Kartikay on her lap, and Kartikay is known as Skanda as a result. She can be seen sitting on a lotus flower.

Goddess Katyayani
Goddess Katyayani, a form of Shakti, is honored on the sixth day of Navratri. One of Goddess Parvati's most ferocious incarnations is Katyayani, often known as the warrior goddess. She is four-armed and wields a sword. She is Sage Katyayan's daughter and rides a lion.

Goddess Kaalratri
Goddess Kaalratri is honored on Saptami, the seventh day of Navratri. Legend has it that she sacrificed her skin color and adopted a dark complexion to kill demons. She rides a donkey and wields a sword, trident, and a noose, as a four-armed deity. Her forehead possesses a third eye that is said to contain the entire cosmos.

Goddess Mahagauri
Goddess Mahagauri is honored on Durga Ashtami, the eighth day of Navratri. She is a deity with four arms who rides a white elephant or a bull. She carries a Trishul and a damru in her hands.

Goddess Siddhidatri
Goddess Siddhidhatri is honored on the ninth and last day of Navratri. She is shown as a four-armed deity sitting on a lotus, with a mace, discus, book, and lotus. Goddess Durga in this form represents perfection.

The Best Places to Visit in India during Durga Puja
Kolkata
Durga Puja in Kolkata is the most important of all the festivals held in honor of Goddess Durga during the Navratri season. While the holiday of Durga Puja is unquestionably grandiosely celebrated all over the world, the intensity with which it is celebrated in Kolkata is unparalleled. The Pandals with huge idols of Goddess Durga are open for tourists from the sixth to the ninth day of the festival, which lasts ten days. The Visarjan (immersion in water) of the deity is commemorated on the tenth day, also known as Dashami, with elaborate ceremonies and processions. If you want to visit other places while in Kolkata, you can take the assistance of any travel guide of Kolkata for a better understanding.

Pandals, Decorations, and Food for Durga Pooja
The ornately decorated Durga Puja pandals each focus on a different theme, such as Goddess Durga stories or scenes from Hindu epic scriptures. Some pandals are now themed around a social purpose to raise awareness. Although it is normally easier to see the pandals up close during the day when the crowds are smaller, the beautifully lit pandals in hundreds of hues are a sight to behold in the evenings. The following are the top ten Durga Puja Pandals in Kolkata:
Ekdalia Evergreen

: It was founded in 1943 and is known for its artwork that depicts temples from all around India. It's in Gariahat, on the outskirts of the city.

Bagbazar:

Located near the river in North Kolkata. It is over a century old and emphasizes simplicity and ancient practices.

Kumartuli Park

: The idols were created in 1995 (near Bagbazar, so you may visit both in one trip) and are known for their inventive themes.

College Square:

Set up in 1948 beside a lake in Central Kolkata (off MG road), its illumination and reflected beauty are the talks of the town.

Mohammad Ali Park

: This area, first opened in 1969 on MG Road, is known for highlighting the beautiful architecture of monuments. Combine this location with the College Square.

Suruchi Sangha:

Even the idols are modeled accordingly. Famous for depicting the state of India through its artwork and installations. It is located in New Alipore, South Kolkata, and is 50 years old.

Santosh Mitra Square:

Sealdah Sarbojanin Durgotsav was founded in 1936 in the Bow Bazar region and was previously known as Sealdah Sarbojanin Durgotsav. It is well-known for its exquisitely detailed artwork exhibition.

Bose Pukur Sitala Mandir:

Multiple award-winning artists known for using motifs, idols, and artwork to depict rural Bengal. It is a must-see attraction located in Bose Pukar Kasba in the city's south.

Jodhpur Park:

Another renowned pandal, this one features a diverse range of themes and surprises, as well as a new aspect every year. It lies in South Kolkata, near Jadavpur Thana.

Badamtala Ashar Sangha:

This establishment in Kalighat, South Kolkata, earned an award for innovative brilliance in 2010. It is a local favorite and is pretty old (75 years).
Delhi
One of India's best Durga Puja celebrations also takes place in Delhi. C.R. To see the vibrancy of Durga Puja. You would feel as if you are in Kolkata when you visit this park. A large population can be seen in C.R., from the pandals to the diversity of traditional Bengali dishes. Stay over for the next four days. The remaining half of Durga Puja, which is hosted in Ramlila Maidan and includes the burning of Ravana's effigies on Dussehra, can be seen in Delhi. People from all walks of life congregate on Ramlila Maidan to watch this festivity. Once you have attended the Durga Puja there are a lot of places to visit in Delhi if you end up extending your stay.

Some of the places to visit:
The travel guide of Delhi helps you plan the best itinerary for your tour. So what are you waiting for? Get going. 
Ahmedabad, Gujarat 
People in Ahmedabad commemorate Lord Rama's victory over Ravana on this day in a unique way. Throughout the festival, fireworks will be displayed at the night. Dramas are played on stages that have been erected. People participate in skits, music, and dances depicting Ram's life and how he defeated Ravana. Dandiya can also be seen being performed in many parts of the city. There are also some places that can be visited in Ahmedabad during your Puja holidays. You can always get help from a travel guide of Ahmedabad if you plan on exploring the place. There are a plethora of places to visit in Ahmedabad, choose wisely.

Some of the places to visit:
The Adalaj Stepwell

The Calico Museum of Textiles 

Bhadra Fort are other tourist sites in Ahmedabad

Kankinara Lake
Mumbai, Maharashtra
Mumbai is one of the most popular Durga Puja destinations in India. Bengalis who couldn't make it to their homes in Bengal during Puja started the Durga puja craze here. As a result, pandals were erected in Mumbai, and Durga Puja in Mumbai began, just as it had in Kolkata. During these four days, several celebrities are expected to visit pandals. Go through a travel guide of Mumbai that will give you an idea about the places that can be visited during or after the Puja.

Some of the places to visit in Mumbai are:
Shri Siddhivinayak Ganpati Temple

Sasson Docks
Pune
You would fall in love with the cultural performances including music, dance, drama, and others if you visit pandals during Durga Puja in Pune. The bhogs presented to Goddess Durga, particularly the Nabami bhog, are a must-try.
The easy-to-get travel guides of Pune help you to move around and see other famous places once you have offered your prayers to the goddess. Pune is a calm city that has a lot of places for visitors to visit but you must enjoy the street food here. 
Some of the places to visit in Pune are:
Mulshi Dam

Dagadusheth Ganapati temple 

Malshej Ghat 
Katra, Jammu & Kashmir
Durga Puja is linked with Navratri in the shrine of Mata Vaishno Devi in Katra, Jammu, and Kashmir. Although the yatra to the shrine is held all year, it is believed that the one held during Navratri is the most fortunate. Vaishno Devi is located in the state of Jammu and Kashmir, India, at a height of 5,200 feet above sea level, ensconced in the formidable Trikuta mountain 61 kilometers north of Jammu. The shrine is open all year, but the trail is difficult to navigate in the winter due to snowfall.

Some of the places to visit:
Vaishno Devi temple 

Dera Baba Banda

Shalimar park

Banganga Temple

Chintamani Dharmatala
The travel guide of Katra can often come in handy if you want to explore more of it. The guide will help you plan your itinerary efficiently. 
Guwahati, Assam
If you wish to attend the Durga Puja festival in 2022, Guwahati is a good option. There are some of the best pandals to be found there. During Durga Puja in Guwahati, people from all over the North East come to this city to celebrate the festival. People participate in a variety of activities during Durga Puja, including shopping, trying new foods, visiting family and friends, and taking full advantage of the event. Along with that, take advantage of the travel guide of Guwahati for more information on the places to visit and the best time to visit.

Some of the places to visit:
Kamakhya Temple 

Umananda Temple 

Assam State Zoo

Botanical Garden 
Varanasi, Uttar Pradesh
Varanasi commemorates Ram's triumph over Ravana at this time of year. During the event, children dressed as Ram, Sita, Lakshman, and Hanuman can be seen. During the holiday season, Varanasi becomes very crowded, as not only do people from all around the city come together to enjoy Durga Puja in Varanasi, but many sages also come to visit the pilgrim site.

Some of the places to visit in Varanasi:
Shri Kashi Vishwanath Temple

Manikarnika Ghat 

Dashashwamedh Ghat

Dhamekh Stupa
These are some of the famous places to visit that can be seen in any travel guide of Varanasi. If you wish to know more about Varanasi then have a look at the travel guide. 
Kullu, Himachal Pradesh
You won't find pandals like these in West Bengal, but you will undoubtedly see people taking part in processions. The parade is primarily held in Kullu Valley's Dhapur Maidan. Kullu residents, like the rest of North India, commemorate Rama's victory over Ravana. At least once, you must once enjoy Durga Puja in Kullu. The annual mela or celebration is held in the Kullu Valley in North India, popularly known as the Valley of the Living Gods.

The celebration commemorates the victory of the God Ram over the forces of evil. The Kullu Raja and local deities lead the Rath Yatra of Lord Ragunath's idol, which is known as the Gods' Run. The procession kicks off a week of religious ceremonies, cultural activities, socializing, and shopping in the mela's massive bazaar, or market, which takes up the majority of the Mela grounds. All this information can be gathered from any travel guide of Kullu.
Some of the places to visit:
Raghunath Temple

The Great Himalayan National Park

Bijli Mahadev Temple 

Jagannathi Temple
Conclusion
These locations transport you to a new realm where mythology comes to life. The festive attitude and surreal ambiance that surrounds this Hindu festival celebration are incredibly contagious, and before you know it, you'll be joining in the festivities. Regardless of caste or financial level, everyone participates in and enjoys this holiday. Durga Pooja is a large-scale, communal, and dramatic festival. It is incomplete without dance and cultural performances. The celebration also includes a lot of delicious traditional food. Kolkata's streets are lined with food stalls and businesses where locals and visitors alike may sample delectable delicacies, including sweets. In West Bengal, all workplaces, educational institutions, and businesses are closed to commemorate the Durga Pooja festival. Durga Pooja is also observed in other cities such as Patna, Guwahati, Mumbai, Jamshedpur, Bhubaneswar, and others. As a result, the celebration teaches us that good always triumphs over evil and that we should always take the high road. The main Durga Puja 2022 date is from 30th September 2022. Also, the Durga Puja 2022 sandhi puja time is from 07:43 pm to 08:31 pm. 
Hope we answered all your queries through this blog. Do let us know in the comment section below if we have missed out on anything you wanted us to cover.
In case you visit these places for Durga puja and you don't have any relatives of yours staying there where you could crash, then do not worry at all. HotelDekho.com provides you with the best offers and deals on hotel bookings and can stay where you prefer the most. Remember to book your hotel rooms well in advance because during Durga Pooja these destinations may end up getting crowded.
We hope you enjoy Durga Pooja to the fullest!