15 Best Wedding Venues In Jaipur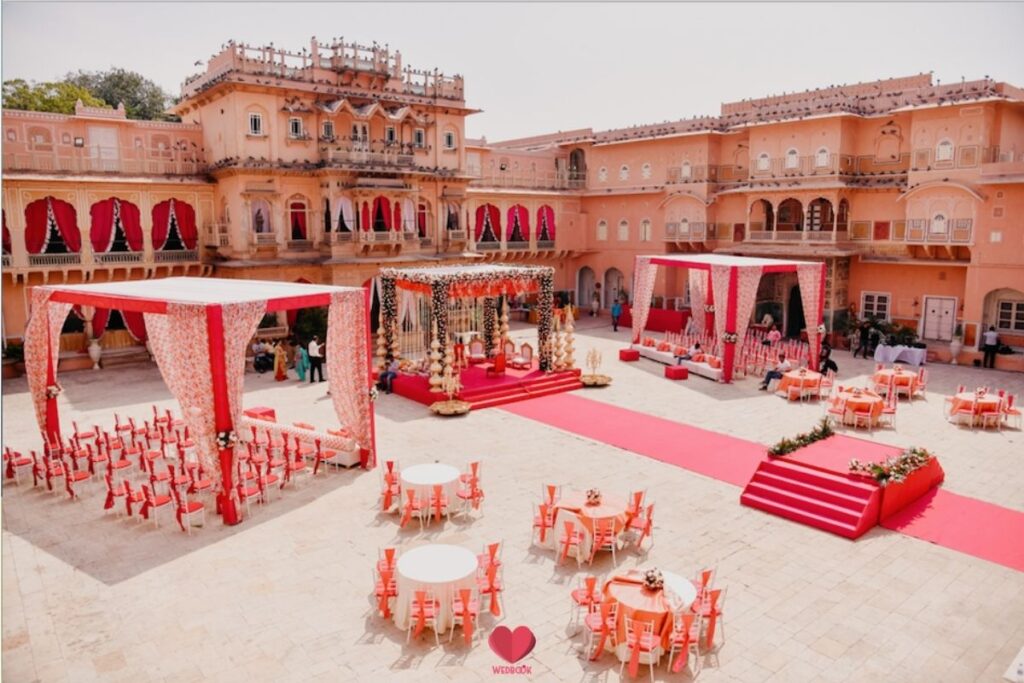 When was the first time you thought of your wedding and the wedding venue? Do you remember how it felt and the jitters of excitement it left behind? Well, trust us when we say that way before you, your parents must have thought of this celebration. After all, Indian parents do think about three things as soon as a child is born first to give the child an amazing life, second a career, or a name, and the third is the saving plan for their kid's weddings. No matter what happens or how much we grow as a country this is like a ritual that every parent follows.
Weddings are the definition of love, fun, celebration, togetherness, and so much more. It is a simple word that holds a lot of importance. You must have dreamt of a Bollywood-style destination wedding too, right? A destination wedding is a trend these days, a wedding where the guests are limited and the host as well as the guests enjoy hassle-free services and enjoy the festivities to the fullest. Imagine having a destination wedding in Jaipur at one of the heritage hotels. 
You read it right!! Jaipur the Pink city of Rajasthan that screams royalty and Rajputana is the perfect location for a luxurious heritage destination wedding. Filled to the brim with the best wedding venues in Jaipur. Jaipur weddings have been famous amongst the elite class as it gives them a chance to give the guests a glimpse of the lavish lifestyle they lead daily. There are a lot of weddings held in Jaipur annually and thus the famous destination wedding venues in Jaipur are often booked.
If you wish to get your favorite Jaipur hotels or wedding venue booked then you should quicken your selection process. We understand that due to a plethora of options for destination wedding venues that Jaipur offers, you must be confused by now. To help you select your wedding destination in Jaipur we have got you a list of the 15 best wedding venues in Jaipur that you must add to your list. Here goes the list:
Rambagh Palace:
The Rambagh Palace screams luxury in itself, it is filled to the brim with vintage collections and every nook and cranny of this place is an epitome of royalty. The palace is a part of the Taj Hotels and the Royal family of Jaipur also resides here. The Rambagh Palace is a heritage hotel in Jaipur and is presumably one of the best wedding venues here. It is beautifully spread across 47 acres of land and the gardens are trimmed and well maintained, giving them a posh vibe. If you wish for a royal and heritage wedding then Rambagh palace is the one for you. 
The Rambagh Palace is famous for various reasons and one of them is that it passes the test of being a romantic wedding venue in Jaipur. Not just for weddings but this place can also be seen in various movies so don't be surprised if this place feels similar to you. The film Lamhe was shot here, and Katy Perry got engaged here too, many celebrities have been hitched here. The Rambagh Palace does its best to make your dream of a fairytale wedding in Jaipur come true. 
The Rambagh Palace has 10 major wedding venues on its premises. Some of the sections of the Rambagh Palace are called Kesarbagh, Jaigarh Hall, Mughal Terrace, Oriental Terrace, Naksha Garden, Mubarak Mahal, Panghat Lawn, and Suken Lawn. Most of these places can accommodate guests up to 200-350 guests whereas the Mubarak Mahal has a capacity of handling 20 people. The Kesarbagh is a glorious garden that can house up to 1000 guests. 
Places to visit near Rambagh Palace are:
Birla Temple

City Market

Moti Dungri Temple

Motisons Jewellers

Masala Chowk
ITC Rajputana Sheraton:
ITC Rajputana is a haven for those searching for luxury, it is the best wedding venue in Jaipur. The hotel is designed like a traditional haveli and one can even use the suture as a backdrop for their wedding photos. The guests are welcomed with so much warmth and love that they feel at home. The interior is beautifully and thoughtfully done, making the guests instantly comfortable. 
This luxurious wedding place offers amazing hospitality and delicious cuisines. Here you can enjoy a big fat wedding to the fullest. The various locations that it offers for weddings are pretty amazing in themselves. The best part of it all is that the services provided are timely and top-notch. ITC Rajputana Sheraton can accommodate approximately 400 guests and one can also avail of the in-house multi-cuisine catering services. The hotel is a blend of gorgeous architecture along with modern facilities that are a treat for every guest. It is a 6-acre property that resides in the heart of Pink city. 
Places to visit near ITC Rajputana:
Jai Mahal Palace:
If you wish to have a luxury wedding in Jaipur then you should check out the Jai Mahal Palace. The luxury of this place will catch your eyes and make your heart skip a beat, we can safely say that you may just fall in love with the magnificence. It is one of the many Taj properties in Jaipur. This is a perfect location to begin the new journey of your life. The Palace has Indo-Gothic style architecture. This heritage hotel in Jaipur is a 270-year-old masterpiece that stands out on its own. They are ready to go the extra mile to make your special day even more special. The area covered is so huge that one can conveniently host all the wedding celebrations here. 
The Jai Mahal Palace has the following areas where one can host a celebration: 
Celebration Lawns is the one which can house 40 people and one can host a small ceremony here. The Durbar Hall, Lotus Pond area, and the poolside lawn can host roughly 100-150 people followed by the Fountain lawn and Palace lawns that can accommodate 500 and 3000 people respectively. So what are you waiting for? Go visit this venue and get the quotes from the management before it gets booked on your dates. 
Places to visit near Jai Mahal Palace:
The LaLit:
The elegant and classy wedding venue in Jaipur acts as an amazing backdrop for the ones who decide to celebrate their special day here. The Lalit is everything one can imagine of, once you see it you can picture your wedding happening at this location. The Lalit has a few venues where one can host their wedding celebrations first one is the Crystal Ballroom, followed by the central courtyard, and lastly the party lawn which is suitable for parties and outdoor events. The party lawn can easily accommodate 250 to 1,500 guests. This place has a central courtyard with beautiful fountains and pretty ponds adding a tinge of elegance to its simplicity. Annually this venue organizes various destination weddings from time to time. 
Places to visit near the LaLit:
National Seashell Museum 

Patrika Gate

Albert Hall Museum

Galta Ji
Chomu Palace:
The Chomu Palace one of the top wedding venues in Jaipur is a 300-year-old fortress and a place one must visit while exploring Jaipur. The Fort still possesses an ancient charm and represents the gracious lifestyle led by the royal family of Rajasthan. The fort took 1000 years to be completely constructed and it happened under the reign of Mohan Singh Ji. The movies which have been filmed here are Gulal, Queens: The Destiny of Dance and Loafer. Some of the well-known Swayamvar series was filmed here too, like Ratan Ka Swayamvar and a daily soap named Jhansi ki Rani. 
The Chomu Palace in Jaipur will transport you to an era that has passed, this is where guests are treated royally and the interior will leave you dumbstruck. Every corner of this palace is picturesque, there is so much elegance in the place itself. Chomu Palace gives you a hint of Rajputana royalness be it the massive gates, the beautifully carved jali work, or the simple yet beautiful windows.
The heritage property in Jaipur is divided into 7 sections which are: the Main Courtyard, Sheesh Mahal, Janana Courtyard, Darbar Hall, Moti Mahal, Manohar Garden, and Baradari Swimming Pool. Also, the Chomu Palace can conveniently house 1000 people. Once you book this wedding destination in Jaipur for your wedding celebrations you can relax and enjoy your functions, because the team of Chomu house will make all the arrangements hassle-free for you. 
Samode Haveli:
The Samode Haveli speaks for itself, here you can have the perfect fairytale wedding that you have been dreaming of since childhood. The atmosphere has a streak of romance with a touch of Royalty in it. The stunning architecture will leave you wanting to come back and you may even end up wanting to stay a bit more. The Samode is known among the best wedding destinations in Jaipur. It offers a whole lot of regality to your customized wedding plans. This heritage property in Jaipur is one of the best historic venues for a dream wedding in Jaipur. 
The Samode Haveli provides a spectacular backdrop for traditional weddings. If you plan to have your special day here then you surely can look out for a King and Queen kind of vibe. The lighting and decorations will surely lighten the mood of every guest that attends your wedding. With their top-notch services and facilities, they will make your wedding worth cherishing. 
Samode Haveli offers the following venues where one can organize functions: the Darbar Hall with a seating capacity of 100-150 people, the Sheesh Mahal (Hall of Mirrors) a location that will leave you mesmerized, the Sultan Mahal, Durbar Hall Terrace which provides a beautiful view of the pool and is capable of holding 250-300 people. The Roof Top is a charming location that can accommodate at least 150 people. The infinity pool is a romantic location where a special candlelight dinner can be organized for the love birds. The Mughal Garden is a huge venue with a capacity of 650-1500 people. This is a suitable place if you wish to have a large gathering at your wedding. 
Pride Amber Vilas Resort:
Ever wished for an extraordinary wedding event in one of the wedding resorts in Jaipur? Here you will get to experience one of the best luxury weddings in Jaipur, thus without thinking twice you should visit the resort and discuss a budget with the management. The Pride Amber Villas Resort is specialized in giving its guests a royal treatment, you and your guests get to munch on the finest dishes, the gathering can enjoy fireworks and a lot more can be done as per your preferences. 
Be sure to plan your budget carefully and keep things sorted and clear. The staff is trained to provide state-of-art services and the resort can hold more than 3000 people. The Pride Amber Vilas Resort is capable enough of hosting a full-on wedding from the beginning to the very end, they will make sure that things go just as per your wishes. The resort is capable enough of providing all the wedding-related services to you, all you have to do is be clear about what you want. They will make sure that each guest attending the wedding gets royal treatment. 
Places to visit near the Pride Amber Vilas Resort are:
Nahargarh Fort

Gan Ganesh Temple

Jantar Mantar

Ram Niwas Bagh
JW Marriott Jaipur Resort & Spa:
The JW Marriott Jaipur Resort and Spa exudes royalty, it possesses the charm of a Rajasthani palace. As soon as you walk in you will get a feel of being transported into another zone. The grand entryways, the warm welcome, and the elegant whites will all leave you dumbstruck and wanting to see more. It is as if the resort is designed to impress, and the first impression of the place in itself is everlasting. Its customized furniture and rugs stand true to the royal theme and the carvings, as well as detailed paintings on the walls, are all done by local artisans. 
This wedding resort in Jaipur possesses an elegant style and design which has intricate latticework and glass inlays. This artwork reflects age-old Rajasthani craftsmanship. The JW Marriott Jaipur Resort & Spa has 200 rooms which include villas and suits. The suites here are irresistibly beautiful and it won't come as a surprise if you go here for your wedding reiki and end up booking a room just to get a taste of the experience. 
When it comes to dining one of the top wedding venues in Jaipur does not disappoint. A luxurious and royal dinner at the Mohan Mahal is like a dream come true. One can enjoy a candle-light dinner with meals served on silver-plated tableware with some soothing and nerve-calming Rajasthani music playing in the background.  Here one can happily plan a destination wedding in Jaipur. This luxury wedding resort in Jaipur provides full-service catering for weddings and even offers a huge Chappan Bhog Dessert Buffet which consists of 56 types of Indian desserts. 
For a luxury wedding in Jaipur, JW Marriott Jaipur Resort & Spa is perfect as it is lavishly spread across 60,000 sqft. of banqueting space. It can house 1,500 guests and offers a huge and luxurious ballroom which is known to be the largest one in Jaipur. If you wish to have a gala night for your wedding reception then you can reserve the Sundarban lawns. For wedding festivities, one can also keep in mind the Hawa mahal of the resort. What are you waiting for? This luxury wedding venue in Jaipur is always in demand, making it a task to get the dates of your wish. Thus, if you like it, grab the chance while you can. 
Shiv Vilas:
Oh, What a beauty!! The Shiv Vilas Resort is on the outskirts of Jaipur. The royal heritage property in Jaipur has an exquisite lobby and pool. Don't be bothered if you find the resort familiar because you must have seen it in various films. One of which is 'What's your Rashee?', the Su-che song where the gorgeous Priyanka Chopra dances around female idols who can be seen holding musical instruments There, now see you got it, right? Once you visit the resort you surely will fall in love with it. 
It welcomed guests for the first time in 2006, the front and the back lawns are huge, and the outdoor garden area can house 500 people. Today, it is one of the most popular destinations for weddings in Jaipur and it hosts several weddings annually. The Shiv Vilas Palace offers 75 rooms and suites, and to get a rough quote for the wedding you can either contact the resort or visit their official website. 
Places to visit near Shuv Vilas, Jaipur:
Jaigarh Fort

Sheesh Mahal

Sagar Lake

Panna Meena Kund

Jai Mahal
Fairmont Jaipur:
A well-known 5 star hotel in India is Fairmont Jaipur. It is one of a kind and has no chain or branch. This is where the famous director Rajmouli's son got married. Fairmont is situated on the outskirts of Jaipur, basically in the Kukas area. The luxury hotels in Jaipur is the epitome of royal heritage and the wealthy culture of Rajasthan. The architecture of Fairmont is constructed along the lines of Rajput and Mughal architecture. 
The staff here is well trained and provides top-notch services. The guests are always welcomed warmly and their requests are dealt with on a priority basis. The Fairmont Jaipur is not just regal but also impressive. This amazing wedding destination in Jaipur is known to host lavish cocktail parties and wedding ceremonies. The hotel has 245 guest rooms with modern amenities and the view from each room is breathtaking as it is located amidst the Aravali hills. 
The property is very thoughtfully constructed thus it has multifold outdoor and indoor spaces. It is capable of organizing a gala for every celebration in your life. The customer satisfaction of this 5-star hotel is always high making it a perfect destination for a fairytale destination wedding in Jaipur. The hotel staff is well versed in providing services from wedding catering to decor. The hosts, as well as the guests, can all freely enjoy the wedding festivities as they ensure hassle-free services. You can book the Charbagh and the grand ballroom for your wedding day. 
Places to visit near Fairmont Jaipur:
Jaigarh Fort

Sheesh Mahal

Sagar Lake

Panna Meena Kund

Jai Mahal
Oberoi Rajvilas Palace:
The Oberoi Rajvilas Palace is the most desired wedding destination in Jaipur. Not many of us know but it is also rated as one of the best resorts in the world. It is a perfect venue for those who wish to have a destination wedding in Jaipur. This wedding destination is a fit for those looking to throw a lavish party and organize luxurious wedding festivities. The palace is spread across 32 acres of land which has well-trimmed and maintained lawns which are also known as the Mughal and Rajput gardens. The beautiful courtyards, archways, paintings, and picturesque views will make you want to stay outdoors. 
With the state of art hospitality, trained staff, and posh decor, this venue is on the list of many couples who are in search of a luxury destination wedding venue in Jaipur. The resort provides modern 5 star amenities, luxury rooms, luxury tents, and a lot more options. It has 77 rooms, suites, 14 luxury tents, and 53 deluxe rooms, all of them are well-equipped and classy in all sense. 
The Sun Palace restaurant is an amazing restaurant and the mix of cuisines will awaken your taste buds for sure. Not only do they offer top-notch food but one must try the wine here. They have world-class wines and drinks that are perfect for every occasion. 
Places to visit near Oberoi Rajvilas Palace:
Birla Temple

Albert Hall Museum

Patrika Gate

WTP Mall
Gold Palace, Jaipur:
Weddings are known as life's most important event which gives us memories to cherish all our life. The Gold Palace is a charming wedding resort in Jaipur and is hard to resist. The lavish affair of marriage is an event for which people always wish to get the perfect wedding destination. The Gold Palace and Resorts is a perfect setting for an important milestone as it lies amidst the Aravali range and it offers different locations for all the wedding festivities. The number of people it can accommodate is 5000. The food, the ambiance, the cleanliness, and hygiene are all top-notch and the staff is at your service 24/7. 
The Gold Palace promises a luxury wedding in Jaipur that will be cherished by both the host and the guests for a long time.  The Palace has a highly professional and trained staff that deals with every situation with a positive mindset and a smile on their face. The huge gardens are like a plain canvas that can be decorated as per the wishes of the host. The gold palace can be used as an amazing backdrop for a wedding mandap. It truly is one of the most gorgeous wedding venues in Jaipur. 
Places to visit near Gold Palace:
Amer Fort

Sagar Lake

Meena Panna Kund
Crowne Plaza:
The Crowne Plaza is a luxurious hotel in Jaipur. It is one of the best wedding places in Jaipur i.e. if you are looking for a modern venue for your special day. Pre-wedding functions like a cocktail, engagement, mehndi, etc. can be conveniently organized here. One can even host parties and wedding ceremonies here. Crowne Plaza is a hotel that has a plethora of options for the hosts and the guests. They offer classy and professionally trained staff. 
The modern property has 208 rooms and suites for the wedding guests to spend their time in. The huge wedding venues in the Crowne Plaza can house 2500 guests in one go. The hotel management offers a plethora of wedding services so that all the family members can enjoy the wedding festivities. Some of the services provided are In-house catering, service staff, special event areas, customized services, and a variety of cuisines. The hotel has a huge pool area and each floor has a smoking room. The lawn and the massive yet elegant ballroom can be clubbed for a lavish wedding that has a large guest list. The guests won't have to face parking issues as the hotel staff has it under control completely. 
Places to visit near Crowne Plaza:
Kundanvan:
A mesmerizingly beautiful wedding banquet hall in Jaipur, which has recently gained fame due to its beautiful interior and top-notch services. The Kundanvan is a project by the well-known Kanha group and it is a new one. The area it covers is massive and it can easily accommodate 5000 people at a time. Its grand and luxurious pillar-less banquet hall and its prim lush green lawns. 
The huge chandeliers and the carpeted floors give the whole venue a very royal look. The lighting of the venue is so classy that it makes the whole place light up and stand out. This wedding venue in Jaipur is used for royal weddings, and pre-wedding festivities, and not just this but it even hosts corporate events. The large pillarless ballroom is its USP. This is a luxurious wedding property with a modern-styled structure that makes it look straight out of a Bollywood movie kind of venue. They also have a team of amazing wedding planners and experts that are there to assist you throughout the process and make your long-time dream come true. 
Read More: 17 Stunning Wedding Destinations In India
Places to visit near Kundanvan:
Nahargarh Biological National Park

Jal Mahal

Nahargarh Fort
Alila Fort: 
In Rajasthan, there are various forts, places, and banquets that are located in some of the most mesmerizing locations in this desert state. One of the forts you must visit if you are planning to organize a destination wedding in Jaipur is the Alila Fort. This majestically breathtaking fort is situated in Bishangarh, which honestly is a bit far away from Jaipur but it deserves to be on this list. It truly is a fort where once the royals resided and the location will drive you crazy. 
We can guarantee that once you see this wedding venue with your own eyes no other wedding venue in Jaipur will seem fit for your special day. The evenings here scream pure love and romance, the skies are so clear that you can see the twinkling stars, and the lighting of the outdoor areas just adds to the extreme beauty and charm that this fort possesses. You get to experience a scenic view of the desert which will make you want to extend your stay here. The elegant palace has 59 rooms and suites that offer a perfect setting with a promise of privacy and undivided attention. Their team is ready to assist and help you with everything regarding your wedding. They will sure things happen just the way you wish. 
Read More: The Celebration Of Durga Puja Across India In 2022
The kitchen is known to serve some of the most mouth-watering cuisines in Rajasthan. The chefs here are so amazing and caring that they are ready to listen to you if you have a special request or if you follow a special diet. The warmth that the staff welcomes and assists you with makes you feel at home. This location is worth it, so you must for sure plan reiki and get a quote for your wedding from this heritage wedding destination in Jaipur which is an epitome of royalty and elegance.
We hope that by now you have a clear idea of which hotels you can shortlist for your wedding. With this, our list of the 15 best wedding venues in Jaipur comes to an end. Do let us know in the comments below if you are aware of an even more amazing property. If you have any queries or are curious to know something please do reach out to us. It would feel good to hear from you. If you want us to cover a certain topic then reach out to us because suggestions from readers are welcomed. 
Do visit our website HotelDekho.com if you want to grab the best deals and offers on hotel bookings. We would be happy to make the booking process hassle-free for you.
Happy planning!!