10 Awe-inspiring Destinations in India that are Worth Visiting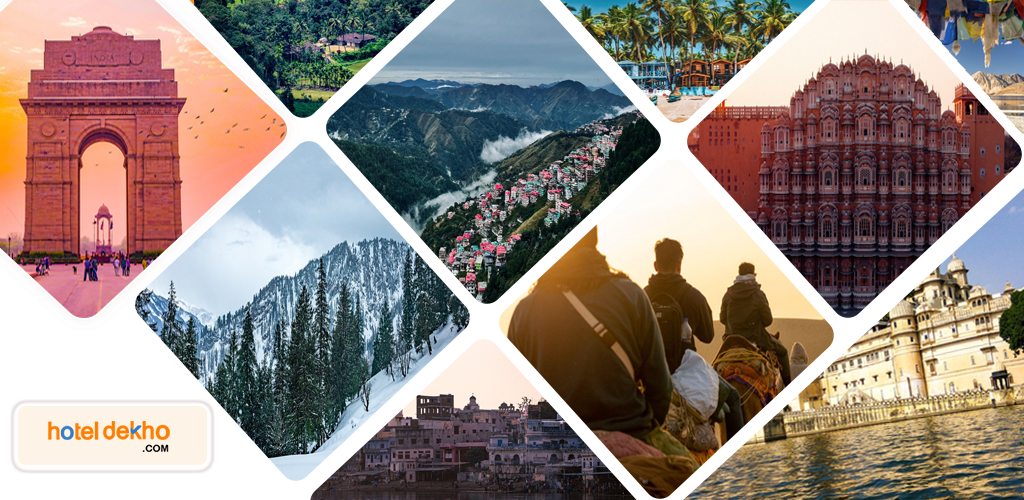 India is a country filled to the brim with travel lovers. Traveling is a means through which people try to escape the monotonous routines of their lives and it is also a journey that they take to find their soul and also to know themselves better. Traveling is no more a once in a year kind of activity now, where families used to plan a trip and enjoy their holidays together. Traveling is a trend which is being taken up by a lot of youngsters as a career path, a source to earn their bread and butter.
Humans have always had a fascination for beautiful vistas, scenic backdrops, and inhaling the ethereal fragrance of exotic destinations. When it comes to India, the beauty of this country lies in its diversity, traditions, and culture. India is like a melting pot of beliefs, values, cuisines and so much more. In our country, each city has its own essence and every state has something new to offer. This country has it in itself to bring out the explorer in you, you will keep wanting to explore more of what India has to offer every time to visit a new place. India is chock- full of places to visit and it can be exigent to plan a trip.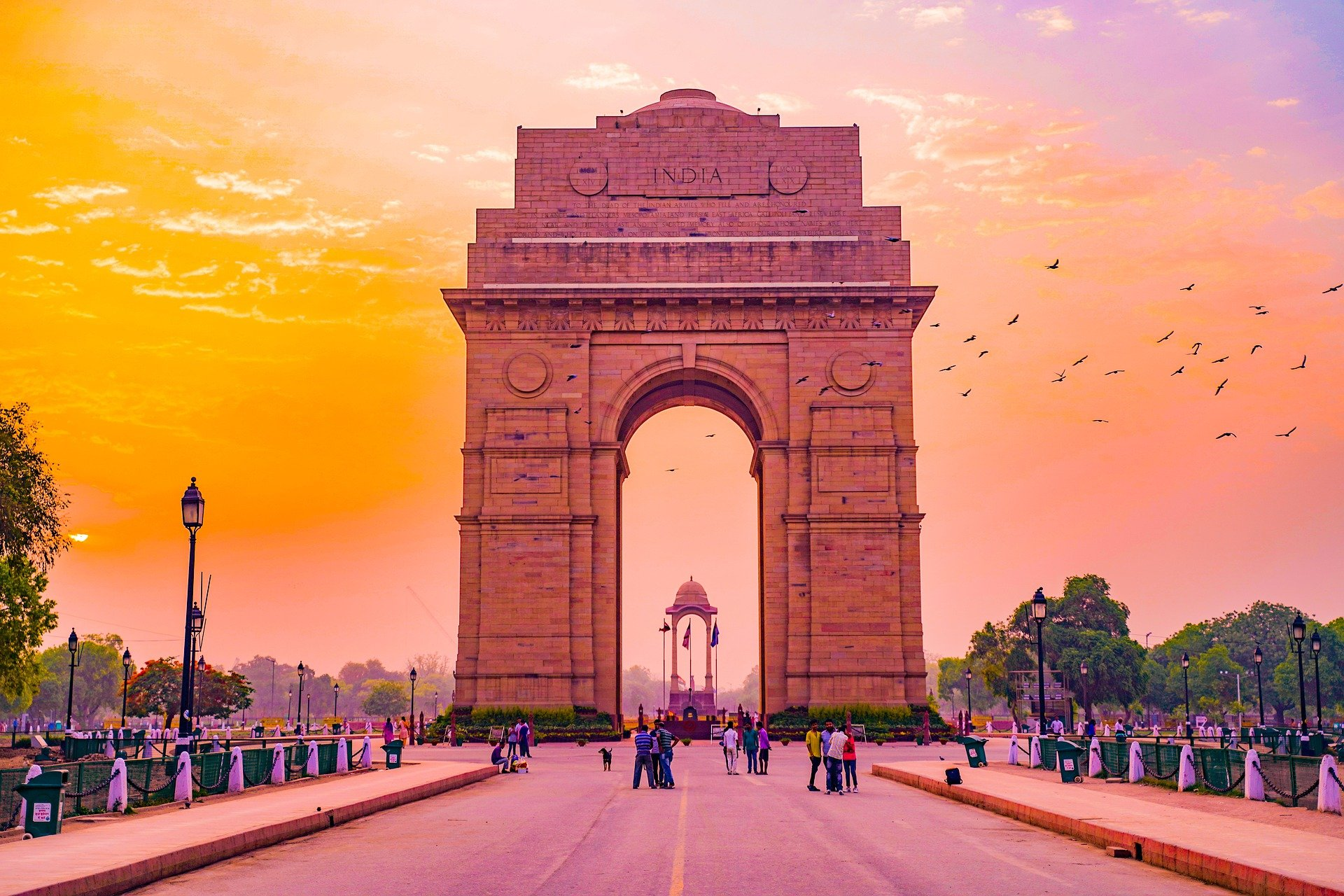 There are many places in India that are extremely beautiful, no photographs can do justice to their magnificence, these destinations in India are a treat to sore eyes. So, won't it be uncomplicated for you if we come up with a list of the 10 most amazing places you must visit in India? Well, do not worry we have got your back. Mentioned below are places that will give a glimpse of snow-clad mountains, deserts, road trips, and destinations that will make you want to be a mermaid. This blog will include information like why to visit these destinations, when to plan a trip, and what to see.
Places to visit in India that will give an outstanding view of the snow-clad mountains:
Manali:
The beautiful town rests in the arms of River Beas and is safeguarded by the Pir Panjal mountain range. Manali is an amazing destination to visit for those who consider themselves to be a 'mountain person'. This town offers crazy nightlife and has a very relaxed vibe followed by a streak of hippie culture. The best time to visit Manali is from the months of May to October.
Places one must visit in Manali are Rohtang Pass, Solang Valley, Old Manali, Deo Tibba Trek, and Jogini Waterfall. Manali has something or the other to keep everyone entertained. Here you can take up activities like adventure sports: mountain biking, paragliding, and trekking. You can also visit nearby villages and explore attractions like Naggar Castle, Tibetan Monastery, and Arjun Gufa. If you wish to know more then you should look at a travel guide for Manali.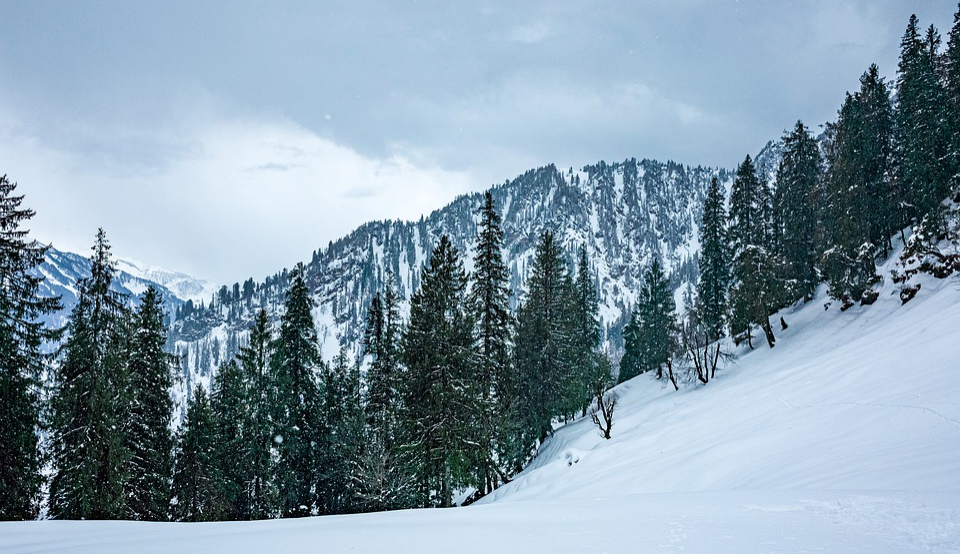 Now that you know what you can see, you must be wondering about places to stay in Manali, right? Don't sweat about it because this town welcomes tourists throughout the year. And the best part is that it offers a plethora of options to choose from when it comes to hotels to stay in Manali. It is best to book your stay in advance, Manali has homestays and hostels too for budget travelers. Below is a list of hotels you can check:
Shimla:
Shimla is a destination that is famous amongst Indians for honeymoon and this city has made an appearance in many Bollywood films. The 'Queen of Hills' is a breathtakingly beautiful destination. From here you can get a glimpse of the pristine Himalayan peaks. The nature here is still so raw that this place needs no filter. You can visit the Oak and pine forests to get some amazing images for your social media accounts. Shimla is a famous tourist attraction and gives you a lot of memories to cherish.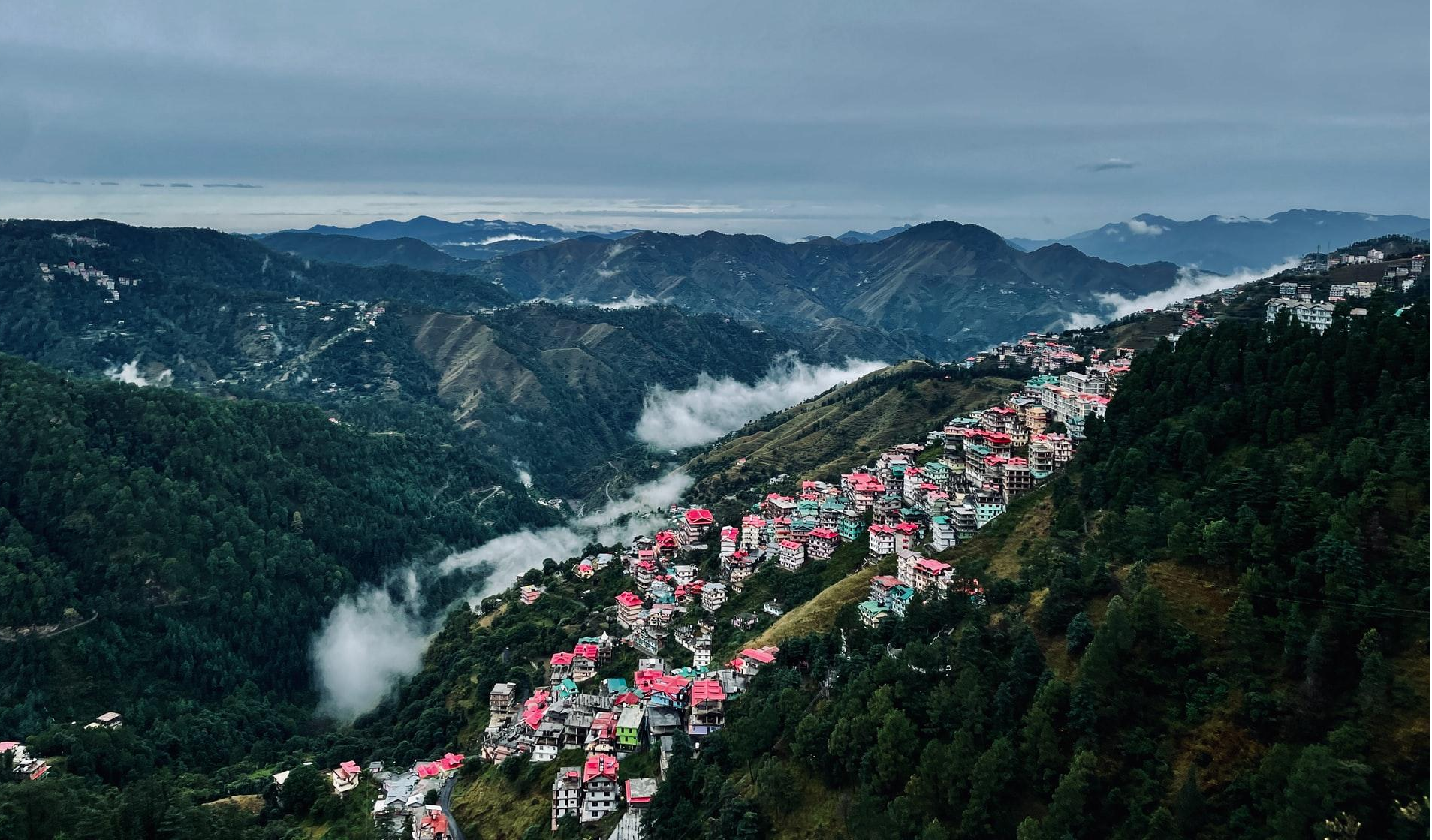 Some of the well-known tourist places in Shimla are the Ridge, Christ Church, Chadwick Falls, Annandale, Mashobra, Mall Road, Kufri, Himachal State Museum, Green Valley, and the Tara Devi Temple. If you are planning a trip to Shimla then you should go through a travel guide of Shimla because that has the answer to all your questions. The best time to visit Shimla is from May to Mid-July and from December to January.
Shimla is filled to the brim with a huge variety of hotels to stay in. Some of the famous hotels in Shimla where you can book your stay are:
Best places to visit in India if you want to experience the spectacular Deserts or cities nearby:
Jaisalmer:
The Golden City of Rajasthan is Jaisalmer, it is called so because of its proximity to the Thar Desert. The sand here is golden in color and makes the place look divine. The colorful traditional clothing and the culture are what fill the golden sand with streaks of color. Here you will get to witness royalty and you can even try the Rajasthani cuisines which will be a treat for sure.
The cultural folk songs sung in the midst of the desert with women performing a traditional dance around the bonfire, doesn't it seem like a night you would want to experience? You can enjoy a camel ride too!! The best time to visit Jaisalmer is from the month of October to February. You can even spend a night at the sand dune with your loved ones. A trip to Jaisalmer is a must and everyone should once in a lifetime enjoy the rawness and vintage charm that the city holds.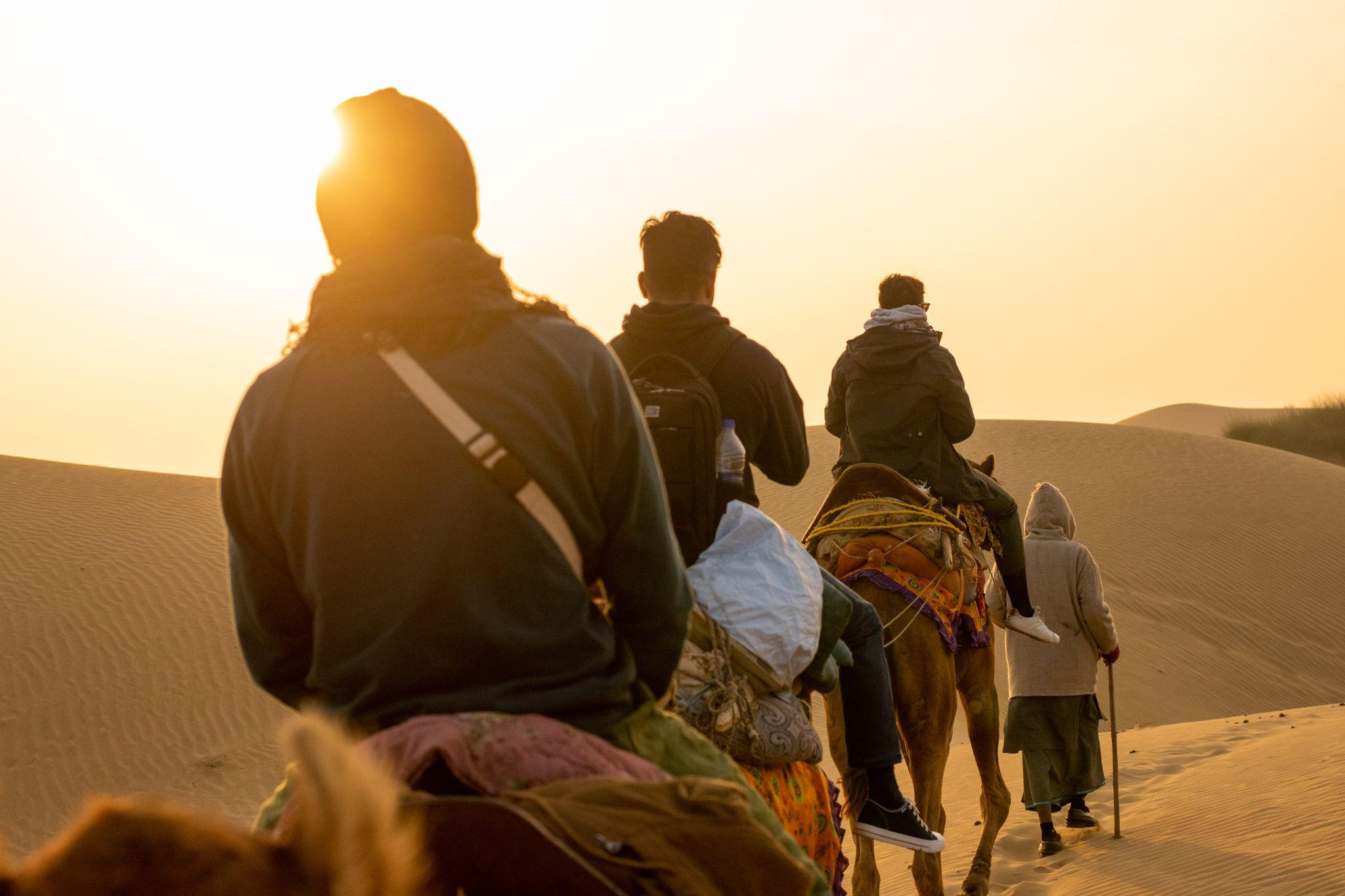 Beautiful tourist attractions in Jaisalmer that you should see are Jaisalmer Fort, Longewala War Memorial, Kothari's Patwa ki Haveli, Gadisar Lake, Jain Temples, Salim Singh ki Haveli, Sam Sandunes, Tanot Mata Temple, Nathmal Ki Haveli, and Kuldhara Village. You must enjoy in the midst of the desert away from the hustle and bustle of the city. Munch on some snacks while watching the sunset, surrounded by dunes. What else can you wish for? Oh! Remember to ask the name of the camel you ride, and share your experience with us in the comment section below. If you are planning a trip to Jaisalmer it is best to read a travel guide on Jaisalmer.
Jaisalmer Fort is the only living Fort in India. The residents of Jaisalmer have been living here rent-free and you will even find hotels and hostels in the fort itself where you can book a stay. A list of hotels in Jaisalmer where you can stay is mentioned below:
Pushkar:
If you are planning a trip to Pushkar you can expect the unexpected to happen, but trust us when we say that it will be fun. Pushkar is a pilgrim destination that is close to Ajmer in Rajasthan. The city is famous because of the Brahma Temple but it has a lot more to keep its visitors engrossed.
Pushkar is a famous tourist destination and welcomes both foreign as well as Indian tourists throughout the year. Due to the huge number of Foreigners visiting this place Pushkar has a lot of quirky and bohemian cafes. While you take a stroll through the ancient lanes you will get familiar with the vibrancy, warmth, traditions, and colors that this tiny destination holds.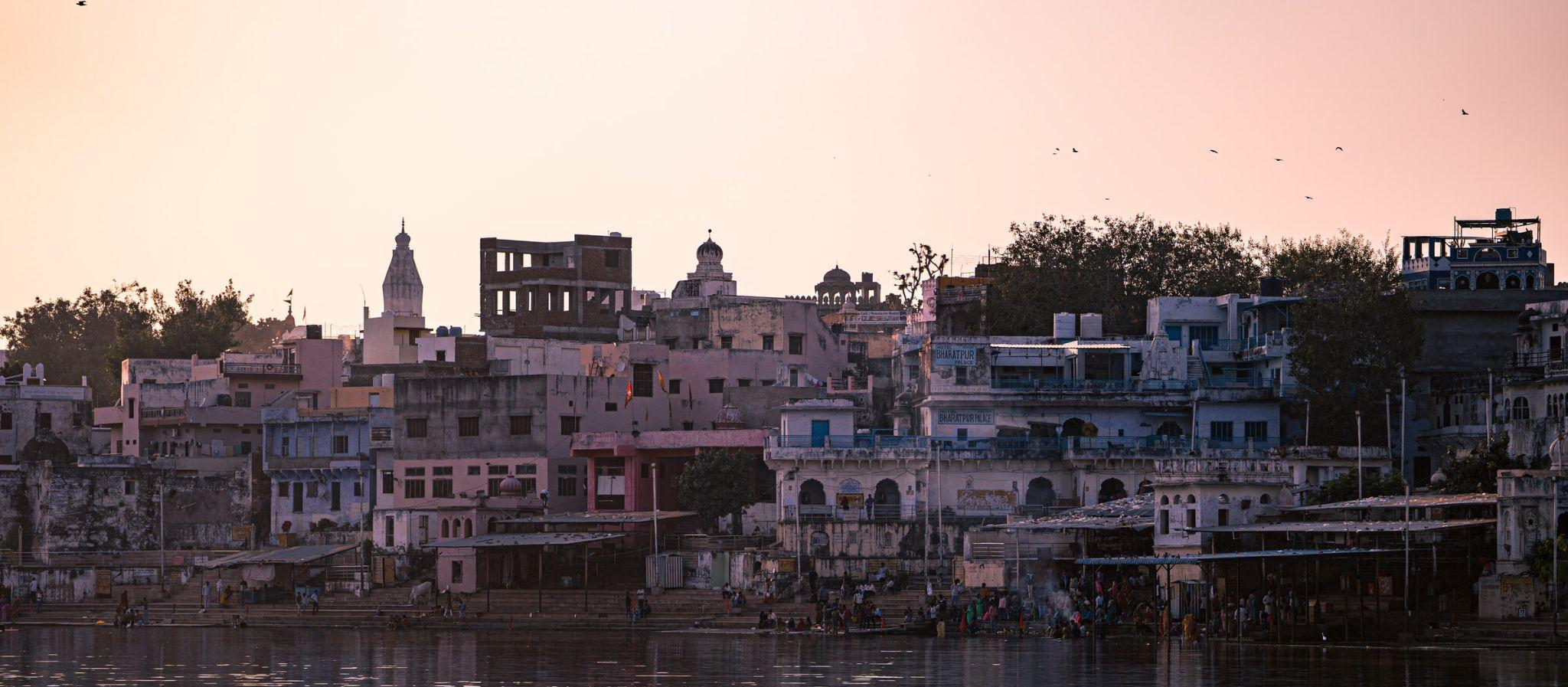 Places that one should explore while in Pushkar are Pushkar Lake, Brahma Mandir, Man Mahal, Mahadeva Temple, Pushkar Bazaar, Desert Camp, Savitri Temple, and a lot more. If you plan to visit during the Camel Fair or the Holi festival then you are in for a treat. The best time to visit Pushkar is from November to March, it is suggested to club your trip to Ajmer with Pushkar. A travel guide of Pushkar and Ajmer will give you a better understanding of why it is better to visit both places together.
If you decide to lounge at Pushkar then the list of hotels in Pushkar mentioned below can be of help to you:
Jaipur:
The Pink City of Rajasthan is a perfect blend of cultures, traditions, and modern-day trends. This city and its residents have a progressive mindset but they also hold on to the beliefs, traditions, and values that have been passed on to them by their ancestors. Jaipur screams royalty and Rajputana, did you know that the Royal family of Jaipur still resides here?? And the King of Jaipur, His Royal Highness Padmanabh Singh is a renowned Polo player. He has even graced the ramp by walking for Dolce & Gabbana at Milan Fashion Week.
Jaipur will keep you on your toes once you come here, there is so much that one can see during their trip to Jaipur. You name it and you will get it, want to experience the nightlife don't worry Jaipur has an amazing one, want to visit cozy theme-based cafes? Jaipur has a plethora of options to choose from when it comes to dining options. You can plan to visit Jaipur from October to March.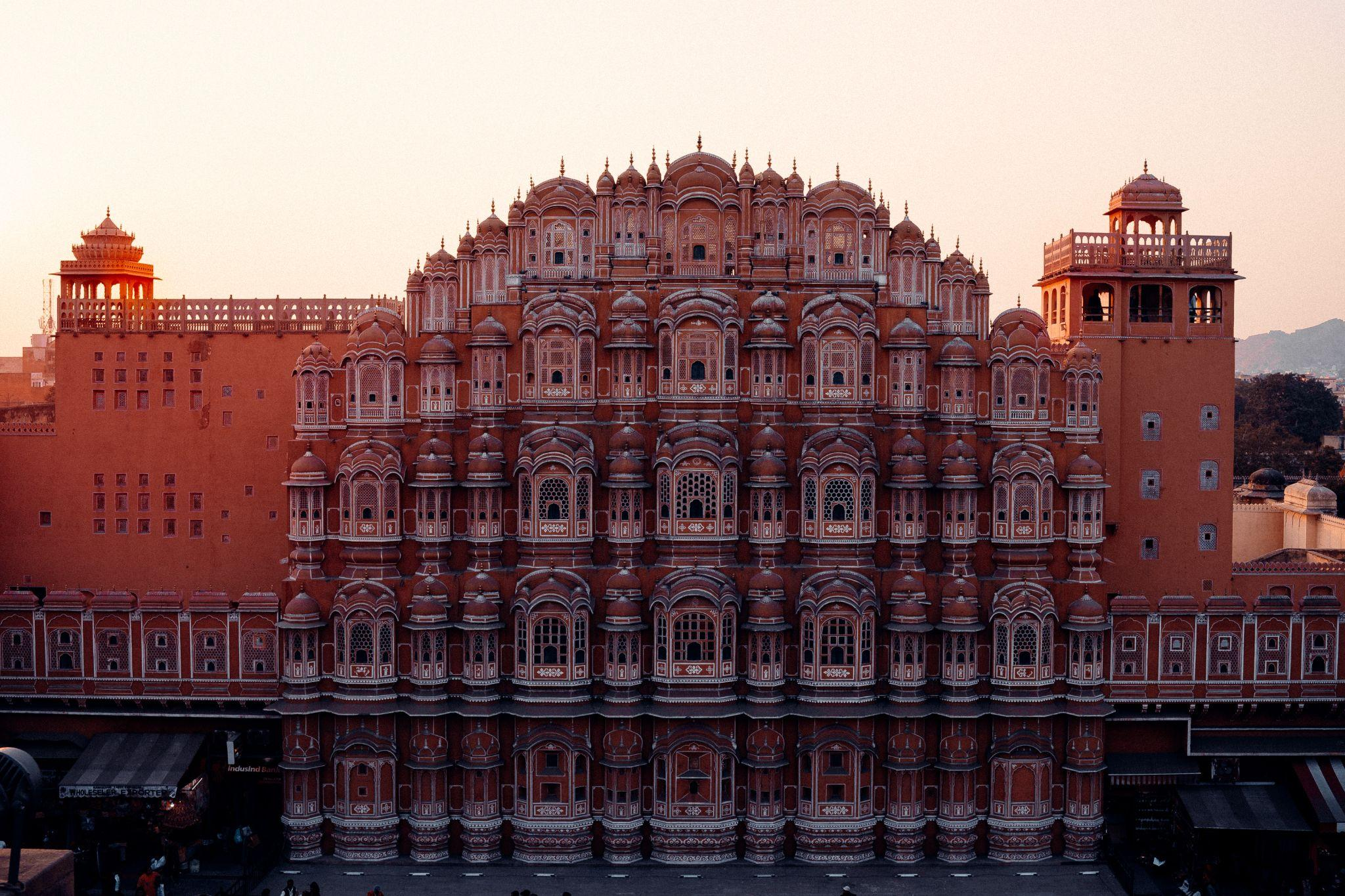 When it comes to tourists places in Jaipur, let us tell you that there are several places worth visiting. The numerous historical structures around Jaipur represent its majestic past. Some of the famous tourist places in Jaipur are Jal Mahal, City Palace, Hawa Mahal, Jaigarh Fort, Wax Museum, Nahargarh Fort, Albert Hall, Jantar Mantar, Amber Fort, Galta Ji, Panna Meena Kund, Sagar Lake, Govind Dev Ji Temple, Akshardham Temple, and the City Market.
The hotels in Jaipur welcome their guests with open arms and it is their priority to make your stay comfortable. A list of popular hotels in Jaipur is given below, you can choose a hotel from it:
Two cities of India that are known due to the huge amount of water bodies that surround them:
Goa:
Goa is one of the many wonderful places in India that is a dream of many travelers. This tourist destination is a perfect blend of what nature has to offer, and what humans can provide. Be it a beach, wildlife sanctuary, spice plantations, or be it cafes, churches, nightlife, and watersports, Goa has it all ready for you. It welcomes people from all around the world and once your trip to Goa comes to an end you leave behind all your stress and carry along with you the memories of moments spent here.
Discover the secrets of this beachy destination through a travel guide of Goa and know about 50 spots that you must visit while you stay in Goa. The best time to visit Goa is from Mid-November to Mid-February avoid visiting this place in summer because you will want to be indoors due to the harsh sun. Make sure you have enough days up your sleeve to explore Goa to the fullest because a 2-3 days trip will leave you wanting for more.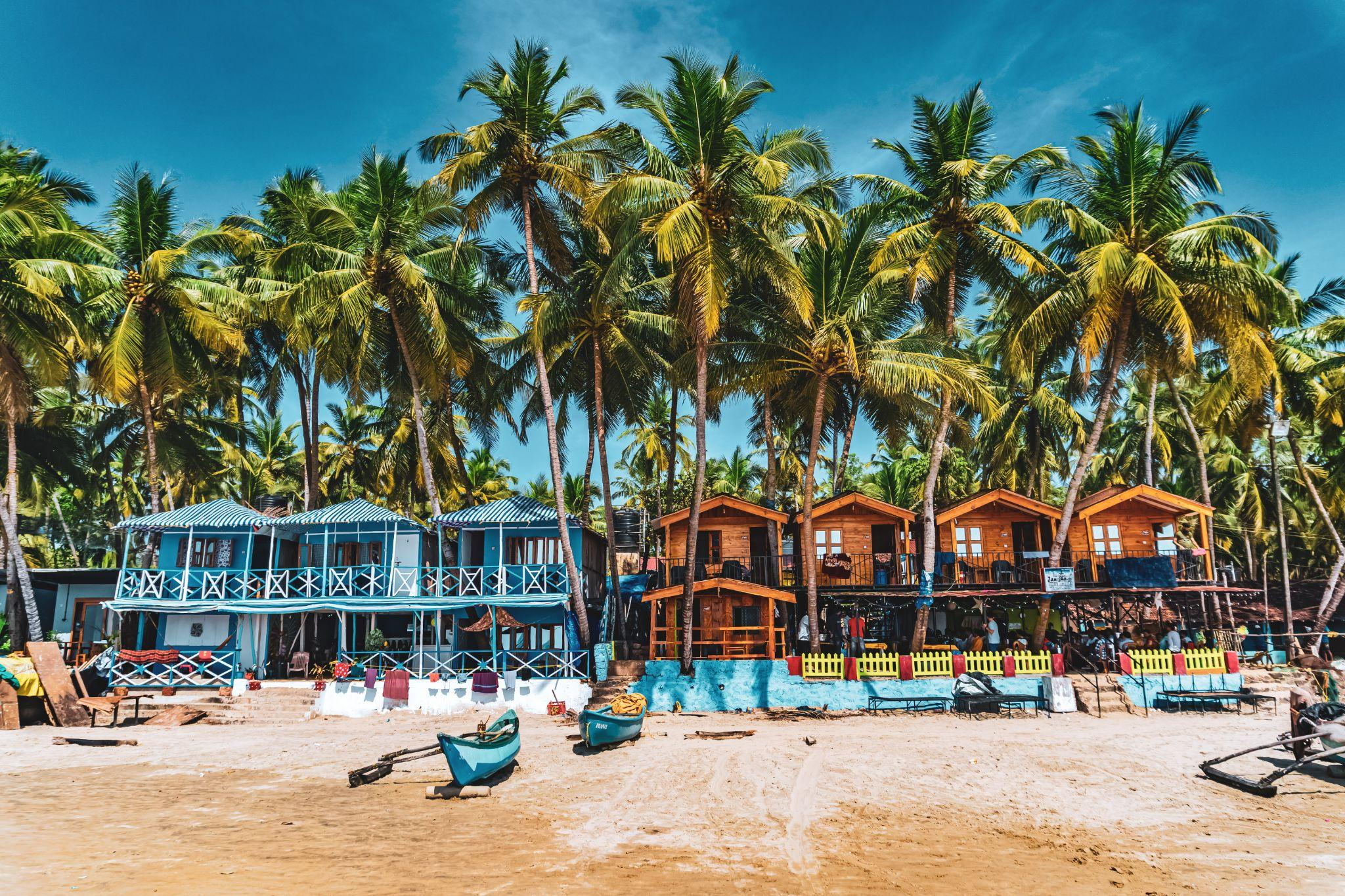 Some of the places you must visit in Goa are Reis Magos Fort, Fontainhas, Mangeshi Temple, St. Alex Church, Baga beach, Candolim beach, LPK, Shiv Valley, Hill Top, Palolem Beach, Bondla Wildlife Sanctuary, Aguada Beach, Divar Island, and a lot more.
This Portuguese section of India offers a plethora of options when it comes to picking up a place to stay. The hotels in Goa carry the same vibe as the location itself calm, lively, hippie-like, and adventurous. Here you can get resorts, homestays, hostels, and if you are planning to stay for a month then the best option would be to rent a flat. Check the list of hotels in Goa mentioned below to get an idea of the kind of properties you can book your stay at:
Udaipur:
The lake city of India is a famous tourist attraction and is also a city that is popular among couples planning their honeymoon. Udaipur has a very chilled and laid-back kind of vibe which makes you relax instantly. The air that surrounds Udaipur is very calm and pleasant. Well, you will know it if you try to see the city through another lens, Udaipur has a streak of romance to it making it a city that welcomes all kinds of guests with warmth and love. The sunsets of Udaipur are something you must at no cost miss out on because it looks like the rays of the sunset are dancing around the city making the atmosphere romantic.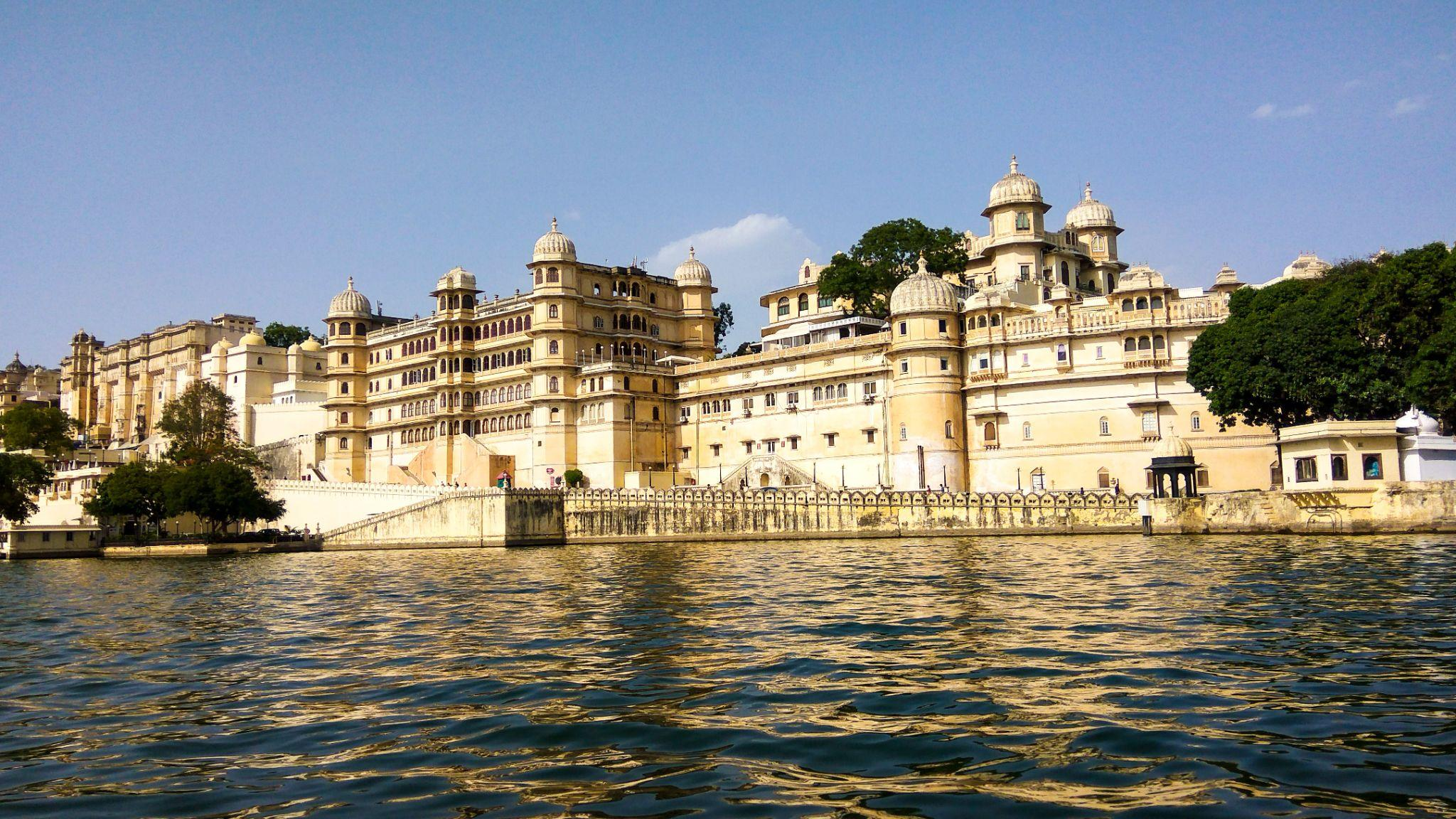 The famous tourist places of Udaipur that one must visit are City Palace, Fateh Sagar Lake, Lake Pichola, Jag Mandir, Sajjangarh Palace, and Saheliyon ke Badi. The city has a few more lakes and tourist attractions. To get a better understanding of lake city you must go through the travel guide of Udaipur.
From backpackers to honeymooners to family traveling to Udaipur for a vacation, this city has something for everyone and maybe that is the reason why it is a city that is on the bucket list of almost everyone. The city offers a lot of stay options to all its visitors and some of the hotels in Udaipur are mentioned below:
Best destinations where you can give life to your road trip dreams:
Coorg:
If you are a person who loves the idea of a road trip then you should surely plan to go on a road trip from Bangalore to Coorg. It takes seven hours by road and you cross places like Hassan and Sakleshpur on your way to Coorg. If your road trip is not time-bound then you can stop by and visit places like Manjarabad Fort, Belur, Halebeedu, and Chennakesava Temple.
The air of Coorg carries a slight fragrance of tea and coffee in it. The tea and coffee plantations, the timber forests, the lush hills, valleys and the beauty of it all makes the road trip fun-filled and worth cherishing. You will in no way be disappointed by the time spent in this heavenly destination. Do remember to sip on some tea and coffee at this hilly adobe. Kodagu is another name for Coorg and it is also known as the Scotland of India.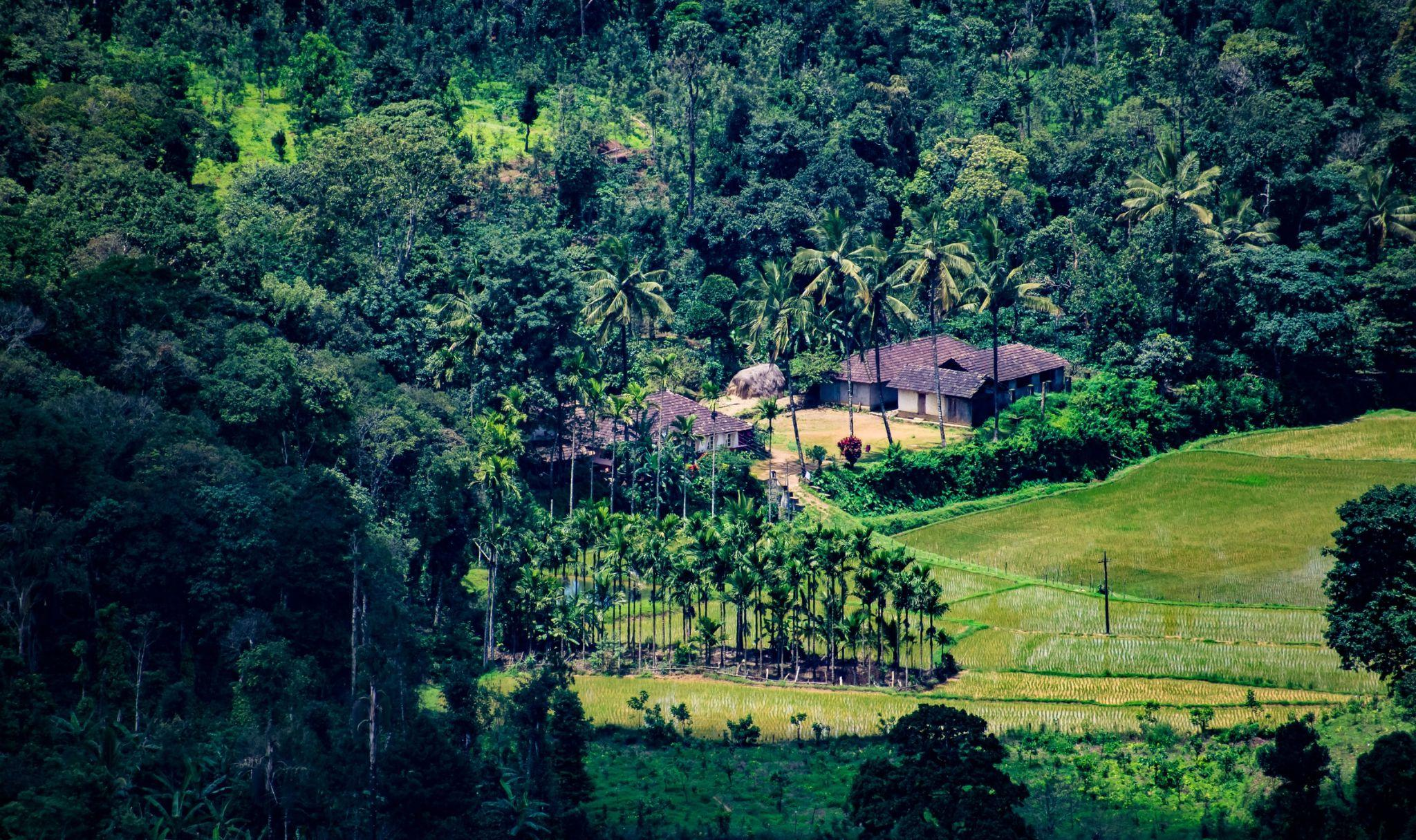 The pictures you see of this destination on the internet do no justice to the beauty this place possesses. The best time to visit Coorg is between October to March. Some of the famous tourist places to visit in Coorg are Abbey Falls, Raja's Seat, Harangi Dam, Raja's Tomb, Talacauvery, Omkareshwar Temple, and Chiklihole Reservoir. To know more about what all can be done in Coorg go through a travel guide of Coorg.
Being a very famous tourist destination Coorg takes pride in the fact that the stay options here are refreshing in themselves. The best thing about it is that you can easily get a chance to book hotels that are close to the tourist attractions, it will make things convenient for you. Some of the hotels in Coorg that you can book are mentioned below:
Leh Ladakh:
No combination of words will ever be enough to describe the beauty and calm that this breathtakingly gorgeous tourist destination holds. This destination has an image of its own that compels the tourists to come and explore this place. Ladakh is a destination perfect for all, especially the motorcycle enthusiast who can quench their thirst for riding down the risky trails. For people who come here in hopes of finding their purpose, Ladakh offers spirituality and peace. An efficient way to initiate the planning phase of your Ladakh trip is by going through a travel guide of Leh Ladakh.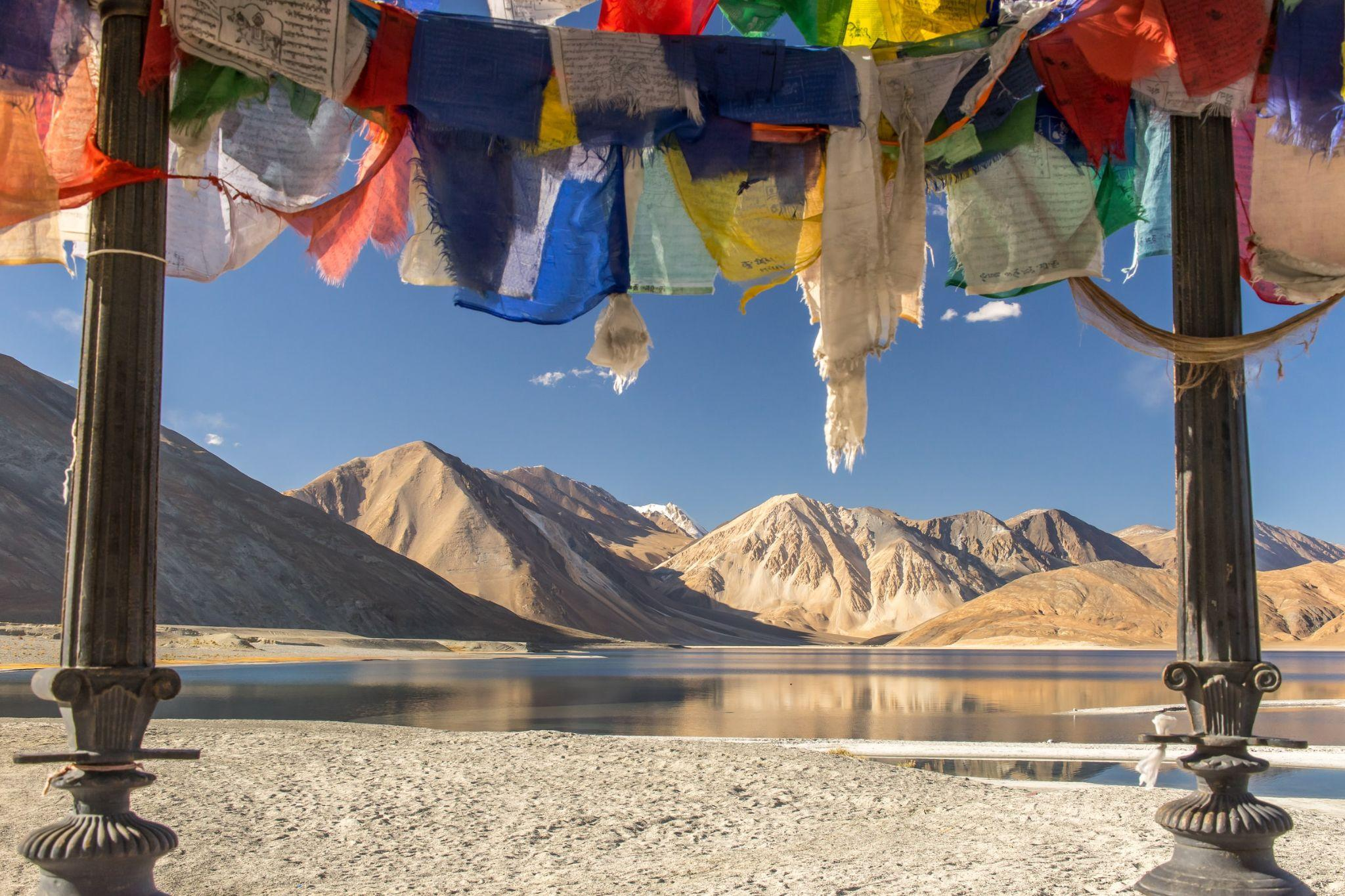 The lakes that this destination offers are divine, the untouched beauty will fill your heart with joy as soon as you will set your eyes on it. The best season to visit Leh Ladakh is from the months of April to August. Some of the places to visit in Leh Ladakh are Thiksey Monastery, Khardung-la Pass, Markha Valley, Tso Moriri Lake, Nubra Valley, Shanti Stupa, Diskit Monastery, Magnetic Hill, and Zanskar Valley.
Being a well-known tourist destination, tourism helps boost the economy of this place and they make sure that tourists feel at home here. There are a lot of stay options across Leh Ladakh and one can pick any based on the amount they are willing to spend. Some of the hotels in Leh Ladakh are mentioned below to make your work easy:
Agra:
We understand that Agra being mentioned here would have shocked you a bit because there is no fun in a road trip to Agra. But if you are a person who wants to test your patience and driving skills then you should try driving around the city. Trust us by the end of the first day all your frustration would have gone out of the window and you would feel extremely light. We are confident about it because we are sure about the fact that while driving around you will bicker so much about the driving skills of others that all your frustration automatically will start finding a way out. It may not sound so fun-filled but it truly is and is an experience every driving frak should have.
This way you will get to see and learn a lot about the culture of Agra. The destination is so much beyond the monument of love. While you are on your trip to Agra remember to try the street food there, it will surely awaken your taste buds. The best time to visit Agra is from October to March, avoid exploring this city during the summers because the heat is unbearable.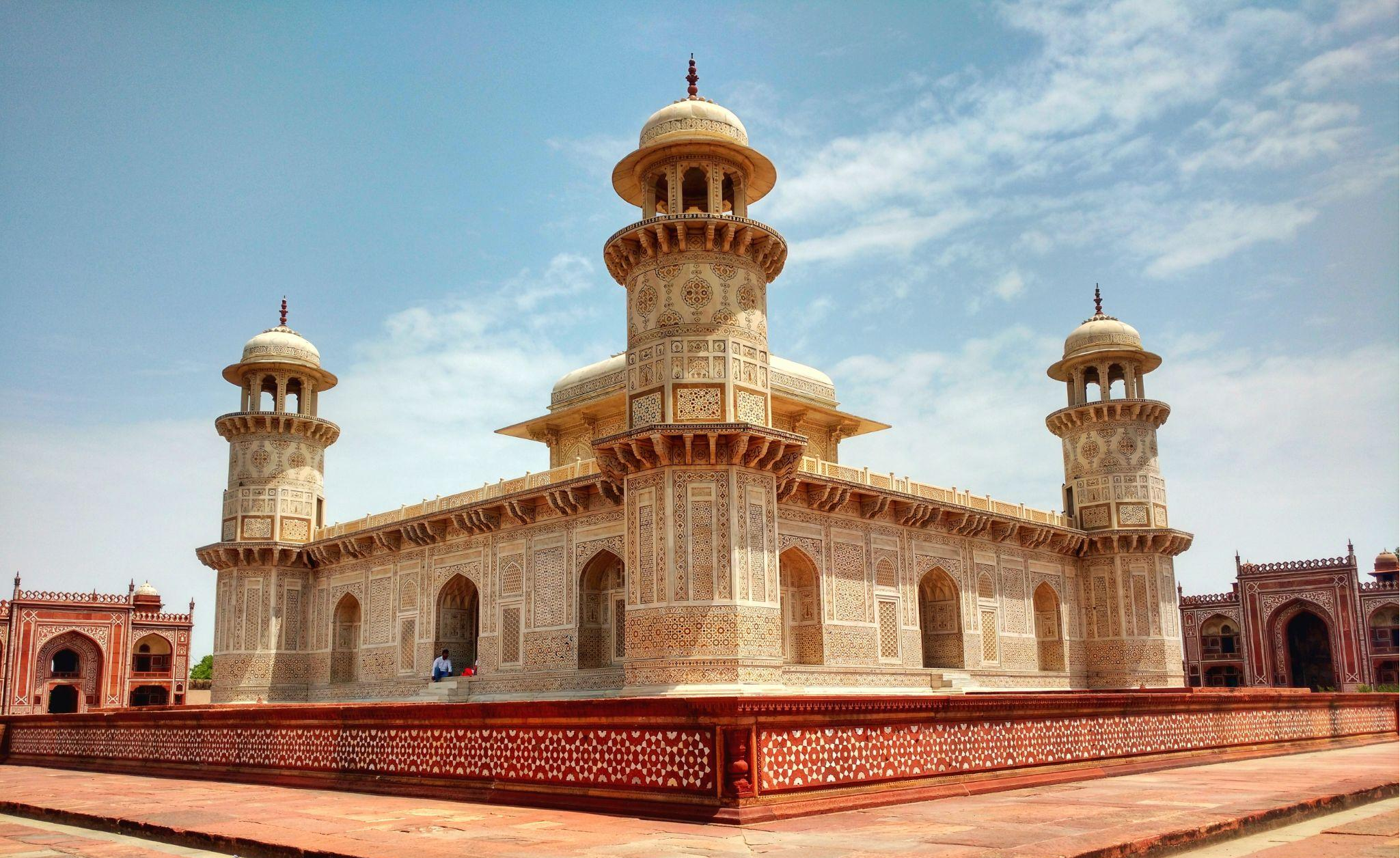 A few famous tourist attractions that you can visit in the city are the Taj Mahal, Mehtab Bagh, Agra Fort, Itimad-ud-Daulah's Tomb, Sikandra Fort, Fatehpur Sikri, and Jama Masjid. There are a lot of Tombs spread across Agra that are like hidden gems, less crowded, and worth visiting. Agra is a very crowded city in itself and in the tourist season it is a place filled to the brim with travelers. Agra provides enough stay options to accommodate all the tourists who stop by to lay eyes on the epitome of love. Some of the places where you can book a stay in Agra are:
The end of this list marks an end to the 10 places that we felt should be visited by every person who has a traveler inside them. Let us know if there is a destination that you think should be added to this list because you never know, we may end up writing another blog for you wonderful readers.
So, now that you have read it all, where do you plan to go? Remember to share your experience with us in the comment section below. And when it comes to booking hotels for your trips remember that we are here to help. Do have a look at the deals and discounts that we offer on hotel booking at HotelDekho.com.